Donate now to support the LLIFLE projects.
Your support is critical to our success.
Since 4 Aug 2013
sponsored link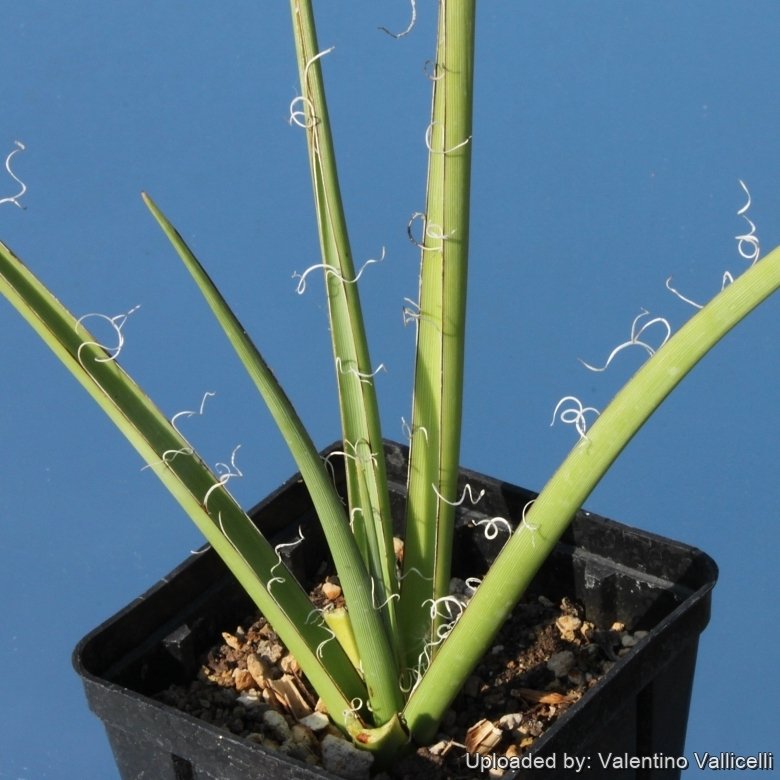 Hesperaloe parviflora Photo by: Valentino Vallicelli
Origin and Habitat: This plant is native to the Chihuahuan desert of west Texas east and south into central and south Texas and northeastern Mexico around Coahuila.
Synonyms:
See all synonyms of Hesperaloe parviflora
Accepted name in llifle Database:
Hesperaloe parviflora
(Torr.) J.M.Coult.
Contr. U.S. Natl. Herb. 2: 436. 1894
Synonymy: 8
Common Names include:
ENGLISH:
Red Yucca, Hummingbird Yucca, Samandoque, False Red Yucca, Coral Yucca, Red Flower Yucca, Red Flowered False Yucca, Texas False Yucca, Giant Hesperaloe, Texas Red Yucca
SPANISH (Español):
Samandoque, Zamandoque
Description: Hesperaloe parviflora is a beautiful dense, clumping plant with slender, fountain-like, blue-green foliage throughout the year, but stunning when in flower during the summer months. Reddish pink flowers bloom almost all summer. It looks superficially like a Yucca.
Habit: It is a stemless, clump-forming, evergreen, semi-succulent, perennial rosette, that forms a grass-like clump up to 60-90 cm tall and 0,9-1,2 m in diameter.
Leaves: Arching and spreading, grass-like, leathery, flexible, finely lanceolate, narrow 60-120 cm long, about 1-2 cm in diameter (3 cm a t the base), almost tubular in cross-section, with a deep grooves to funnel rain and dew into the centre of the plant. They are dark green to blue-green with very fine, fibrous, white threads along their edge and although they look sharp they are actually quite soft. Thresds 3 to 6 cm long. Upon closer examination, however, the leaves have grey-purple overtones, especially in winter. There is also a red leafed cultivar commercialized as Red Yucca.
Inflorescences: The inflorescence is a slender, elegant panicle 90-120(-300) cm tall that arch up and outward and usually branching in the upper half.
Flowers: Pendent, opening from the bottom up, tubular to bell-shaped, dark-pink, coral red, or salmn, often yellow-tipped on red-pink stalks opening successively. Perianth 25-35 mm long. There are also yellow and white varieties of Hesperaloe.
Blooming season: It flowers profusely from late spring to midsummer, even later under good circumstances, and is quite indifferent to heat. Hummingbirds are attracted to the long-blooming flowers.
Fruits: The flowers develop into ovate or rounded woody capsules about 30 to 40 mm long, 25-30 mm wide, at first light green, then brown and woody.
Seeds: Black 9-10 mm long, 6-8 mm wide and 1 mm thick.
Bibliography: Major references and further lectures
1) James Cullen, Sabina G. Knees, H. Suzanne Cubey "The European Garden Flora Flowering Plants: A Manual for the Identification of Plants Cultivated in Europe, Both Out-of-Doors and Under Glass" Cambridge University Press, 11/ago/2011
2) Judy Mielke "Native Plants for Southwestern Landscapes" University of Texas Press, 1993
3) Gwen Moore Kelaidis "Hardy Succulents: Tough Plants for Every Climate" Storey Publishing, 01/mar/2012
4) Simon Rickard "The New Ornamental Garden" Csiro Publishing, 2011
5) Gibbs Smith "The Arizona Low Desert Flower Garden: A Seasonal Guide to Bloom, Height, Color, and Texture" 2007
6) Howard Garrett "Plants for Houston and the Gulf Coast" University of Texas Press, 01/gen/2010
7) Harold William Rickett, Rogers McVaugh, New York Botanical Garden "Wild flowers of the United States" Volume 3, Part 2 McGraw-Hill, 1969
8) Royal Horticultural Society "RHS A-Z Encyclopedia of Garden Plants" Dorling Kindersley, 02/ott/2003
9) Fritz Hochstätter "The genus Hesperaloe (Agavaceae)." In: CactusWorld. Volume 27, number 2, pages 102–103 2009
10) "A Revision of the Genus Hesperaloe (Agavaceae)." In: Madrono. Volume 44, Nr. 3, pages 295–296. 1997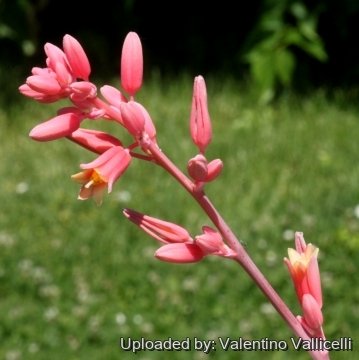 Hesperaloe parviflora
Photo by: Valentino Vallicelli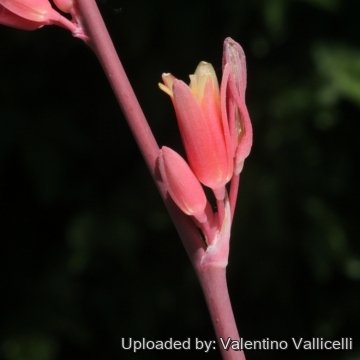 Hesperaloe parviflora
Photo by: Valentino Vallicelli
Hesperaloe parviflora
Photo by: Valentino Vallicelli
Hesperaloe parviflora
Photo by: Valentino Vallicelli
Hesperaloe parviflora
Photo by: Valentino Vallicelli
Hesperaloe parviflora
Photo by: Valentino Vallicelli
Hesperaloe parviflora
Photo by: Valentino Vallicelli
Hesperaloe parviflora
Photo by: Valentino Vallicelli
Cultivation and Propagation: Hesperatoe parviflora is a much decorative succulent for arid climates. It is a summer grower species that offers no cultivation difficulties. It is quite happy in the hottest, driest spot in the garden. It can be overwintered outdoors if sheltered from severe frosts.
Growth rate: Slow to moderate growth rate.
Soil: It adapts to most soil types, preferably not too heavy in texture; good drainage is desirable.
Repotting: Repot in the spring, when their roots become cramped. Generally, they should be repotted every other year in order to provide fresh soil. After repotting, do not water for a week or more. Needs a large pot to accommodate a large root system.
Waterings: It is extremely drought tolerant. A deep soaking once a month in the summer will keep the plant looking good. For pot culture in summer, during the vegetative period, it must be regularly watered, but allowing the substratum to completely dry up before irrigating again (but do not overwater ); in winter, it's to be kept dry. Preferable not to water on overcast days, humid days or cold winter days.
Fertilization: Low food needs.
Exposure: A location with full sun is best, although it can grow in partial shade.
Hardiness: USDA zone 5. It is cold hardy to about -6° C, but some say as low as -12° C. However in cultivation it is better not to expose it to temperatures lower than -0° C. In presence of high atmospheric humidity avoid any frost as it is sensitive to root rot. It does not care for extremely high temperatures in summer.
Maintenance: The flower stalks can be pruned back to the foliage when the bloom is finished.
Pest and diseases: Overwatering and poor drainage will damage or kill the plant.
Uses: It is suitable for small "desert" gardens, in association with other xerophytes. The plant's form and texture are compatible with other succulents and cacti. It is also a fine accent around patios and swimming pools and in flower gardens. Where the open air cultivation is not possible due to the climate, it is to be cultivated in pot in order to shelter it in winter. It also is a spineless alternative to Agave and Yucca horticultural species. It is an excellent plant for attracting humming-birds.
Food uses: The flowers are edible if you aren't spraying with toxic pesticides.
Other uses: The leaves of red yucca (Hesperaloe parviflora)contain excellent fibres.