Donate now to support the LLIFLE projects.
Your support is critical to our success.
Since 4 Aug 2013
Accepted Scientific Name: Faucaria gratiae L. Bolus
Notes Mesembryanthemum [H.M.L. Bolus] 2: 394 1933 L. Bolus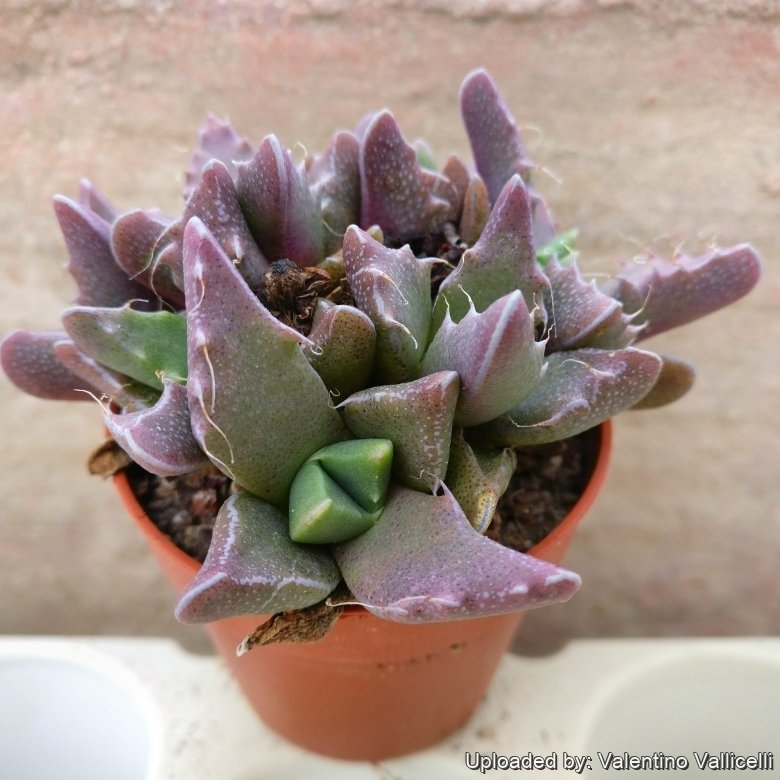 Faucaria hooleae Photo by: Valentino Vallicelli
Origin and Habitat: Faucaria hooleae occours only in the Mitford Park area restricted to a radius of 3 km around Riebeek East, Albany-District, Eastern Cape Province, South Africa. It is known to occur on two farms.
Habitat and Ecology: This species grows without shelter in compact clumps in grassland with open patches of thicket in cracks and hollows of shallow pans on sandstone plates together with Aptenia cordifolia. Rainfall: about 380 mm per annum. It is not treatened. The current owner on the farm on which they grow is aware of them and their importance, and is endeavouring to protect them.
Synonyms:
See all synonyms of Faucaria gratiae
Accepted name in llifle Database:
Faucaria gratiae
L. Bolus
Notes Mesembryanthemum [H.M.L. Bolus] 2: 394 1933
Synonymy: 2
Common Names include:
ENGLISH:
Dwarf tiger jaw
Description: Faucaria gratiae (syn: Faucaria hooleae) is one of the smallest member of this genus. It grows in small compact clusters with leaves more or less erect, spreading only when pressed by a subsequent leaf. Leaves are short shiny greyish green, often red-tinged, with many small dots. F. hooleae is a spectacular show plant when well grown.
Note: Faucaria gratiae (syn: Faucaria hooleae) grows in small clusters and is distinguished from Faucaria tigrina in the much smaller seeds and fruits as well as in fewer teeth restricted to the upper half of the leaf, the absence of confluent flecks, and the distinctly lower number of elements in the androecium. In the white keel and margins. Faucaria gratiae and Faucaria hooleae are known only from three herbarium sheets. The descriptions do not differ significantly and the type specimens originate from the same population. Up to date Faucaria hooleae has been reduced to being the same as Faucaria gratiae.
Leaves: Ovate to elliptic-ovate 20-25 mm 1ong,10-20 broad, more or less erected, surfaces dark shining green or olive green, something purple at the base, otherwise reddened. All leaf faces with crowded, white, small, raised dots, the keel is white, margins are white throughout or with white bases to the 2-5 teeth, these conical and without or with awns up to 4 mm long, to purplish.
Flowers: Yellow. Sepals 5, 8-10 mm long, base 2.5-5.0 mm broad, unequal, Petals between 60 and 85 linear, emarginate to acuminate,15-21 mm long, 1-1.75 mm broad. Stamens 110-140 8-9 mm long; filaments white. Nectar glands dark brown to orange. Stigmas 8-11 mm long, shorter than longest stamens.
Fruits (capsule): Sessile or with a short fruit stalk up to 1 x 3 mm wide, 1 mm thick. Base of fruit bell-shaped, top rather low, 7-9 mm long, 6-9 mm in diameter.
Seeds: 1.2-1.3 mm long, 0.85-1 mm broad.
Phenology: Flowering period: March?May.
Similar species: Faucaria gratiae (=Faucaria hooleae) resembles Faucaria tigrina when found in habitat because both species keep the leaves of a pair rather closed and erect. F. gratiae are very small with short leaves and irregular margins, rather different from those of Faucaria felina. It also has fewer teeth restricted to the upper half of the leaf, and lacks confluent flecks, the seeds and fruits are smaller too. In the white keel and margins, F. gratiae resembles Faucaria bosscheana.
Bibliography: Major references and further lectures
1) Heidrun E.K. Hartmann "Illustrated Handbook of Succulent Plants: Aizoaceae F-Z" Springer Science & Business Media, 2002
2) Doreen Court "Succulent Flora of Southern Africa" CRC Press, 01 June 2000
3) Ernst Van Jaarsveld, Ben-Erik Van Wyk, Gideon Smith "Succulents of South Africa: A Guide to the Regional Diversity" Tafelberg, 2000
4) Hermann Jacobsen "Handbuch der sukkulenten Pflanzen: Mesembryanthemaceae" G. Fischer, 1955
5) Victor, J.E. & Dold, A.P. 2007. Faucaria gratiae L.Bolus. National Assessment: Red List of South African Plants version 2015.1. Accessed on 2015/11/08
6) Victor, J.E. and Dold, A.P. 2003. "Threatened plants of the Albany Centre of Floristic Endemism, South Africa." South African Journal of Science 99:437-446.
7) L. E. Groen, L. J. G. van der Maesen "Revision of the genus Faucaria (Ruschioideae: Aizoaceae) in South Africa" Bothalia 29: 35-58, 1999.