Donate now to support the LLIFLE projects.
Your support is critical to our success.
Echinomastus unguispinus subs. durangensis
Cactaceae Syst. Init. 16: 17 (11 Oct. 2003). Remarks: first published in U.Guzmán et al., Catálogo Cact. Mex.: 83 (May 2003), without basionym reference
Family: CACTACEAE
Accepted Scientific Name: Echinomastus unguispinus (Engelm.) Britton & Rose
Cactaceae (Britton & Rose) 3: 150, fig. 155. 1922 Britton & Rose
Echinomastus unguispinus subs. durangensis Photo by: Prof. Ilham Alakbarov
Origin and Habitat: Zacatecas and Durango, Mexico.
Type locality: Rio Nazas, west of Villa Lerdo, Durango, Mexico.
Altitude range: 1300-1600 metres above sea level.
Habitat and ecology: Echinomastus unguispinus subs. durangensis grows in rocky areas on low hills and terraces together with a rich succulent flora comprising: Mammillaria lasiacantha, Mammillaria gasseriana, Thelocactus bicolor, Coryphantha delaetiana, Echinocereus stramineus, Opuntia kleiniae, Opuntia violacea, Opuntia imbricata, Euphorbia antisyphilitica, Ferocactus hamatacanthus, Coryphantha durangensis, Astrophytum niveum, only to cite a few of the more common.
Synonyms:
See all synonyms of Echinomastus unguispinus
Accepted name in llifle Database:
Echinomastus unguispinus
(Engelm.) Britton & Rose
Cactaceae (Britton & Rose) 3: 150, fig. 155. 1922
Synonymy: 18
Description: Echinomastus unguispinus subs. durangensis (firstly described as Echinocastus durangensis by C.Runge in 1890) is a great-looking plant that gets its name from its home state of Durango, Mexico. It is a local or morphological form of the widespread and variable Echinomastus unguispinus with white woolly areoles that bear dense spines hugging the body, except for one of the centrals, which sticks out and curves down. This plant is similar to E. unguispinus, but not so large, with more slender, much finer and lighter-colored spines, none of them strongly recurved. However the distinguishing characteristics of subsp. durangensis, appear to fall within the natural variation of E. unguispinus and it should be synonymized with the latter.
Stems: Simple, ovoid to elongate, up to 20 cm long, and 7-14 cm in diameter, though in most cases they will be smaller.
Ribs: 18 to 21, low.
Areoles: White-woolly when young, but without wool when old.
Radial spines: 1 5 to 30, mostly curved upwards and sidewards, the lower ones shorter than the upper, more or less incurved, white to creamy-pink, except the dark tips, 1.5 cm long.
Central spines: 3 or 4, a little longer than the radials, acicular, about 2 cm. long.
Flowers: The flowers, which can last for a week or more, are funnel shaped with petals brown in the centre fading to a light yellow-brown at the edges.
Fruits: Relatively small, with very few, large seed.
Subspecies, varieties, forms and cultivars of plants belonging to the Echinomastus unguispinus group
Bibliography: Major references and further lectures
1) Britton & Rose 5) "Cactaceae: Descriptions and Illustrations of Plants of the Cactus Family" vol. 3: 1922 [12 Oct 1922]
2) Cactus and Succulent Journal, Volume 78, Editions 1-6, 2006
3) Edward Anderson "The Cactus family" Timber Press, Incorporated, 2001
4) James Cullen, Sabina G. Knees, H. Suzanne Cubey "The European Garden Flora Flowering Plants: A Manual for the Identification of Plants Cultivated in Europe, Both Out-of-Doors and Under Glass" Cambridge University Press, 11/Aug/2011
2) David R Hunt; Nigel P Taylor; Graham Charles; International Cactaceae Systematics Group. "The New Cactus Lexicon" dh books, 2006
3) Vera Higgins "Succulents in Cultivation (Cacti Included)" St. Martin's Press, 1960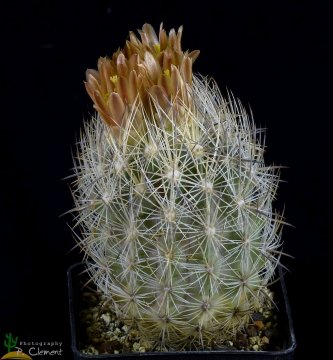 Echinomastus unguispinus subs. durangensis
Photo by: Peiffer Clement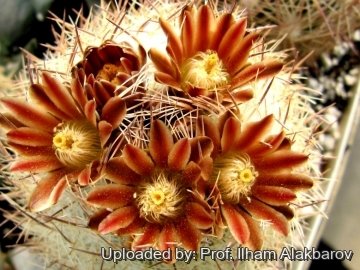 Echinomastus unguispinus subs. durangensis
Photo by: Prof. Ilham Alakbarov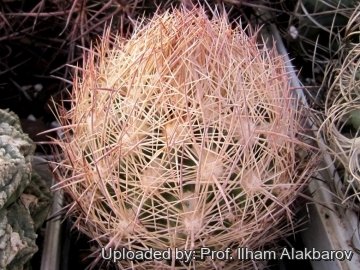 Echinomastus unguispinus subs. durangensis
Photo by: Prof. Ilham Alakbarov
Echinomastus unguispinus subs. durangensis
Photo by: Peiffer Clement
Cultivation and Propagation: This is one of the most beautiful cacti but rarely seen in cultivation, it needs perfect drainage to flourish. It is quite difficult to grow on its own roots. Very easily rot! It's thought that's better to watch this species in photo or in the natural habitat rather than to try to cultivate it. For this reasons the plant is often grafted on a frost hardy stock.
Soil: Give an open soil that drains fast, and avoid mixtures containing peat or any other form of sphagnum moss.
Exposure: This plant need full sun and above all a very good ventilation, especially in winter.
Water requirements: Keep totally dry during winter, and in summertime make sure that the soil dries enough between waterings. It can tolerate temperature below zero (-5° C or less).
Remarks: Mature individuals - if the growing conditions are not optimal, easily rot and die.
Propagation: Seeds are relatively difficult to germinate (only a limited percentage of seeds germinate). Moreover it is easy for the seed to get lost behind the spines, which are stiff enough that when you try to retrieve them you just might loose them altogether. Grafting is often used to speed growth rate and to create a back-up for plants in collection.