Donate now to support the LLIFLE projects.
Your support is critical to our success.
Since 4 Aug 2013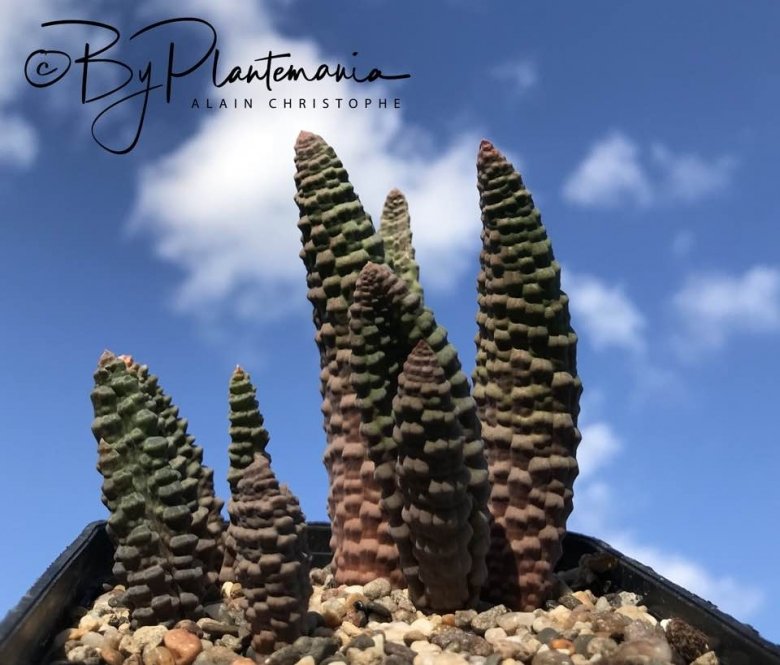 Bulbine bruynsii Photo by: © Plantemania
Origin and Habitat: Bulbine bruynsii is a South African endemic known from one subpopulation within an area of 29 km² m the Northern Cape (Namaqualand), near Kotzesrus. A 2014 survey of the population recorded more than 2000 mature individuals, scattered in small clumps across 12 quartz patches.
Habitat and Ecology: Succulent Karoo. Bulbine bruynsii is a rare, localized habitat specialist growing on saline quartz patches and clay flats, in "Hardeveld" vegetation near to the habitat of Aloe arenicola. This species is potentially threatened by infrastructure development and other construction associated with a road bisecting part of the population however, although locally common this species is still considered to be rare within the region and the loss of individuals of the species together with their associated habitat is therefore considered of a regional significance. This species is also highly sought-after in the specialist succulent trade, and is difficult to grow from seed. It is potentially threatened by collectors removing mature individuals from the wild.
Synonyms:
Description: Bulbine bruynsii is a rare dwarf, erect soft succulent herb 6-12 cm tall. Each head normally only forms two leaves, which are wrinkled and rugose. It is deciduous and is only visible above ground in the rainy season from June until September. For the rest of the year it is dormant and below the ground.
Derivation of specific name. The specific name "bruynsii" honours the Dr. Peter V. Bruyns (* 1957), South African mathematician and succulent plant botanist.
Tuber: Napiform, to 4 cm long and 1 cm in diameter, with brown skin, producing offshoots from secondary tubers.
Leaves: 2, soft, erect, semitranslucent, transversely banded red and green, 1-6 cm long, 1-1.8 cm in diameter, oblong-ovate and shaped like a Chinese lantern (horizontally ridged) and tapering at the tip. Second leaf subulate.
Inflorescences: Erect; peduncle slender, to 20 cm long and 1-2 mm thick.
Flowers: 8-20, sweetly scented. Bracts triangular, membranous, less than 2 mm long. Pedicels to 15 mm long. Outer tepals narrowly linear, 1.2-1.5 mm, bright yellow; Inner tepals ovate, to 4 mm wide, yellow with a bright green midstripe, strongly crinkled, shiny. Filaments to 6 mm long. Anther 1 mm long. Ovary broadly pear-shaped, bright green. Style 6 mm long, stigma knob-like.
Fruits. Globose.
Seeds: 1.6 long,0.8 mm wide, dull black, narrowly triangular.
Bibliography: Major references and further lectures
1) Raimondo, D., von Staden, L., Foden, W., Victor, J.E., Helme, N.A., Turner, R.C., Kamundi, D.A. and Manyama, P.A. 2009. "Red List of South African Plants". Strelitzia 25. South African National Biodiversity Institute, Pretoria.
2) Snijman, D.A. 2013. "Plants of the Greater Cape Floristic Region 2: The extra Cape flora. Strelitzia 30". South African National Biodiversity Institute, Pretoria.
3) Helme, N.A. & von Staden, L. 2012. Bulbine bruynsii S.A.Hammer. "National Assessment: Red List of South African Plants" version 2015.1. Accessed on 2017/03/09
4) Urs Eggli, Leonard E. Newton "Etymological Dictionary of Succulent Plant Names" Springer Science & Business Media, 29 June 2013
5) E. van Jaarsveld in: Urs Eggli "Illustrated Handbook of Succulent Plants: Monocotyledons: Monocotyledon" Springer Science & Business Media, 17 July 2001
6) British Cactus & Succulent Journal, Cactus & Succulent Society, 2001
7) Wikipedia contributors. "Bulbine bruynsii." Wikipedia, The Free Encyclopedia. Wikipedia, The Free Encyclopedia, 10 Nov. 2016. Web. 9 Mar. 2017.
8) L. Zdanow, S. van Staden, N. van de Haar "TERRESTRIAL AND FRESHWATER ECOLOGICAL ASSESSMENT AS PART OF THE ENVIRONMENTAL ASSESSMENT AND AUTHORISATION PROCESS FOR THE PROPOSED CONSTRUCTION OF A SEAWATER DESALINATION PLANT, INCLUDING ASSOCIATED INFRASTRUCTURE AND SERVICES AT VOLWATERBAAI, NEAR ABRAHAMS VILLIERS BAY IN THE NORTHERN CAPE PROVINCE." SRK Consulting. Scientific Aquatic Services August 2014
Bulbine bruynsii
Photo by: © Plantemania
Bulbine bruynsii
Photo by: © Plantemania
Bulbine bruynsii
Photo by: © Plantemania
Bulbine bruynsii
Photo by: © Plantemania
Bulbine bruynsii
Photo by: © Plantemania
Send a photo of this plant.
The gallery now contains thousands of pictures, however it is possible to do even more. We are, of course, seeking photos of species not yet shown in the gallery but not only that, we are also looking for better pictures than those already present.
Read More...
Cultivation and Propagation: Bulbine bruynsii produces suckers from its roots, which provide an easy but slow means of increase. However, in most cases it is necessary to raise new plants from seed. In any case, it is advisable to keep youngsters coming along because it does seem to have a finite life span. Seed is sometimes available from commercial sources or seed exchanges.