Donate now to support the LLIFLE projects.
Your support is critical to our success.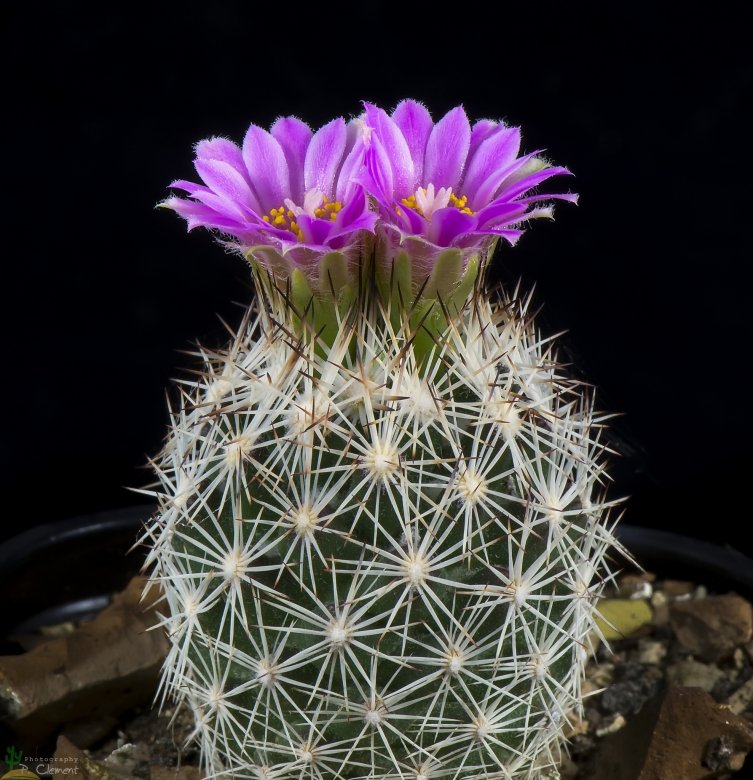 Escobaria grata Photo by: Peiffer Clement
Escobaria grata (hesteri ssp.grata), VM 545, Mina El Tule, North of Melchor Muzqiz, Coahuila, Mexico.
Origin and Habitat: Sierra del Burro ca 150 km northwest of Monclova, Coahuila (Mexico, Northern America)
Altitude range: 1150-1200 metres above sea level.
Habitat and ecology: This specie grows in white limestone hill with locally relatively dense bush vegetation, it is usually found in pockets filled with black humus in light shade under shrubs and in mats of Selaginella. The habitat of Escobaria grata is home to cactus flora and is particularly rich in local endemics such as Escobaria aff. varicolor, Epithelantha micromeris, Echinocereus dasyacanthus, Neolloydia conoidea, Ferocactus hamatocantus, Ancistrocactus uncinatus var. wrightii and Echinocereus enneacanthus ssp. brevispinus.
Synonyms:
Description: Escobaria grata is a very small, solitary or clustering specie with rather dense, adpressed, white spines and deep pink-violet, wide-opening flowers; some clusters can become quite large. It has characteristics that closely relate it to Escobaria hesteri and Escobaria minima
Derivation of specific name: Latin "grata" graceful, pleasant, sweet. This specie, as the name implies, has graceful, sweet, flowers.
Roots: Strong, fibrous.
Stem: At first single ovoid, later slightly elongated up to 70 mm tall and 40 mm thick, with several offsets at the base.
Tubercles: Many, closely set up to 10 mm long and 5 mm thick at the base. The inner side of the tubercles has shallow, evident furrow 8 mm long tapering to the flower part of the areola at the base of the tubercle.
Areole: Elliptical.
Spines: All radial grey-white with brown or black tips. About 1 mm long, lower ones 4-6 mm long, upper ones 10-14 mm long. Upper radial spines near the plant apex are very dense and may look like central spines.
Flower: Up to 25 mm long and 30 mm in diameter wide-opening. Outer perianth segments light pink, fuzzy at apex. Inner perianth segments in two central whirls, shiny mauve-violet, darker in the middle. Stigma with five cream coloured lobes. Stamens numerous, anthers prominent yellow.
Fruit (berries): Round shaped 10 mm wide drying out at maturity.
Seeds: 30-40 per fruit, brown to brown-black, 1 mm long. Seed surface is covered by small warts.
Bibliography: Major references and further lectures
1) Kaplan M., Kunte L., Šnicer J. (2001): Nový druh eskobárie ze severu Mexika - Escobaria grata Kaplan M., Kunte L., Šnicer J. spec. nova, Kaktusy, 37(2): 34-37.
2) Escobaria hesteri subsp. grata in: Genus Escobaria etc. http://www.escobaria.cz/sped/hesgr-de.htm
3) Cactus and Succulent Journal, Volume 81, Issues 1-6 2009
4) Kakteen und andere Sukkulenten, Volume 53 Steinhart KG, 2002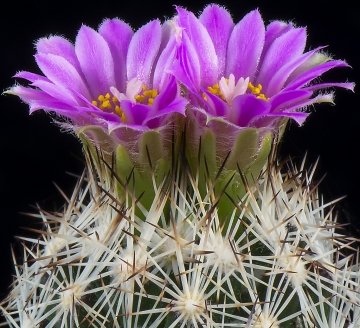 Escobaria grata
Photo by: Peiffer Clement
Escobaria grata
Photo by: Peiffer Clement
Cultivation and Propagation: Very slow-growing, but easy to cultivate. Water regularly in summer, but do not over-water. It prefers a completely dry place during winter with much drainage. An unheated greenhouse would be perfect. It can survive low temperatures (approx. -12 C). Full sun to light shade
Propagation: Easy to propagate from seed, cuttings and grafting.