Donate now to support the LLIFLE projects.
Your support is critical to our success.
Since 4 Aug 2013
sponsored link
Accepted Scientific Name: Gymnocalycium ochoterenae subs. vatteri (Buining) Papsch
Gymnocalycium 6(1): 79 (1993), as 'ochoterenai'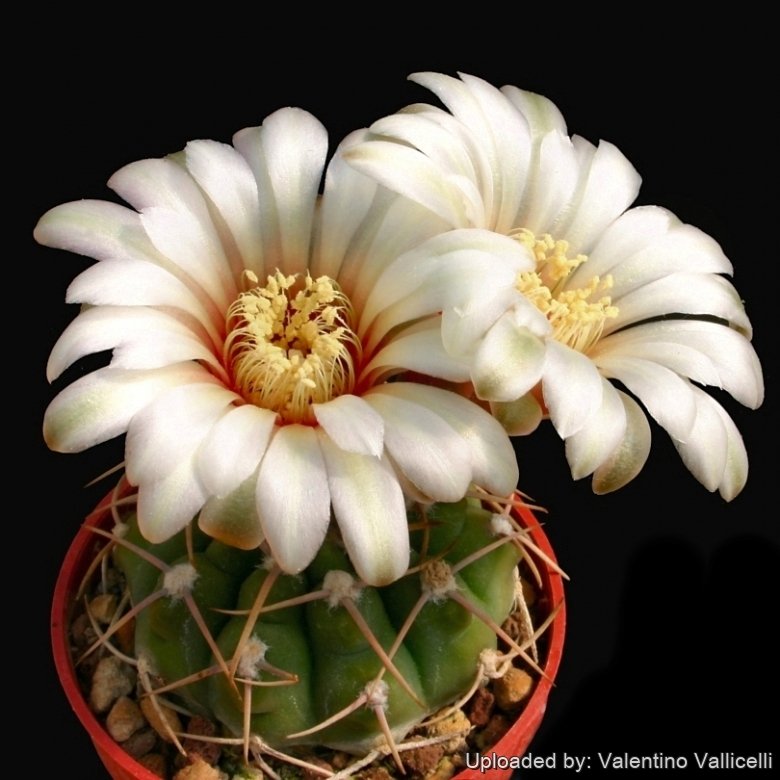 Gymnocalycium vatteri (Gymnocalycium ochoterenae subs. vatteri) Photo by: Valentino Vallicelli
Origin and Habitat: Argentina, Catamarca, Córdoba
Synonyms:
See all synonyms of Gymnocalycium ochoterenae
Description: This is a very slowly growing specie. Generally solitary but old specimens may cluster from the base.
Stem: Flattened with dull grey-green or blue green epidermis, up to 9 cm high 4-10 cm broad (or more in culture)
Ribs:11-14 scarcely prominent.
Areoles: Whit grey wool .
Spines: Stiff and bent to the body, very variable both in length (1 to 2 cm long), cross-section and number ( 1 to 3 in each areole) though some areoles are completely spineless, The most characteristic vatteri form is the one with only 1 spine.
Flowers: 4-5 cm long and 4 cm broad, white with pink to brownish-red throat.
Blooming time: Profuse flowers from late spring to summer.
Subspecies, varieties, forms and cultivars of plants belonging to the Gymnocalycium ochoteranae group
Bibliography: Major references and further lectures
1) Edward Anderson "The Cactus family" Timber Press, Incorporated, 2001
2) James Cullen, Sabina G. Knees, H. Suzanne Cubey "The European Garden Flora Flowering Plants: A Manual for the Identification of Plants Cultivated in Europe, Both Out-of-Doors and Under Glass" Cambridge University Press, 11/Aug/2011
3) David R Hunt; Nigel P Taylor; Graham Charles; International Cactaceae Systematics Group. "The New Cactus Lexicon" dh books, 2006
4) N. L. Britton, J. N. Rose "The Cactaceae. Descriptions and Illustrations of Plants of the Cactus Family." Volume 4, The Carnegie Institution of Washington, Washington 1923
5) Curt Backeberg "Die Cactaceae: Handbuch der Kakteenkunde" Gustav Fischer Verlag, Stuttgart New York 1982–1985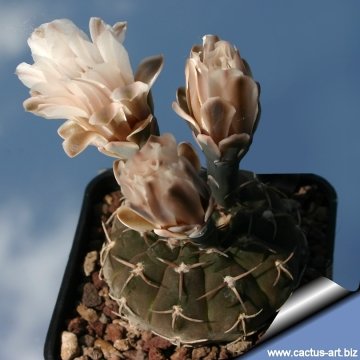 Gymnocalycium vatteri
(Gymnocalycium ochoterenae subs. vatteri)
Photo by: Cactus Art
Gymnocalycium vatteri
(Gymnocalycium ochoterenae subs. vatteri)
Photo by: Valentino Vallicelli
Gymnocalycium vatteri
(Gymnocalycium ochoterenae subs. vatteri)
Photo by: Valentino Vallicelli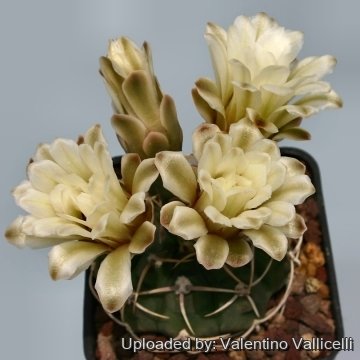 Gymnocalycium vatteri
(Gymnocalycium ochoterenae subs. vatteri)
Photo by: Valentino Vallicelli
Gymnocalycium vatteri
(Gymnocalycium ochoterenae subs. vatteri)
Photo by: Valentino Vallicelli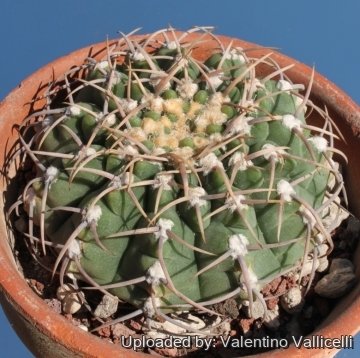 Gymnocalycium vatteri
(Gymnocalycium ochoterenae subs. vatteri)
Photo by: Valentino Vallicelli
Gymnocalycium vatteri
(Gymnocalycium ochoterenae subs. vatteri)
Photo by: Valentino Vallicelli
P108 (Collector: Jörg and Brigitte Piltz) Las Rabonas, Cordoba, Argentina
(Gymnocalycium ochoterenae subs. vatteri)
Photo by: Valentino Vallicelli
Cultivation and Propagation: It is a summer grower species that offers no cultivation difficulties. Water regularly in summer (but do not overwater ) keep rather dry in winter. Feed with a high potassium fertilizer in summer. It is quite frost resistant if kept dry (hardy to -5° C) Sun Exposure: Light shade.
Propagation:: Direct sow after last frost.(seldom produces offsets)