Donate now to support the LLIFLE projects.
Your support is critical to our success.
Since 4 Aug 2013
sponsored link
Mammillaria voburnensis subs. eichlamii Photo by: Valentino Vallicelli
Origin and Habitat: Guatemala, Honduras, Nicaragua and Chiapas (Motocincla and Comitán), Mexico.
Altitude: 300-1500 metres above sea level.
Type locality: Near Sabaneta Honduras.
Habitat: It grows on sandy and stony soils. In Chiapas, Mexico, it is found in cloud and high elevation forests. In Nicaragua it is found from 300-800 m asl. In Guatemala it is not common in dry forest to pine-oak forests, but where it occurs it is abundant. In Chiapas and Guatemala some populations are declining due to habitat loss from expanding cattle ranching and habitat conversion to agricultures.
Synonyms:
See all synonyms of Mammillaria voburnensis
Description: Mammillaria eichlamii differs from the other Guatemalan species in the yellow wool in the axils of the tubercles and in the areoles. If water is kept off the areole wool of this cactus, the areoles will maintain a deep yellow colouring. The coloring is apparently caused by secretion that occurs as the plant grows new areole wool.
Habit: Plant freely caespitose forming large clumps of 25 or more, but loosely held together.
Stem: Plant-body clavate or cylindric, yellowish-green, 6 to 15(-25) cm long and 4-6 cm thick with dirty yellowish hair at the top (about 5 - 7 cm in diameter in cultivation).
Tubercles: Yellowish green, very milky, conical, only slightly angled; axils filled with dense
yellow (sometimes whitish) wool and 5-6 longer white bristles.
Tubercles arrangement: 8 – 13.
Areoles: Small, when young filled with short yellow wool, in age glabrate.
Radial spines: 6, sometime 7 or 8, straight, needle-like, ascending, whitish with brown tips, 5-7 mm long.
Central spines: Usually 1, rarely 2, stouter, darker coloured than the radials, yellow at base, brownish red in upper half, 10 mm long.
Flowers: 2 cm long and in diameter. Flower-buds covered with long wool. Outer perianth-segments narrow, acuminate, with a brownish-red stripe down the center, otherwise cream coloured, slightly ciliate. Inner perianth-segments narrowly lanceolate, acuminate, entire, cream coloured to light lemon-yellow. Style longer than the stamens, pale. Stigma-lobes linear, 4 to 6, yellow, obtuse.
Fruit: Dark red.
Seed: Brown.
Subspecies, varieties, forms and cultivars of plants belonging to the Mammillaria voburnensis group
Bibliography: Major references and further lectures
1) David Hunt, Nigel Taylor "The New Cactus Lexicon" DH Books, 2006
2) John Pilbeam (1999) "Mammillaria The Cactus File Handbook" Nuffield Press.
3) Nathaniel Lord Britton, Joseph Nelson Rose "Cactaceae: Descriptions and Illustrations of Plants of the Cactus Family" vol. 4 The Carnegie Institution of Washington, Washington 1923
4) Stuart Max Walters "The European Garden Flora: Dicotyledons (Part I)" Cambridge University Press, 1989
5) Edward F. Anderson "The Cactus Family" Timber Press, 2001
6) John Borg "Cacti: a gardener's handbook for their identification and cultivation" Blandford P., 1970
7) Ishiki, M., Véliz, M. & Hammel, B. 2013. Mammillaria eichlamii. In: IUCN 2013. "IUCN Red List of Threatened Species." Version 2013.2. <www.iucnredlist.org>. Downloaded on 03 January 2014.
Mammillaria voburnensis subs. eichlamii
Photo by: Valentino Vallicelli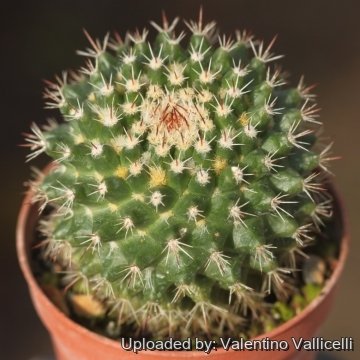 Mammillaria voburnensis subs. eichlamii
Photo by: Valentino Vallicelli
Cultivation and Propagation: Mammillaria eichlamii is relatively easy to cultivate, and makes interesting specimens for any collection. It grows by producing offsets and doesn't require any special treatment.
Growth rate: Slow to offset and basically slow. Over time it will produce large clumps.
Exposure: It needs as much light as possible without burning the plant, to keep the stems compact.
Soil: It needs a well-drained soil mix.
Watering: Water well and then allow to dry thoroughly before watering again, during the growing season. Should really get no water in the winter
Hardiness: From tropical countries and pretty cold sensitive (listed most places as 10b-11, but seems to do OK in 10a). It can however can survive short exposures to light freezing temperatures (-4° C.) if properly hardened off and kept dry.
Propagation: It is best propagated from seed. Seed readily germinates at 20°-22°C, or by offsets if available.