Donate now to support the LLIFLE projects.
Your support is critical to our success.
Since 4 Aug 2013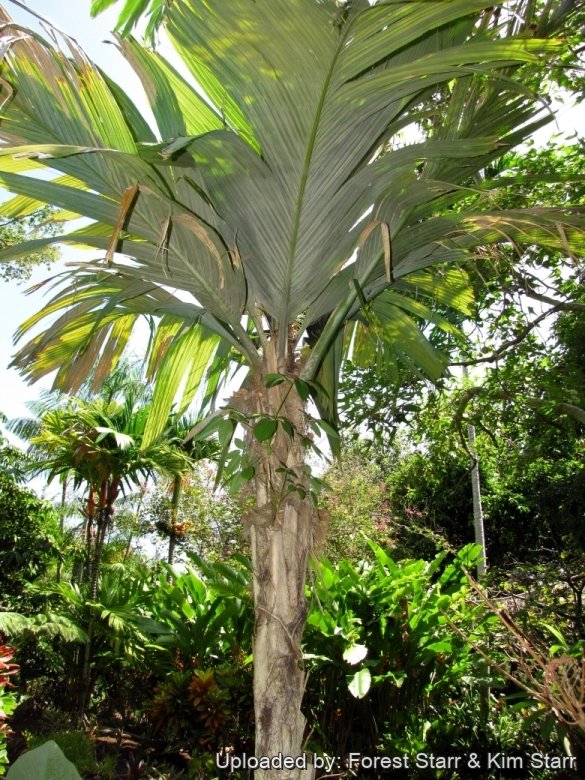 Pelagodoxa henryana Photo by: Forest Starr & Kim Starr
Habit at Iao Tropical Gardens of Maui, Maui, Hawaii (USA). May 22, 2012.
Origin and Habitat: Pelagodoxa henryana is confined to the single Nuku Hiva island in the Marquesas (French Polynesia).
Habitat and Ecology: It grows in low altitude very moist, rainforest (around 40 metres above sea level) as an understorey component. It has become very rare and is one of the world's most threatened palm, only a few specimens remain (maybe 10-12 left). The small number of individuals that are known do not represent a healthy, viable population structure and the species is virtually extinct. The main threats are grazing by feral pigs and land clearance for agriculture and human habitation. But there are three documented anthropogenic sites in Vanuatu, Marquesas and Fiji Islands. Naturalisation of Pelagodoxa henryana has occured in the Solomon Islands, where a cultivated grove near a long abandoned settlement has regenerated. It is also found in cultivation throughout many private and public botanical gardens.
Synonyms:
See all synonyms of Pelagodoxa henryana
Accepted name in llifle Database:
Pelagodoxa henryana
Becc.
Rev. Hort. [Paris]. 89: 302 (1917)
Synonymy: 2
Common Names include:
ENGLISH:
Marquesas Palm, Vahana palm
ITALIAN (Italiano):
Palma delle Isole Marquesas
Description: Pelagodoxa henryana is a magnificent solitary, unarmed, palm species with large bifid leaves with a striking white underside. It is a monoecious palm that flowers without dying after it's flower cycle, and has one of the most ornamental and unusual seeds of all palms, very large, spherical with knobs all over it.
Crownshaft: Absent.
Stem: Erect, bare, smooth, ringed with close leaf scars 5-11 m tall and 15 cm across.
Leaves: About 15 pinnately ribbed at the top of the trunk, each up to 3 m long and 90 cm across, lamina undivided when young except tor the bifid apex, but often split by wind into irregular pinnate divisions. The upper surface is green and glabrous, and the lower surface has a distinctive silvery glaucous bloom. Petiole stout and short, to about 22 cm long. Leaf sheaths soon splitting opposite the petiole, not forming a crownshaft, densely tomentose with an irregular ligule at the mouth, disintegrating into fine threads.
Inflorescences: Interfoliar, not extending beyond the leaves and paniculately branched.
Seeds: Large, globose tan colored at maturity. The single seed covered with a corky epicarp with knobs all over it. Three size cohorts occur that differ mostly in proportion (the two smaller ones ripen with a pulpy, orange, fragrant mesocarp, the largest ripens to a tan fibrous mesocarp) 2 cm diam. (Vanuatu); 5.5 to 6.0 cm diam. (Fiji); 10 to 15 cm diam. (virtualherbarium.org)
Seedling: Eophyll (seedling leaves) bifid, tips divided.
Notes: Pelagos — the sea, doxa — glory, perhaps in reference to the remote oceanic island habitat.
Bibliography: Major references and further lectures
1) Johnson, D. 1998. Pelagodoxa henryana. The IUCN Red List of Threatened Species. Version 2014.2. <www.iucnredlist.org>. Downloaded on 01 September 2014.
2) John Dransfield, Natalie W. Uhl "Genera Palmarum: the evolution and classification of palms" Kew Pub., 2008
3) Jean Dorst "Before Nature Dies" Houghton Mifflin, 1970
4) Marie Catharine Neal "In Gardens of Hawaii" Bishop Museum Press, 1965
5) Pelagodoxa henryana <http://www.virtualherbarium.org> Fairchild Tropical Botanic Garden Virtual Herbarium
6) Forest & Kim Starr Pelagodoxa henryana (Marquesas palm). Plants of Hawaii. <http://www.starrenvironmental.com>. Downloaded on 21 August 2014.
7) John Dransfield, Natalie W. Uhl "Genera Palmarum: the evolution and classification of palms" Kew Pub., 2008
8) Don Ellison, Anthony Ellison "Cultivated Palms Of The World" UNSW Press, 01/May/2001
9) Govaerts, R. & Dransfield, J. "World Checklist of Palms". The Board of Trustees of the Royal Botanic Gardens, Kew. 2005.
10) Wikipedia contributors. "Pelagodoxa henryana" Wikipedia, The Free Encyclopedia. Wikipedia, The Free Encyclopedia, Accessed on 28 Aug. 2014
11) Palmpedia contributors. "Pelagodoxa henryana ." Palmpedia, PALM ENCYCLOPEDIA, <http://www.palmpedia.net> Downloaded on 26 Aug. 2014
12) 8) Robert Lee Riffle, Paul Craft "An Encyclopedia of Cultivated Palms" Timber Press, Portland 2007
13) "Pelagodoxa henryana ." PACSOA Palms and Cycads wiki , <http://www.pacsoa.org.au> Accessed on 28 Aug. 2014
Frond at Iao Tropical Gardens of Maui, Maui, Hawaii (USA). May 22, 2012.
Photo by: Forest Starr & Kim Starr
Send a photo of this plant.
The gallery now contains thousands of pictures, however it is possible to do even more. We are, of course, seeking photos of species not yet shown in the gallery but not only that, we are also looking for better pictures than those already present.
Read More...
Cultivation and Propagation: Pelagodoxa henryana is an exytremely beautiful, somewhat difficult palm to grow but well worth the effort. It is absolutely gorgeous and not overwhelmingly big. It is adapt to the humid tropical climates, but is usually not cultivated. It elegant foliage and small stature make it suitable for a smaller landscape. People who live in colder climates can still enjoy the palms as potted plants. Seed is not often available from cultivated plants. For this reason, it has been an expensive item, normally reserved for collectors. Even in a greenhouse it can be a bit of challenge.
Growth rate: Usually grows relatively fast in favourable tropical climates, with the formation of a trunk commencing after about 6 years.
Soil requirements: It has a fibrous root system and benefits from deep organic, soils that are fertile as long as they are well drained.
Watering: It prefers adequate moisture to look its best. Don't let sit in water. Indoor, potted palms should not be over-watered.
Light: Likes a half-shaded, sheltered position. If home-grown, give some sun as with most tropical palms.
Fertilization: Need a perfect fertilizer diet including all micro nutrients and trace elements three times a year if not grown in rich soil.
Aerosol salt tolerance: It is moderately tolerant, but does a lot better inland then it does on the coast.
Hardiness: This palm is tender and is suited for tropical or subtropical climates, and not like cold. Seedling growth arrests below 15° C.
Wind hardiness: It is not tolerant as the fronds tatter easily and requires wind-sheltered spots.
Garden uses: This palm has only recently been introduced to cultivation, but is becoming very popular in the tropics and sub-tropics as a garden and container plant. It is an excellent landscaping palm when set among taller trees as a specimen but is even better when multiple plants are grown together. It is specially for small gardens where other palms will grow out of scale. Plant this palms in containers and feature it in a prominent spot on the patio.
Other uses: The anthropogenic sites may suggest a food source or famine food, as the fruit endosperm is edible. At maturity, the mesocarp is of a pasty, lightly fibrous texture, similar to avocado pulp, with a sweet pungent odour which some may find offensive, somewhat resembling a combination of mild durian and custard apple flavours.
Propagation: The fresh seeds take 4-6 months to germinate. If not properly treated, the seed does not have long shelf life. Shade and abundant moisture for seedlings and juveniles is essential in a very well protected area if the leaves are to retain their fullness, as they are easily split and spoiled by wind and even mild exposure.