Donate now to support the LLIFLE projects.
Your support is critical to our success.
Since 4 Aug 2013
sponsored link
Cheiridopsis pillansii
S. African Gard. 17: 326. 1927; L. Bolus, Notes Mesembr. Pt. 1, 130. 1928.
Family: AIZOACEAE
Cheiridopsis pillansii Photo by: Giuseppe Monaco
Origin and Habitat: Little Namaqualand, west of Steinkopf, Northern Cape, South Africa
Altitude range: 200 – 350 metres above sea level.
Habitat and Ecology: It normally grows in small stands in sandy open areas bordering dried up stream-beds, on gneiss and granite or on slopes of material overlying quartzite and sandstone in winter rainfall region with hot, dry summers. Precipitations less than 100 mm per annum.
Synonyms:
See all synonyms of Cheiridopsis pillansii
Accepted name in llifle Database:
Cheiridopsis pillansii
L. Bolus
S. African Gard. 17: 326. 1927; L. Bolus, Notes Mesembr. Pt. 1, 130. 1928.
Synonymy: 5
Common Names include:
ENGLISH:
Lobster Claws
AFRIKAANS (Afrikaans):
Polvygie
Description: Cheridopsis pillansii is a compact, cushion forming and low growing perennial succulent with with very fat leaves. Its sculptural quality is enhanced by the dark dots on the greyish-white surface. This species makes big clumps up to 500 mm in diameter.
Stems: Very short branching at ground level.
Leaves: Opposite, in one or two, sometimes three, pairs, humped, erect or bent to the top (apex) of branches, similar in size, each leaf up to 4,5 cm long, smooth, without pointed tips or toothed keels, pale grey, fat, succulent with rounded ends and many dark dots (translucent in backlight). The new leaves are shaped like a pair of cupped hands and appear from the centre within the old leaf pair fissure which gives the impression of the plant having sets of alternate appressed leaves. As living conditions become drier and hotter, the leaves are reduced to a single pair while the basal ones whither forming a hood-like sheath.
Flowers: Large, scented, up to 6 cm in diameter, usually cream to yellow, but also pinkish or orange in colour. Scented.
Blooming season: Autumn.
Fruits (dry capsules): Base near globose, awn with hardly broadening bases.
Remarks: The Cheiridopsis is dormant in summer.
Subspecies, varieties, forms and cultivars of plants belonging to the Cheiridopsis pillansii group
Bibliography: Major references and further lectures
1) Heidrun E. K. Hartmann "Aizoaceae A – E" Springer, 2002
2) Debra Brown Folsom, Huntington Botanical Gardens "Dry climate gardening with succulents" Pantheon Books, 14/mar/1995
3) John Manning "Field guide to wild flowers of South Africa, Lesotho and Swaziland" Struik, 15/apr/2010
4) James Cullen, Sabina G. Knees, H. Suzanne Cubey "The European Garden Flora Flowering Plants: A Manual for the Identification of Plants Cultivated in Europe, Both Out-of-Doors and Under Glass" Cambridge University Press, 11/Aug/2011
5) Hermann Jacobsen, Vera Higgins "Succulent Plants: Description, Cultivation and Uses of Succulent Plants, Other Than Cacti" Williams and Norgate, Limited, 1935
6) Jacobsen. "Handbook of succulent plants" 1328 (1960)
7) Barkhuizen, B.P. "Succulents of Southern Africa." Purnell, Cape Town 1978.
8) Hartmann, H.E.K. "Growth forms and leaves in the genus Cheiridopsis" N. E. Br. Cactus & Succulent Journal (U.S.) 60: 168–173. 1998
9) Le Roux, A. & Schelpe, E.A.C.L.E. 1997. Namaqualand . "South African Wild Flower Guide 1." Botanical Society of SouthAfrica, Cape Town.
10) Doreen Court "Succulent Flora of Southern Africa" CRC Press, 01/giu/2000
11) Raimondo, D., Von Staden, L., Foden, W., Victor, J.E., Helme, N.A., Turner, R.C., Kamundi, D.A. & Manyama, P.A. 2009. "Red List of South African Plants" 2009. Strelitzia 25. South African National Biodiversity Institute, Pretoria.
12) Ernst Van Jaarsveld, Ben-Erik Van Wyk, Gideon Smith "Succulents of South Africa: A Guide to the Regional Diversity" Tafelberg Publishers, Limited, 01/lug/2000
13) Scott Edson Haselton "Cacti and succulents and how to grow them" 1944
14) Claude Chidamian "The book of cacti: and other succulents" American Garden Guild, 1958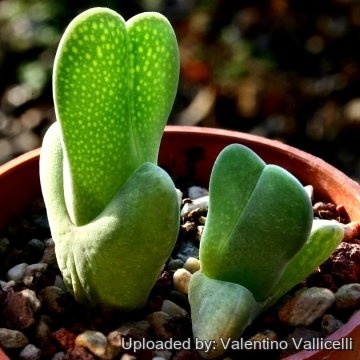 - illuminated from behind.
Photo by: Valentino Vallicelli
Cheiridopsis pillansii
Photo by: Valentino Vallicelli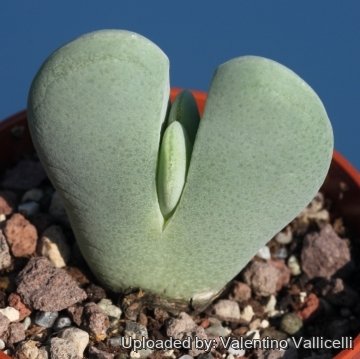 Cheiridopsis pillansii
Photo by: Valentino Vallicelli
Cheiridopsis pillansii
Photo by: Valentino Vallicelli
Cheiridopsis pillansii
Photo by: Valentino Vallicelli
Cheiridopsis pillansii
Photo by: Valentino Vallicelli
Cheiridopsis pillansii
Photo by: Valentino Vallicelli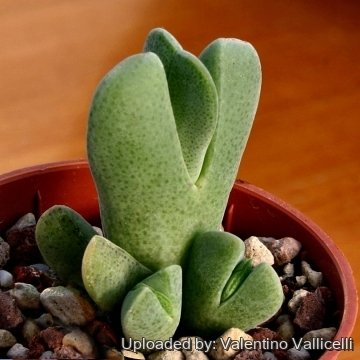 Cheiridopsis pillansii
Photo by: Valentino Vallicelli
Cultivation and Propagation: The Cheiridopsis pillansii is a "winter" grower which is most active from late winter until later spring and heading for summer dormancy, but in favourable growing conditions it keeps going over the summer too and doesn't need particular care. It does well when grown in conditions similar to those in its natural habitat or in a greenhouse. It can grows outdoor in sunny, dry, rock crevices (protection against winter wet is required). It can also be cultivated in alpine house, in poor, drained soil.
Soil: It requires a sandy soil that is rich in minerals. Ensure a very good drainage as it it is prone to root rot.
Fertilization: It thrives in poor soils and seems sensitive to an excess of potassium.
Watering: Water minimally in summer, only when the plant starts shrivelling or spray them with a fine mist from time to time, water more abundantly when they are growing in the autumn and spring. Requires little water otherwise its epidermis breaks (resulting in unsightly scars).
Light: It needs a bright sunny or light shade exposure in winter, but keep cool and shaded in summer.
Hardiness: It prefer a very bright situation and will take a light frost (Hardy to -5°C) if it is in dry soil. USDA zones 9A – 11.
Uses: Container, rock garden.
Propagation: Seed in spring or cuttings. Sow seeds in autumn, and, to improve the chances of germination, place the seeds in a small container with warm water for 24 hours. This will help to soften the hard outer layer of the seeds. Sow the seeds in a sandy medium and cover them with a thin layer of fine sand about 1 mm thick. Keep them damp, using a fine spray, until seeds start to germinate in about seven to fourteen days. Once the seedlings start growing, slowly reduce the amount of water. Baggy method works well too.