Donate now to support the LLIFLE projects.
Your support is critical to our success.
Since 4 Aug 2013
Accepted Scientific Name: Cerochlamys pachyphylla (L. Bolus) L. Bolus
Notes Mesembryanthemum [H.M.L. Bolus] [H.M.L. Bolus] 3: 227, cum descr. ampl. 1950 [25 Aug 1950] L. Bolus
Cerochlamys pachyphylla var. albiflora Photo by: Valentino Vallicelli
Cerochlamys pachyphylla v albiflora Prince Albert (MG 1362.1), crispate leaf margins.
Origin and Habitat: South Africa (Western Cape), Lesotho and Swaziland.
Habitat: Cerochlamys pachyphylla var. albiflora occurs on sandstone rocks.
Synonyms:
See all synonyms of Cerochlamys pachyphylla
Accepted name in llifle Database:
Cerochlamys pachyphylla
(L. Bolus) L. Bolus
Notes Mesembryanthemum [H.M.L. Bolus] [H.M.L. Bolus] 3: 227, cum descr. ampl. 1950 [25 Aug 1950]
Synonymy: 3
Description: It is a clump-forming leaf succulent with waxy leaves, 8-20 cm in diameter and up to 10 cm tall. Cerochlamys pachyphylla var. albiflora has white flowers and shows at its best in the winter.
Stem: Very reduced, stemless at first, later tufted and developing a very short branched trunk.
Leaves: Simple, in 2-5 pairs, 4-7 cm long and about 6-8 mm wide at the base but wider and thicker near the apex; trigonously clavate (club-shaped), triangular near the top, prominently keeled below, quite hard and rigid; brownish-green whose epidermal cells secrete a sticky-waxy substance; decussate (arranged alternately crosswise) along the stems, the opposite pairs being joined at the base.
Flowers: 1 to 3, subsessile, terminal, white up to 3 cm in diameter.
Blooming season: The plants bloom from January to February and flowers will last for a few weeks.
Note: Whilst in older works two species of Cerochlamys are sometimes described, Cerochlamys trigona and Cerochlamys pachyphylla, according to Jacobsen the former is included with the latter, so that we have a monotypic genus.
Subspecies, varieties, forms and cultivars of plants belonging to the Cerochlamys pachyphylla group
Bibliography: References and further reading
1) Oliver, I.B. "Grow succulents." Kirstenbosch Gardening Series. National Botanical Institute, Cape Town.
2) Smith, G.F., Chesselet, P., Van Jaarsveld, E.J., Hartmann, H., Hammer, S., Van Wyk, B-E., Burgoyne, P., Klak, C. & Hubert, K. "Mesembs of the world." National Botanical Institute, Pretoria.1998.
3) Doreen Court "Succulent Flora of Southern Africa" CRC Press, 01/giu/2000
4) Heidrun E. K. Hartmann "Aizoaceae: A-E" Springer, 2001
5) www.plantzafrica.com/plantcd/cephalalston.htm
6) James Cullen, Sabina G. Knees, H. Suzanne Cubey "The European Garden Flora Flowering Plants: A Manual for the Identification of Plants Cultivated in Europe, Both Out-of-Doors and Under Glass - Casuarinaceae to Aristolochiaceae" Cambridge University Press, 11/ago/2011
7) Hermann Jacobsen, Vera Higgins "Succulent Plants: Description, Cultivation and Uses of Succulent Plants, Other Than Cacti" Williams and Norgate, Limited, 1935
8) Jacobsen. "Handbook of succulent plants" 1328 (1960)
9) H. Herre "The genera of the Mesembryanthemaceae" Tafelberg-Uitgewers Beperk, 1971
10) Gideon Smith u.a. (Hrsg.): "Mesembs of the World: Illustrated Guide to a Remarkable Succulent Group." Briza Publications, 1998
11) Nicholas Edward Brown "Mesembryanthemum and allied genera." In: Journal of Botany, British and Foreign. Band 66, 1928, S. 171.
12) Burgoyne, P.M. 2006. Cerochlamys pachyphylla (L.Bolus) L.Bolus. National Assessment: "Red List of South African Plants" version 2013.1. Accessed on 2014/02/07
Cerochlamys pachyphylla var. albiflora
Photo by: Valentino Vallicelli
Cerochlamys pachyphylla var. albiflora
Photo by: Valentino Vallicelli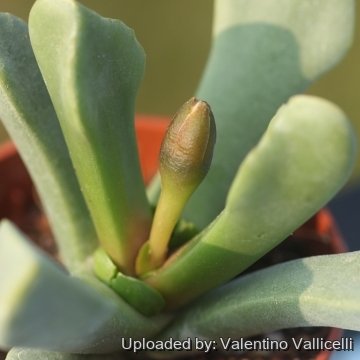 Cerochlamys pachyphylla var. albiflora
Photo by: Valentino Vallicelli
Ceroclamis pachyphylla albiflora Besemkop.
Photo by: Valentino Vallicelli
Cultivation and Propagation: Cerochlamys pachyphylla is a "winter" grower which is most active from late winter until later spring and heading for summer dormancy, but in favourable growing conditions it keeps going over the summer too and doesn't need particular care. It is relatively easy to grow.
Soil: Requires good drainage as it it is prone to root rot. It can grows outdoor in sunny, dry, rock crevices (protection against winter wet is required) It can also be cultivated in alpine house, in poor, drained soil.
Fertilization: Feed it once during the growing season with a fertilizer specifically formulated for cactus and succulents (poor in nitrogen), including all micro nutrients and trace elements diluted to ½ the strength recommended on the label. It thrives in poor soils and need a limited supplies of fertilizer to avoid the plants developing excess vegetation, which is easily attacked by fungal diseases.
Watering: Water minimally in summer, only when the plant starts shrivelling, water more abundantly when they are growing in the autumn and spring, but let the soil dry between soaking. Requires little water otherwise its epidermis breaks (resulting in unsightly scars). If grown in a container, bottom watering by immersing the container is recommended. It must have very dry atmosphere.
Light: It needs a bright sunny or light shade exposure in winter, but keep cool and shaded in summer.
Hardiness: It prefer a very bright situation and require a minimum temperature 5°C (But will take a light frost and is hardy down to -7° C for short periods if it is in dry soil). USDA zones 9A-11.
Uses: Container, rock garden.
Pests and diseases: It is vulnerable to mealybugs and rarely scale.
Propagation: Seed in spring or (or rarely) cuttings. It is easily propagated by seed. Twist off a rosette with at least a part of stem and permit it to dry out a couple of days, lay it on the soil and insert the stem end partially into the soil. Try to keep the cutting somewhat upright so that the roots are able to grow downward.