Donate now to support the LLIFLE projects.
Your support is critical to our success.
Since 4 Aug 2013
sponsored link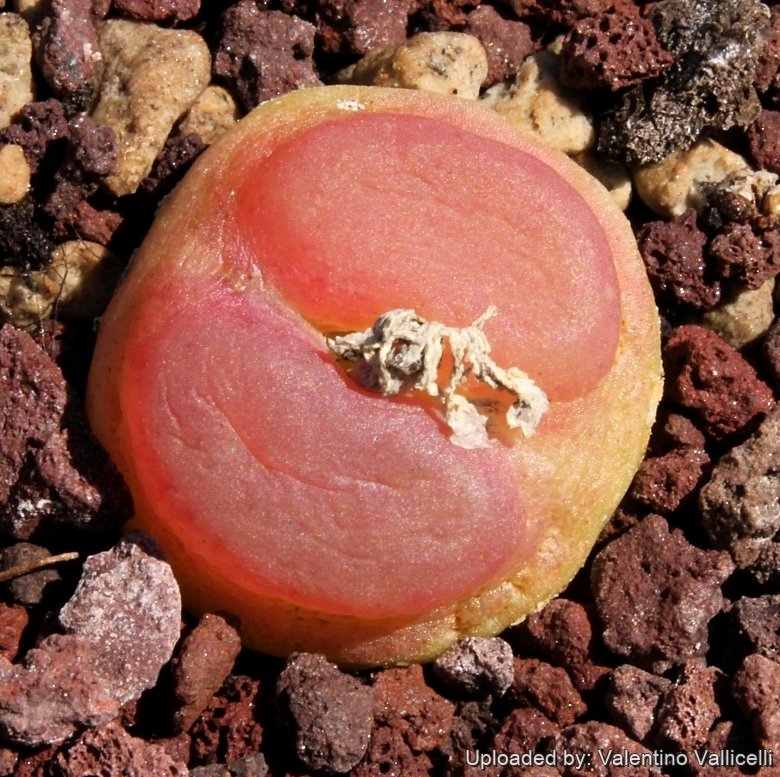 Conophytum ratum Photo by: Valentino Vallicelli
SH1200 (MSG 1324 Collector: Mesemb Study Group) Locality: SW Namies Date: 1999 This "jelly candy" is the colouring of pre-dormancy in late-spring...in winter during its active growing phase the plant is green.
Origin and Habitat: Eastern part Richtersveld, Namaqualand, South Africa.
Altitude: 800-950m.
Average rainfall:** 50mm per year.
*Habitat: ***Inhabits spongy quartz soil, sometimes beneath the transparent quartz. The quartz act as reflectors of the heat of the sun. In the bottom of the plant there are pieces of dried leaf, this plant uses its old dried leaf's in the summer as a shield for the younger leafs to protect them from drying out. It is found frequently in the company of Conophytum maughanii, the two conophytum species are very similar. This species had five known subpopulations, one of which (from its type locality on the farm Onder Namies) was almost wiped out (and supposed extinct) in the 1990s when it was raided by a group of South African collectors, and another is likely to decline to local extinction due to ongoing mining activities. This will result in a population reduction of at least 40% within 30 years (generation length 10 years).
Synonyms:
See all synonyms of Conophytum ratum
Accepted name in llifle Database:
Conophytum ratum
S.A.Hammer
Cact. Succ. J. (Los Angeles) 63(2): 67. 1991
Synonymy: 2
Description: The Conophytum ratum is a soil-embedded, subterranean species with windowed leaves that usually has only one body or rarely forms small group with few heads. It is one of the most peculiar specie reminding of odd jelly candies.
Stem: Stemless
Body (paired leaves): Broader than tall, soft, jelly-like and windowed, green to yellowish-green in winter during the active growing phase, but gradually turning orange to purple-red in the pre-dormancy phase in early spring, then the skin begins to thin and loses colour, until finally, when the hot, dry days of summer arrive the plants go dormant and they seemingly retreat into a dry, papery cocoon spun from their own skins. In Africa, these shield allow them to endure harsh summer conditions until the autumn growing season when they bloom again.
Flowers:
Fruit: The fruit is a capsule.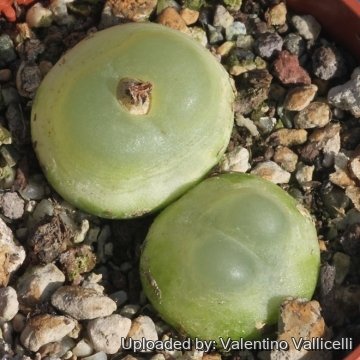 Conophytum ratum
Photo by: Valentino Vallicelli
Conophytum ratum
Photo by: Valentino Vallicelli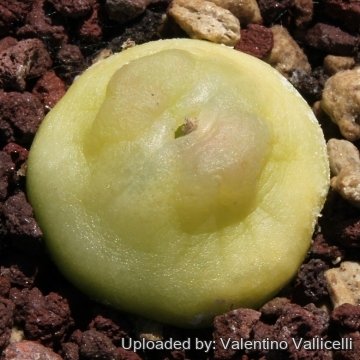 Conophytum ratum
Photo by: Valentino Vallicelli
Send a photo of this plant.
The gallery now contains thousands of pictures, however it is possible to do even more. We are, of course, seeking photos of species not yet shown in the gallery but not only that, we are also looking for better pictures than those already present.
Read More...
Cultivation and Propagation: They are relatively difficult to grow. These plants grow on winter rain and head for summer dormancy. The growing season in northern hemisphere is from September to March. During this period they present their flowers and can be lightly watered about once a week or (better) misted every day and will become plump. In Africa, the mist from morning fog provides moisture. Otherwise their epidermis breaks (resulting in unsightly scars). Water minimally in summer, (only occasional misting). Start watering again in autum after the previous year's leaves have dried up. Require good drainage. They enjoy full sun or half-shade and in summer they need to be kept in a cool area. Hardy to -2°C. Ensure a very good ventilation. Avoid to repot frequently. They may stay in the same pot for many years. Plants grown in larger containers have frequently relatively poor flowers. They might improve when the plants are given their own, small individual pots.
Propagation: They can be reproduced by seeds.