Donate now to support the LLIFLE projects.
Your support is critical to our success.
Since 4 Aug 2013
sponsored link
Gibbaeum gibbosum Photo by: Giuseppe Distefano
Origin and Habitat: Western Cape (Ceres, Montagu, Laingsburg, and Worcester Districts), South Africa.
Habitat and ecology: Gibbaeum gibbosum is abundant on gravel of mixed composition on the "white band" of gypsum shale at the junction of the Dwyka and Ecca formations, and apparently limited to this situation. It is often found next to shrubs. The species is one of the more prominent during the dry season because the yellowish- to bluish-green leaves form distinct patches.
Synonyms:
See all synonyms of Gibbaeum gibbosum
Accepted name in llifle Database:
Gibbaeum gibbosum
(Haw.) N.E.Br.
Gard. Chron. III, 72: 151 1922
Synonymy: 9
Description: Gibbaeum gibbosum is a compact perennial succulent that grows flat in the ground forming dense clumps up to 10-15 cm in diameter and 3-6 cm above the level of the soil surface. Unequal pairs of smooth deep green to yellowish green leaves (different in shape and size) look like sharks head, the old leaves form white sheaths around the bases of the leaf-pairs. The only known glabrous species with which this can be confused is Gibbaeum marlothii, from which the larger size and much more unequal leaves readily distinguish it. Leaves and flowers, respectively fruits are distributed all over the plants.
Stems: Main branches longer or shorter prostrate and secondary ones upright. All branches lightly or more loosely packed, so that little or nothing of the branches is seen from above, but only the leaves. The subterranean part of the plant consists frequently of a very stout hard woody rootstock descending vertically into the ground which may be 6-10 cm in diameter at its upper end. This rootstock does not penetrate very deep into the soil, at most about 20 cm.
Bodies (paired leaves): Bluish-green to yellowish green, glabrous and smooth, 2-6 cm long, 1-2 cm thick at the base, formed of two opposite, equal, subequal or (usually) very unequal finger-shaped, leaves more or less united into a solid body, or the unequal leaves more widely separated and spreading, but still united at the lower part, the larger slightly incurved, trigonous and somewhat flattened above, with 2 keels almost scimitar-shaped beneath, the upper leaf surface pressed closely against the smaller leaf and thus invisible. The fissure quite distinct. The smaller leaf usually about one-third as long with a less pronounced hump on the lower leaf surface, the upper leaf surface completely invisible during the dry season. After winter rainfall the leaves of a pair are spreading, very fat, green and juicy; in spring with progressing heat and drought they start discolouring; after the dry season (summer) they form a rounded pyramid often with a reddish to purplish tint and may look quite miserable. Under some shelter and in deeper soil the leaves tends to be deep green, longer, more or less divergent and luxuriant, while in exposed places
the leaves are often small, appressed, yellowish green, half the size of the first.
Flowers: (10-)25-30(-45) mm in diameter, pedicellate, stalk (8-)1215(-17) mm long slightly compressed, bract less, with the ovary usually exserted from the fissure. Calyx bilobed down to the top of the ovary. Sepals sub-equal, outer two slightly keeled, with minute papillae on keel, 5 mm. long, inner four deltoid, membraneous margin. Petals 35-43, free, 1 cm long, linear, obtuse, 1 mm wide, pale pink to purplish with prominent purple midrib. Stamens numerous 4 mm long, erect, filamentous staminodes 30-40, filaments papillate. Glands 6, dark green, crenulate. Stigmas 6-7, plumose or filiform 1 mm long. Ovary inferior, 6-7 celled; placentas on the outer wall or floor of the cells.
Fruit (capsules): Base broadly obconic to funnel-shaped, the 2 wings merging into the wings of the stalk, convex, raised and rounded a little at the top, with 6-7 valves and cells; valves with their expanding keels diverging from near their base and shorter than the valve, but with broad, membranous, obtuse marginal wings produced nearly or quite to the tip of the valve. Cells roofed with flexible membranous cell-wings, without a tubercle at the opening.
Booming season: Winter-spring.
Seeds: Numerous in each cell, very small, ovoid, with a nipple at one end.
Chromosome number: 2n = 18
Bibliography: Major references and further lectures
1) Heidrun E. K. Hartmann "Illustrated Handbook of Succulent Plants: Aizoaceae F-Z" Springer, 2002
2) "Gardeners Chronicle & New Horticulturist" Haymarket Publishing, , Volume 79,
3) page 172, 1926
4) Sean Hogan, Timber Press (Portland, Or.) "Flora: a gardener's encyclopedia" Volume 1 Timber Press, 2003
5) Nel. "The Gibbaeum handbook".f.26-29 (1953)
6) Everard & Morley. "Wild flowers of the world", pl. 73 (1970)
7) Jacobsen. "Lexicon of succulent plants". pl. 166, f. 2 (1974).
8) Stuart Max Walters "European Garden Flora: A Manual for the Identification of Plants Cultivated in Europe, Both Out-of-Doors and Under Glass" Cambridge University Press, 27 July 1989
9) Vlok, J. and Schutte-Vlok, A.L. "Plants of the Klein Karoo". Umdaus Press, Hatfield.2010.
10) Burgoyne, P.M. 2006. "Gibbaeum gibbosum (Haw.) N.E.Br." National Assessment: Red List of South African Plants version 2015.1. Accessed on 2015/11/25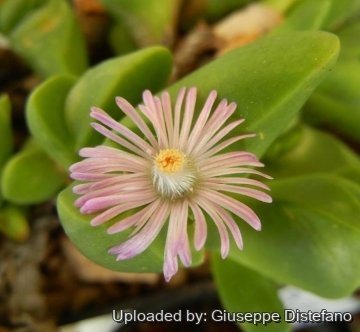 Gibbaeum gibbosum
Photo by: Giuseppe Distefano
Send a photo of this plant.
The gallery now contains thousands of pictures, however it is possible to do even more. We are, of course, seeking photos of species not yet shown in the gallery but not only that, we are also looking for better pictures than those already present.
Read More...
Cultivation and Propagation: Gibbaeums are "winter" grower which are most active from late winter until later spring and heading for summer dormancy, and notoriously difficult to grow because they rot very easily, but Gibbaeum gibbosum, is among the easiest in cultivation, keeps going over the summer too and don't need particular care.
Soil: It grows best in sandy-gritty soil and requires good drainage as it is prone to root rot. It can grows outdoor in sunny, dry, rock crevices (protection against winter wet is required) It can also be cultivated in alpine house, in poor, drained soil.
Fertilization: Feed it once during the growing season with a fertilizer specifically formulated for cactus and succulents (poor in nitrogen), including all micro nutrients and trace elements diluted to ½ the strength recommended on the label. It thrives in poor soils and need a limited supplies of fertilizer to avoid the plants developing excess vegetation, which is easily attacked by fungal diseases.
Watering: The Gibbaeums thrive in dry and desert regions and are able to stand extended periods of drought and require careful watering. Water minimally in summer, only when the plant starts shrivelling, water more abundantly when they are growing in the autumn and spring, but let the soil dry between soaking. Requires little water otherwise its epidermis breaks (resulting in unsightly scars). If grown in a container, bottom watering by immersing the container is recommended. It must have very dry atmosphere.
Light: It needs a bright sunny or light shade exposure in winter, but keep cool and shaded in summer.
Hardiness: It prefer a very bright situation and require a minimum temperature 5°C (But will take a light frost and is hardy down to -7° C for short periods if it is in dry soil). USDA zones 9A – 11.
Uses: Container, rock garden.
Pests and diseases: It is vulnerable to mealybugs and rarely scale.
Propagation: Seed in autumn or (or rarely) cuttings. Take the cutting from a grown-up mother plant. Each cutting must contain one or more heads along with a fraction of root and permit to dry out a couple of days, lay it on the soil and insert the stem end partially into the soil. Try to keep the cutting somewhat upright so that the roots are able to grow downward. It is relatively difficult to root Gibbaeums from cuttings and generally pointless as well, so quick are they from seed.