Donate now to support the LLIFLE projects.
Your support is critical to our success.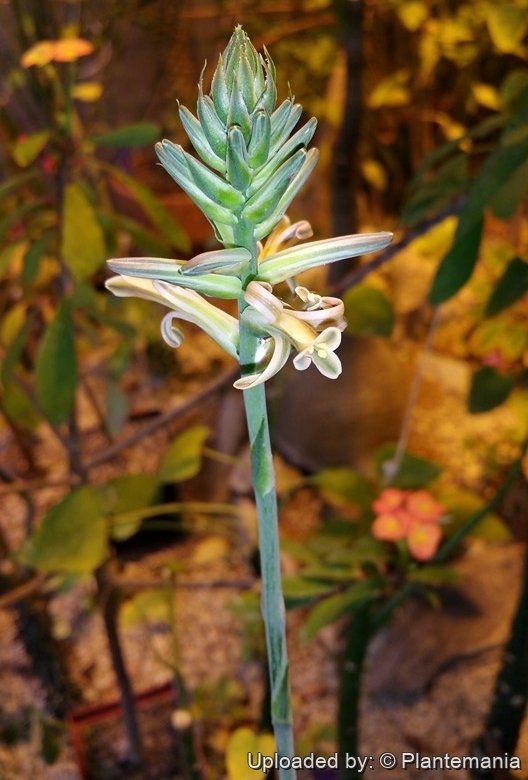 Aloe florenceae Photo by: © Plantemania
Aloe species with scented flowers do exist, the sweet-smelling white flowers of Aloe florenceae are good examples.
Origin and Habitat: Aloe florenceae is common on Madagascar in the western part of the central highlands (Antsirabe).
Synonyms:
Common Names include:
RUSSIAN (Русский):
Алоэ флоренсы
Description: Aloe florenceae is a dinky trunkless aloe species, only sparsely branched that form clumps of up to five rosettes. Leaves are covered with thin, soft, white tubercles all over (a bit like a dwarf Aloe humilis, or a very neat looking Aloe haworthioides with blue leaves). Together with Aloe compressa, it is one of the few species of aloe with flowers that smell like the hyacinth (and resemble it).
Derivation of specific name: The epithet florenceae honors Florence Razafindratsira, the wife of Alfred Razafindratsira, who discovered the species.
Leaves: Up to 40, triangular, pointed, ascending or curved up and in, dark blue-green, but colours can change to brownish, copper or blackish if stressed, 3-4 cm long and 9 to 11 mm wide. The blade is covered with warts, each of which carries a 0.75 mm long papillae. The soft teeth on the blade margin are 1 mm long and up to 1.2 mm apart.
Inflorescences and flowers: The inflorescence is simple (umbranched) and quite long relative to size of plant (up to 30 cm tall). The short conical raceme consist of 8-22 flowers, subtended by whitish-brown papery lanceolate bracts 22 mm long and 10 m wide. The flowers held on very short pedicels, are sweet-smelling, cream to pink-brown coloured, tubular, slightly curved, 27-30 mm long and 5 mm in diameter. Outer segments 10-12 mm long. The stamens protrude briefly and the stylus protrudes about 6 mm from the flower. It flowers in autumn to early winter
Bibliography: Major references and further lectures
1) Susan Carter, John J. Lavranos, Leonard E. Newton, Colin C. Walker: Aloes. "The definitive guide." Kew Publishing, Royal Botanic Gardens, Kew 2011
2) Gideon F. Smith, Colin C. Walker, Estrela Figueiredo "What's in a name: epithets in Aloe L. (Asphodelaceae) and what to call the next new species." In: Bradleya. Band 28, 2010, S. 92.
3) Hochspringen ↑ John J. Lavranos, Tom McCoy "Aloe florenceae (Aloaceae) - eine überraschende neue Sippe aus Madagaskar." In: Kakteen und andere Sukkulenten. Band 55, Nummer 10, 2004, S. 283–285.
4) Wikipedia, Die freie Enzyklopädie, "Aloe florenceae" 2016, https://de.wikipedia.org/w/index.php?title=Aloe_florenceae&oldid=151230580,
[retrieved: 24. January 2017]
Aloe florenceae
Photo by: © Plantemania
Send a photo of this plant.
The gallery now contains thousands of pictures, however it is possible to do even more. We are, of course, seeking photos of species not yet shown in the gallery but not only that, we are also looking for better pictures than those already present.
Read More...
Cultivation and Propagation: Aloe florenceae is a very rare dwarf species touchy and a bit hard to keep alive, at least in an outdoor situation and tends to be a bit pricey.
Propagation: Seeds of division (Suckers eventually).