Donate now to support the LLIFLE projects.
Your support is critical to our success.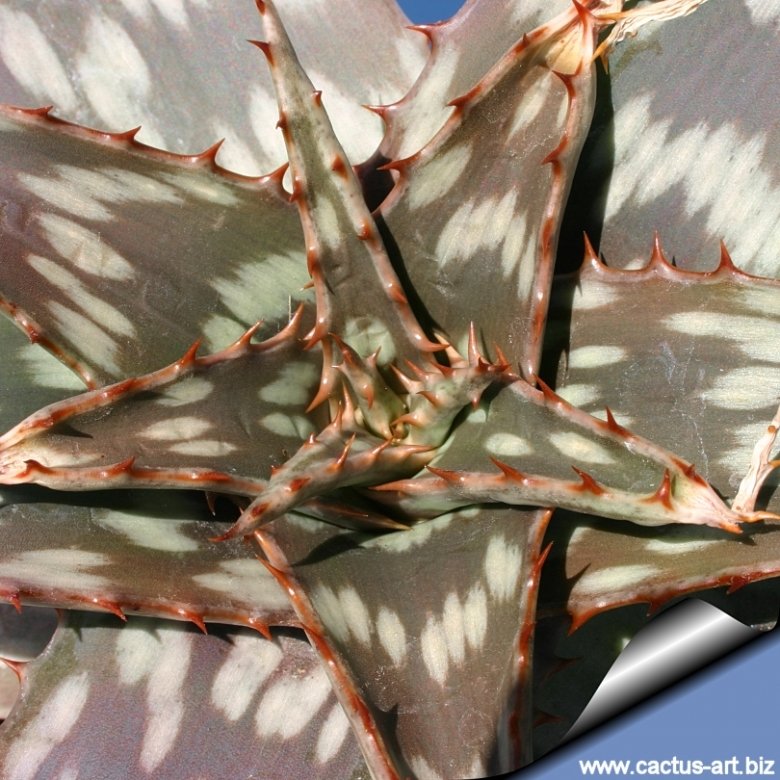 Aloe zebrina Photo by: Cactus Art
It is a small maculated aloe. Both surfaces of the leaves has irregular white spots in rows. A peculiar characteristic (not a defect!) of this plant is that the the tips of the leaves dry out naturally in summer and during time of drought forming an attractive curl, so this should not be a cause for concern in cultivation.
Origin and Habitat: Ranges into Southern Africa, Namibia, Angola, Botswana, Zimbabwe, Mozambique and may be present also in other parts of tropical Africa.
Habitat: Grow singly or may form extensive colonies in many different habitats comprising dry thickets, grasslands, marshy meadows on river banks, open woodlands, rocky outcrops or on almost bare ground. Altitude range 200–1600 m.
Synonyms:
See all synonyms of Aloe zebrina
Accepted name in llifle Database:
Aloe zebrina
Baker
Trans. Linn. Soc. London, Bot. 1(5): 264. 1878 [1880 publ. Jan 1878]
Synonymy: 14
Aloe transvaalensis var. stenacantsee
Common Names include:
ENGLISH:
Zebra Leaf Aloe, Tiger Aloe, Partridge breast aloe, Spotted Aloe
AFRIKAANS (Afrikaans):
Kanniedood aloe
FRENCH (Français):
Gorge de perdrix, Bec de perroquet, Aloes, Aloès tacheté, Aloès zébré
JAPANESE (日本語):
アロエ・チヨダニシキ (Aroe chiyodanishiki), 千代田錦
POLISH ( Polski):
Aloes pregowany
Description: Aloe zebrina is a small to med sized maculated/striped aloe that form small groups from offsets at the base of plants of varying size. It can grow up to up to 160 cm tall and 200 cm in diameter It looks a bit like many other striped to spotted aloes particularly to Aloe saponaria but with slender more elongated leaves. Due to its wide distribution it is a very variable species and differences exist between populations.
Rosettes: The main rosette gets up to 40 cm tall and just as wide.
Stem: Plants are usually stemless or with a short stem up to 30 cm long.
Leaves: 15–25, densely clustered into a rosette, without petiole, 15-35 cm long, 6–7(-10) cm wide toward the base, lance-shaped, fleshy, upper surface rather flat, dull dark green to powdery-glaucous with often purplish hues in full sun, that bear large oblong whitish spots more or less arranged in a series of irregular transverse bands, lower surface convex, very powdery-glaucous with thick long brownish, ,horny, deltoid, thorns (6–7 mm long, 10–16 mm Apart) on a lighter green edge. When drought-stricken, the leaf tips tend to dry back and become somewhat twisted. In some forms the white blotches become more zebra-like streaks. The leaf sap is yellowish drying purple.
Flowers: Fairly inconspicuous, bisexual dull red/pink striped. Inflorescence 0.75–2 m tall with stalk copiously branched above the middle, the branches terminating in lax racemes 30–40 cm long, bracts linear-lanceolate, approx 1 cm long. Pedicel 6–7 mm long; perianth tubular, 3–3.5 cm long, 6-lobed, dull red, much inflated around the ovary, 3 outer lobes acute, many-veined, 3 inner lobes more obtuse and wider; stamens 6, included; ovary superior, 6-grooved, 3-celled, style filiform, stigma headlike.
Blooming season: Mainly from February to May, but also June to August.
Fruit: The fruit is a many-seeded capsule, dehiscing loculicidally.
Seeds: Approx. 7 mm long, broadly winged, dark coloured, punctate.
Subspecies, varieties, forms and cultivars of plants belonging to the Aloe zebrina complex
Bibliography: Major references and further lectures
1) Urs Eggli "Illustrated Handbook of Suculent Plants: Monocotyledons" Springer, 2001
2) Hans Bornman, David S. Hardy "Aloes of the South African veld" Voortrekkerpers, 1971
3) Barbara Jeppe "South African aloes" Purnell, 1974.
4) Paulos Cornelis Maria Jansen, D. Cardon "Dyes and Tannins" PROTA, 2005
Aloe zebrina
Photo by: Cactus Art
Aloe zebrina
Photo by: Cactus Art
Aloe zebrina
Photo by: Cactus Art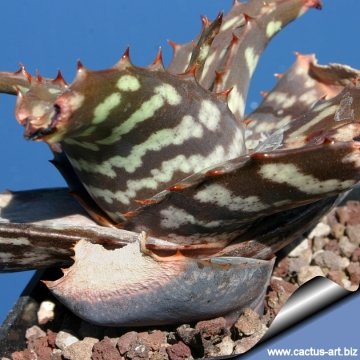 Aloe zebrina
Photo by: Cactus Art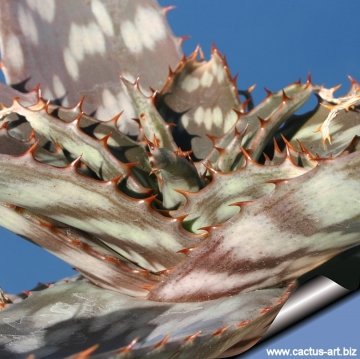 Aloe zebrina
Photo by: Cactus Art
Send a photo of this plant.
The gallery now contains thousands of pictures, however it is possible to do even more. We are, of course, seeking photos of species not yet shown in the gallery but not only that, we are also looking for better pictures than those already present.
Read More...
Cultivation and Propagation: Aloe zebrina is one of the more attractive stemless linearly striped aloes easy to grow and adaptable, it suckers and can form dense groups. It can be grown in large containers.
Soil: Always use a good quality, loamy sandy soil with plenty of drainage with chips at the bottom of containers.
Repotting: Use pot with good drainage.
Watering: Needs moderate to copious waterings in summer, but do not overwater, or not at all in the colder months of winter. Outdoors it can withstand long periods of drought, but they will thrive and flower more profusely if watered in the correct season. This aloe is very tolerant of drought, although the tips of the leaves may wither and curl during hot, dry periods. Supplemental watering will help keeping the leaves plump and juicy.
Fertilization: Feed it once or twice during the growing season with a fertilizer specifically formulated for cactus and succulents (poor in nitrogen), including all micro nutrients and trace elements diluted to ½ the strength recommended on the label.
Exposure: It need full sun to partial shade, but plants grown in partial shade usually look healthier and more succulent. It is however very hardy when grown in full sun with the minimum water.
Hardiness: When dry it can stand light frost but it is damaged in hard freezes, but recovers quickly. The leaf tips get damaged below -2°C (USDA zones 9b-10 ). During the winter months, the plants should be grown cool to initiate flower development (about 5-10°C )
Pests & diseases: Incorrect watering, poor drainage or too much shade can lead to attack by pests and diseases.
Maintenance: Removal of old flower stalks; Divide the crowded clumps periodically. It grows much better outdoors in spring and summer.
Gardening: In mild climates it can be cultivated outdoors for use in landscaping, it can be grown in large, rocky, well-drained soil in gardens in drier areas. It adapts well to a variety of soils and climates, but will grow best in regions with a climate close to that of its native deserts not too cold, and not too wet. It makes an excellent ground cover, grows best in a sunny position and makes a long lasting cut flower. They grow slowly, but not agonizingly so being able to increase their width by 10- 20 cm per year under favourable conditions.
Traditional uses: Almost all the aloes belonging to the Aloe zebrina group (called spotted or maculate aloes) are suitable as a source of dye. In particular the roots of Aloe zebrina are among the main dyes for the Hyphaene thebaica fibres used in basketry weaving to which they give a golden-yellow colour.
Propagation: By division of offshoots that develop around the outside of the main rosette in spring, the cuttings must be dried out for at least 1 week before planting in river sand. It is easily rooted in potting soil with warmth. It can also be propagated or by seed planted in autumn, in trays of coarse river sand, compost and soil. Sprinkle the seeds evenly on the surface and cover with a layer of small pebbles. The pebbles help the seedlings to stay upright and prevent damping off. Fresh seeds germinate quickly at 18° C. Keep seed tray in a dry corner and do not allow to dry out, but may damp off if overwatered. Transplant the seedlings after one year.