Donate now to support the LLIFLE projects.
Your support is critical to our success.
Since 4 Aug 2013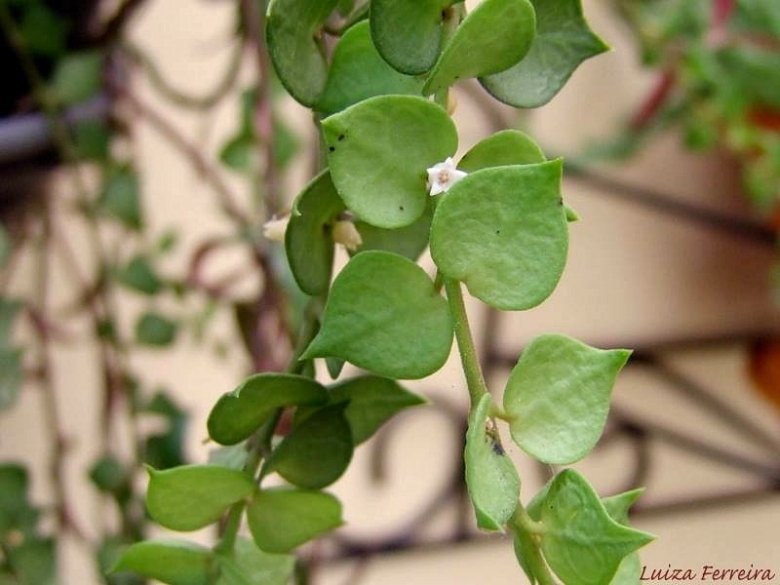 Dischidia ruscifolia Photo by: Luiza Ferreira
Origin and Habitat: Philippines (Gacab-cab in Visaya and agad-agad in Manobo).
Habitat and ecology: Dischidia ruscifolia is an epiphyte plant that grows in its natural habitat in the dense forests sprawling and forming tangles over tree trunks and branches particularly frequent on nearly decayed limbs, or subscandent on wind swept forested ridges around 800 metres altitude and forming clumps at much lower regions, upon cliffs and along rivers.
Synonyms:
See all synonyms of Dischidia ruscifolia
Common Names include:
ENGLISH:
Million Hearts, Million Hearts Vine
CHINESE (中文):
百万心
FRENCH (Français):
Plantes aux millions de cœurs
Description: Commonly known as Million Hearts, Dischidia ruscifolia is an evergreen, perennial sprawling or climbing plant with small succulent heart-shaped leaves that face each other on a long arching stem creating "chains of heart". The tiny white flowers grow in leaf axils (between a leaf and the stem) bloom throughout the year and remain for long periods of time.
Derivation of specific name: Latin Ruscus, "Butcher's broom (shrub)" and folium "leaf". Dischidia with Ruscus-like leaves in reference to the apex of the leaf terminating in a stiff point. The Ruscus aculeatus is a shrub of the lily family, a meter high, native to Central and Southern Europe. Its leaves are equipped with similar stiff point leaves.
Stems: Slim, repeatedly branched from near the base, terete, trailing or arching out under the weight of precisely ranked leaves, growing to 1 metre in length before taking root at the tip and continuing, quite tough, green or yellowish green toward the ligneous base, the average ones as thick as a pencil, with latex.
Leaves: Heart-shaped, thick, succulent, and hard, almost like small beads, less than 1 cm long, similarly green on both sides (red on new growth), with pronounced nerves, very numerous, twistingly arranged in between one another, thereby facing the greatest amount of light. If grown under intense light, the plant's leaves will develop a red tinge.
Flowers: Solitary or in pairs, axillary, upon slender recurved pedicels. Bisexual, actinomorphic, with no great fanfare, or smell. Corolla very small, about 5 mm across, resembling a tiny upturned vase, with 5 pointed petals around the opening, pure white. The petals are held erect at anthesis.
Blooming season: Flowers appear when the plant is still young throughout the year and remain for long periods of time.
Fruits: Lighter green, flattened on the upper surface, gradually pointed.
Note: The genus Dischidia belongs to the milkweed family (Asclepiadaceae) and is closely related to plants in the genus Hoya, another popular group admired for their showy, sometimes fragrant, often waxy flowers.
Bibliography: Major references and further lectures
1) Wikipedia contributors. "Dischidia ruscifolia." Wikipedia, The Free Encyclopedia. Wikipedia, The Free Encyclopedia, 24 Sep. 2014. Web. 12 Mar. 2015.
2) A. D. E. Elmer "Notes on Asclepiadaceae" Leaflets of Philippine Botany, Volume10 page 3564 Oriental Printing Company [May 1, 1938]
3) Interior Business for Landscape Interiors "Interior Business for Landscape Professionals", Volume 2, Ed. 2, 2001
Dischidia ruscifolia
Photo by: Luiza Ferreira
Send a photo of this plant.
The gallery now contains thousands of pictures, however it is possible to do even more. We are, of course, seeking photos of species not yet shown in the gallery but not only that, we are also looking for better pictures than those already present.
Read More...
Cultivation and Propagation: Dischidia ruscifolia is a white bloomer that flowers prolifically once established. It is one of the most recognizable and common species available. This is no surprise as it is practically impossible to kill and is suitable for dischidia beginners. It is topical plant that once again will do much better with some extra warmth and humidity. In cultivation this species adapts to growing in a pot or hanging basket. When in bloom it is a very interesting plant.
Growth rate: This is a compact shrubby species that grows really well and strong in optimal condition.
Potting medium: Because it is an epiphyte benefits from being potted up in a very well-draining and porous potting medium that allows some air to get to the roots; typical mixes include, peat, with some fibrous soil and sand along with large-grade drainage material such as perlite, pumice, or ceramic balls. Often specialized growers either use only chopped coconut husk or a good orchid potting mixture for growing their plants. The medium needs to be moisture-retentive.
Watering: This species appreciates moisture and can handle being over watered better than any of them, so it should be kept moist, but can dry up a bit from time to time without being damaged by it. Water regularly in summer, but do not overwater ( wet-sensitively) and let the plants to dry out between watering and then water again. Its roots are easily lost in pots that stay damp for any length of time. Keep quite dry with ample airflow in winter (It would probably tolerate one watering a month). In the rest period no high atmospheric humidity. Care must be taken with watering as they tends to become swollen and untidy in growth habit if given too much water and shade. This plant will suffer considerably in the dry environment of northern centrally heated homes in the winter. If you want this plant to be happy in the winter grow it in a room with lots of humidity.
Fertilization: During the growing season enrich the soil using a fertilizer rich in potassium and phosphorous, but poor in nitrogen, because this chemical element doesn't help the development of succulent plants, making them too soft and full of water.
Exposition: The best place for Dischidia ruscifolia is partial shade or bright shade, but grow well in indirect sun. Midday sunlight in summer can burn the leaves. Tends to bronze in strong light, which encourages flowering and heavy leaves production.
Temperature: The ideal for this species, temperature is between 20 and 25 but never below 10ºC. (Outdoor zone: At least Zone 10, possibly cooler).
Spring: When winter ends and they begin to grow again, they will require much water and soaking the pots will no longer put the plants at risk for rot. In the spring they will grow well in partial shade and leaving them out in the rain may provide them with the water they need.
Summer: In the summer months they will tolerate heavy rain, but will be just as happy if the season is dry. They will tolerate hot weather outdoors as long as they are kept in strongly filtered light and this will encourage them to flower. They also enjoy some fertiliser. Moving the plants as they are developing buds may cause them to spontaneously abort the flowers all together.
Autumn: In the fall keep them outdoors until the night time temperatures drop below the 10°C.
Winter: Winter care presents no problems at 12° C with plenty of light. In winter be sure to take extra precautions to keep them dry, because damp cool conditions when the plants are resting is an invitation to fungal infections, but - according to temperatures –some occasional lit watering may be useful.
Maintenance: Prune the plant lightly to keep it tidy.
Repotting: In any season it's best to lay the stems out for several days before replanting them and then pot them only in dry soil and withhold any water until they begin to shrivel or start growing again. Re-pot every 2 years.
Pest and diseases: They are generally fairly easy to grow, especially if kept pest-free. They are very susceptible to stem and root mealy bug, which can be fought easily with common pesticides, and damage from these may well initiate fungal attack. Any time when there is a dead or dying stem in the pot it is important to remove it immediately and completely before other healthy stems can become ill too, isolate the healthy parts, dry them off, and re-root them in new compost.
Uses: In Singapore, the plant is sold in hanging pots where its stems trail over the rim of the pot or are wound round a heart-shaped frame ornament. Both versions often make their appearances around Valentine's Day. They make good houseplants or even as Christmas decorations and wreaths.
Warning: The white milky sap in the plant parts is toxic if consumed in large quantities.
Propagation: This species propagates readily from stem cuttings, whether in water, in soil or in a sterile medium (such as perlite).