Donate now to support the LLIFLE projects.
Your support is critical to our success.
Since 4 Aug 2013
Euphorbia silenifolia Photo by: Valentino Vallicelli
Origin and Habitat: Euphorbia silenifolia extents from the Western Cape to Port Alfred, South Africa. The plants prefer areas with higher rainfall and avoid desert-like Karoo areas. It is quite common in the northern areas of the Cape Peninsula.
Habitat: This species is common in Albany Thicket and Fynbos on dry, stony hillsides, sandy or clay flats and slopes. Also on sand dunes near Port Elizabeth
Synonyms:
See all synonyms of Euphorbia silenifolia
Accepted name in llifle Database:
Euphorbia silenifolia
Sweet
Hort. Brit. [Sweet], ed. 2. 454. 1830
Synonymy: 11
Common Names include:
AFRIKAANS (Afrikaans):
Renosterveld melkbol
Description: Euphorbia silenifolia (like the leaves of Silene or Catchfly) is a dioecious, perennial succulent herb with an ellipsoid, subterranean tuber (geophyte) which grows during the winter months. Its tuberose roots merging into underground stems (cudexes) with a tuft of narrow tappering leaves and flowers above ground. The plants are not visible during the summer. During autumn the thin leaves start to grow from the apex of the underground stem. Plant 150 mm tall, flowering in winter.
Root: Tuberous ellipsoid, fusiform or somewhat tapering, thick, dark brown merging into subterranean stems.
Stems: Solitary or up to three branched, elongated, approx 5 cm in diameter, with tips at ground-level with leaves and inflorescences. In habitat it is wholly below ground, although in cultivation it is usually planted at a higher level as a safeguard against waterlogging and for its highly appreciated aesthetic shape.
Leaves: Up to 10 cm long and 10-12 mm wide, deciduous, lying flat on the ground and radiating outwards, dark greyish-green and somewhat bluish-green above, paler beneath, linear-lanceolate (narrow-tapering) obtuse or occasionally acute and somewhat folded together at the apex, tapering at the base or from below the middle into a petiole up to 10 cm long, entire, glabrous on both side.
Inflorescences: Peduncles in the axils of the leaves, 2-15 cm long, minutely puberulous, with
cymes in 3-5 rayed umbels, rays 6-25 mm long at their apex and a whorl of 3–5 bracts at the base of the umbel; rays with 1–3 cyathia. Bracts obovate, 10 x 6 mm wide, hairy beneath,
Flowers (cyathia): Greenish-yellow, in clusters in the centre of the plant. up to 4-6 mm in diameter, cup-shaped, hairy. Nectar-glands 5 elliptic, purple-brown or blackish-brown and 5 small oblong fringed lobes. Glands not contiguous, spreading, 2-4 mm in their greater diameter. Styles 1.5 mm long, united into a column for half their length, then spreading and deeply bifid, with widely diverging lobes at the apex;
Blooming season: May - June.
Fruit (Capsules): Trigonous-subglobose, erect, up to 6 mm in diameter, pubescent sessile.
Seeds: Ovoidal or subglobose, obscurely pointed at one end, 3 mm long, reticulately rugose, olive-brown.
Notes: This species produces an unusual effect owing to the tuberous root being planted well out of the soil.
Bibliography: Major references and further lectures
1) von Staden, L. 2014. Euphorbia silenifolia (Haw.) Sweet. National Assessment: Red List of South African Plants version 2014.1. Accessed on 2015/08/23
2) Vlok, J. and Schutte-Vlok, A.L. "Plants of the Klein Karoo". Umdaus Press, Hatfield.2010.
3) Manning, J.C. and Goldblatt, P. "Plants of the Greater Cape Floristic Region 1: The Core Cape Region." Strelitzia 29. South African National Biodiversity Institute, Pretoria. 2012.
4) Bruyns, P.V. "Nomenclature and typification of southern African species of Euphorbia." Bothalia 42(2):217-245. 2012.
5) Urs Eggli "Illustrated Handbook of Succulent Plants: Dicotyledons" Volume 2. Springer, 2002
6) "Euphorbia" Strawberry Press, 1987
7) Alain Campbell White, Robert Allen Dyer, Boyd L. Sloane "The succelent Euphorbisae (southern Africa)" Abbey garden press, 1941
8) Doreen Court "Succulent Flora of Southern Africa" CRC Press, 01 June 2000
9) Pauline Bohnen "Flowering plants of the Southern Cape" Still Bay Trust, 1986
10) Ernst Van Jaarsveld, Ben-Erik Van Wyk, Gideon Smith "Succulents of South Africa: A Guide to the Regional Diversity" Tafelberg, 2000
11) Gordon D. Rowley "The illustrated encyclopedia of succulents" Crown Publishers, 01 ago 1978
12) N. E. Brown, J. Hutchinson and D. Prain."Flora Capensis", Vol 5, Part 2, page 216, 1925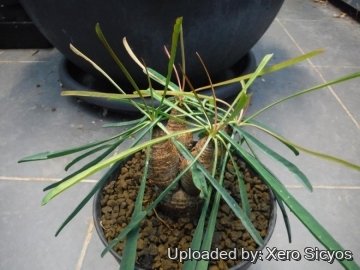 Euphorbia silenifolia
Photo by: Xero Sicyos
Euphorbia silenifolia
Photo by: Sándor Horváth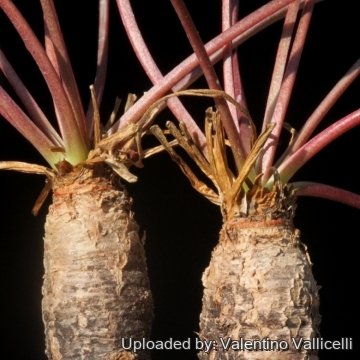 Euphorbia silenifolia
Photo by: Valentino Vallicelli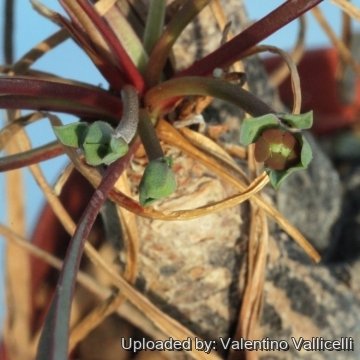 Euphorbia silenifolia
Photo by: Valentino Vallicelli
Euphorbia silenifolia
Photo by: Valentino Vallicelli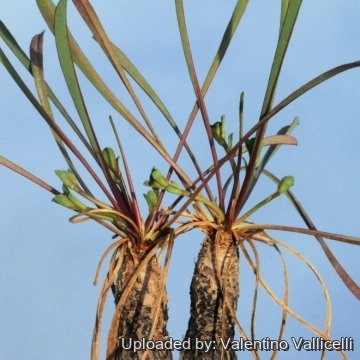 Euphorbia silenifolia
Photo by: Valentino Vallicelli
Euphorbia silenifolia
Photo by: Valentino Vallicelli
Send a photo of this plant.
The gallery now contains thousands of pictures, however it is possible to do even more. We are, of course, seeking photos of species not yet shown in the gallery but not only that, we are also looking for better pictures than those already present.
Read More...
Cultivation and Propagation: A very very light and warm place in full sun is highly appreciated. It does best in a mineral soil, good drainage is essential. Water sparingly during the summer months and keep dry in winter. When not in growth it is killed right away, when given too much water. It is a slow growing long lived plant and once established, it will be content in its position and with its soil for years. It can tolerate moderate shade, and a plant that has been growing in shade should be slowly hardened off before placing it in full sun as the plant will be severely scorched if moved too suddenly from shade into sun.
Frost Tolerance: Tender, it needs frost protection.
Propagation: It is propagated from seed sown during spring or summer. Germination occurs within 3 weeks.
Warning: As with all other Euphorbias when a plant get damaged it exudes a thick white milky sap known as latex. This latex is poisonous and particularly dangerous for the eyes, skin and mucous membranes. So pay extreme attention not to get any in your eyes or mouth. Cultivated plants must be handled carefully.