Donate now to support the LLIFLE projects.
Your support is critical to our success.
Since 4 Aug 2013
sponsored link
Euphorbia stellispina Photo by: Giuseppe Distefano
Origin and Habitat: Cape province of South Africa. Euphorbia stellispina has a very wide distribution, stretching from central Karoo to parts of Namaqualand (From Beaufort West to Williston in the Great Karoo, spreading westwards and northwards).
Habitat and ecology: They grow in deep soils, on dry, stony slopes or flats and under the protection of karroid bushes. Temperature differences are great, 45 °C in summer, but it can survive in relatively low winter temperatures (-5 °C). Pollination is done mainly by bees and sometimes wasps. Euphorbia stellispina produces white latex sap which helps the plant to reduce transpiration, especially during the very hot summer months.
Synonyms:
See all synonyms of Euphorbia stellispina
Description: Euphorbia stellispina (often misspelled 'stellaespina') is a spiny succulent shrub branching from the base. The plant can produce massive, impressive clumps with up to twenty branches heavily armed with red-brown spines. The "spines" have a peculiar star-like appearance so characteristic of the species. Both this species and Euphorbia pillansii have stellate (star-shaped) spines, but E. stellispina is distinguished by its larger size (up to 70 cm tall under ideal conditions) and its more numerous ribs (10-16 compared to 7-9 in E. pillansii) and the spines appear to be of different origin.
Branches: Columnar to club-shaped, erect, branching at the base, 3-7,5 cm in diameter, green, not transversely banded nor glaucous, becoming brown with age.
Ribs: 10-16 rather obtuse or subacute, with short rounded or conical tubercles separated by transverse grooves 5- 6 mm apart with the grooves between the angles 3-6 mm deep.
Leaves: Rudimentary and soon deciduous, 3-10 mm long, linear or linear-lanceolate, acute, fleshy, puberulous.
Spines (modified peduncles): Solitary between the teeth along the angles, 4-10 mm long, stout, thickened and branching at the apex into a whorl of 3–5 sharp spines 3-8 mm long and 9,5 mm thick, rigid, puberulous when young, becoming glabrous, rigid, and persisting.
Flowers: Cyathia solitary ( specialised inflorescences), clustered at the end of the branches in the axils of the tubercles. Peduncles, short (4- 10 mm or longer) with a whorl of 3 - 5 widely spreading sterile rays 4- 10 mm at the tip below the cyathia. Cyathia light yellow, to 4 mm in diameter, cup-shaped, hairy on stalks 2-10 mm long ( stalks sometime branching at the tips) , with 5 nectar glands elliptic, reniform or obtusely cordate separate, and 5 subquadrate fringed lobes. Dioecious (unisexual, male and female on separate plants).
Fruit: Capsules are trilocular (they have three compartments each with one seed in it) subglobose, 5 mm on diameter. Seed is produced in copious amounts. The seed . As the seed capsule dries they burst and its contents are catapulted out and so these seeds start the next generation.
Seeds: Small, about 1 mm in diameter.
Subspecies, varieties, forms and cultivars of plants belonging to the Euphorbia stellispina group
Bibliography: Major references and further lecture
1) Urs Eggli "Illustrated Handbook of Succulent Plants: Dicotyledons" Volume 2. Springer, 2002
2) Doreen Court "Succulent Flora of Southern Africa" CRC Press, 01/giu/2000
3) Gideon Smith, Neil R. Crouch "Guide to Succulents of Southern Africa" Struik Nature, 01/nov/2009
4) James Cullen, Sabina G. Knees, H. Suzanne Cubey "The European Garden Flora Flowering Plants: A Manual for the Identification of Plants Cultivated in Europe, Both Out-of-Doors and Under Glass" Cambridge University Press, 11/ago/2011
5) White, A., Dyer, R.A. & Sloane, B.L. 1941." The succulent Euphorbieae, vol. 2. " Abby Garden Press. Pasadena, California.
6) Hermann Jacobsen "A handbook of succulent plants: descriptions, synonyms, and cultural details for succulents other than Cactaceae" Volume 1 Blandford Press, 1960
7) Hermann Jacobsen "Lexicon of Succulent Plants" Littlehampton Book Services Ltd. 1975
8) N. E. Brown, J. Hutchinson and D. Prain "Flora Capensis" Vol 5 Part 2, page 216 1925
9) Rowley, G.D. "Caudiciform and pachycaul succulents." Strawberry Press, California, USA.1987
Euphorbia stellispina
Photo by: Valentino Vallicelli
Euphorbia stellispina
Photo by: Valentino Vallicelli
Euphorbia stellispina
Photo by: Valentino Vallicelli
Euphorbia stellispina
Photo by: Valentino Vallicelli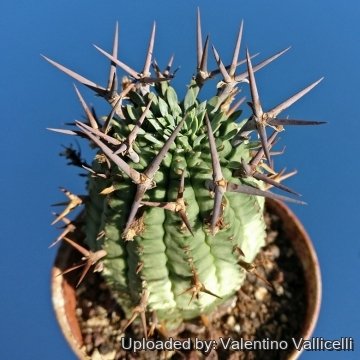 Euphorbia stellispina
Photo by: Valentino Vallicelli
Euphorbia stellispina
Photo by: Valentino Vallicelli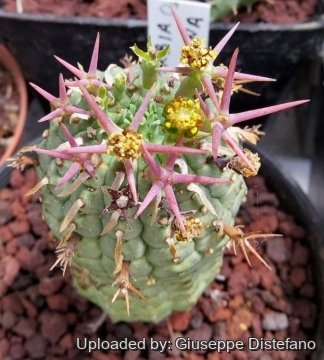 Euphorbia stellispina
Photo by: Giuseppe Distefano
The first spines of Euphorbia stellispina seedling.
Photo by: K.k. Agrawal
Cultivation and Propagation: Euphorbia stellispina is a particular favourite of Euphorbia enthusiasts. Cultivation of this plant is the same as that for the other varieties of Euphorbia from south africa. It also make ideal potplants and look very good in a pot in a courtyard.
Growth rate: Euphorbia stellispina grows easily and rapidly.
Caudex exposure: The remarkable tuberous rootstock (caudex) is usually raised above the soil line so that this can be seen and more readily appreciated. The plants raised from cuttings produce a bunch of tangled tuberose roots, while seed raised plants produce a more rounded tuber with age. For best results the tuber must be exposed only when plans become mature enough, usually after several years (8-12 or more years) of underground growth, as the exposed caudex will no longer increase in size once it has been lifted above the soil line. In very old plants, the tuber can achieve massive proportions, so keep a plant for many years to grow an unusually large caudex.
Soil and pots: It likes pots with generous drain holes, needs a very airy potting medium which mainly consists of non organic material such us clay, pumice, lava grit, and only a little peat or leaf-mould, seeing that the main trunk is planted with the majority of the roots below the caudex line. It's rare that it will use the upper third of its soil and often this area serves like a mulch or support for the stem.
Fertilization: Need a perfect fertilizer diet in summer. Use preferably a cacti and succulents fertilizer with high potassium content including all micro nutrients and trace elements or slow release fertilizer.
Exposure: This plant has an excellent heat tolerance, and need full sun to light shade exposures, but can tolerate shade. However shade grown plants will tend to produce fewer, and etiolated growth. The colour of this plant is much more marked if grown in full sun. But if it is possible to keep the growth of this species compact, with denser, shorter stems such plants can be outright attractive.
Watering: Water regularly during the active growing season. No water should ever be allowed to stand around the roots. Keep almost completely dry in winter. Care must be given in watering, keeping them warm and wet while growing, and cooler and dry when dormant.
Hardiness: Some cold tolerance. This spurge has tolerated temperatures down to –6ºC and even a little snow. However it can be difficult to get it to look its best without a good amount of heat and sun and so it is only really suited to the tropics (USDA Zones 9-12). It can be grown outdoors in the summer months to benefit from direct exposure to light, and especially exposure to high summer temperatures. Protection in a warm greenhouse in the middle of the winter will greatly increase the survival rate.
Rot: Rot it is only a minor problem with Euphorbias if the plants are watered and "aired" correctly. If they are not, fungicides won't help all that much. It is very unlikely to lose this plant from root rot from excessive water.
Manteinance: Re-pot every two years and trim off the dead 'arms'.
Known hazards: The latex/sap is poisonous and can cause skin rash, itching and general discomfort, and they should be handled with caution, particularly when pruning.
Uses: Euphorbia stellispina is sometimes used by stock farmers in times of extreme drought. The spines are burnt by dragging a burning tyre over the plants. Once the thorns are burnt off, the stems are more accessible to livestock. E. stellispina is an excellent choice to have in a rock garden. They are strong architectural plants that make a definite statement.
Propagation: The plant can be reproduced by seeds or cuttings. Seeds can only be harvested when the capsule is light brown in colour. Due to the explosive nature of the seeds, one should place cottonwool over the seed capsules to stop them being blasted into the surrounding area. The soft cottonwool will effectively trap any seeds. The seed will loose viability in storage, and may not be viable the following year, so the seed should be planted as soon after harvesting as possible. Use a well-drained sowing medium of sandy loam with very well-rotted compost, and preferably sieved river sand to cover the seed. The ideal size of the sand grains should be 1 mm. Germination usually occurs within about a week or two. Cuttings are relatively easy. If you remove an offset, remember to let it dry for some days, letting the wound heal (cuttings planted too soon easily rot before they can grow roots). Lay it on the soil and insert the stem end partially into the substrate. Try to keep the cutting somewhat upright so that the roots are able to grow downward. It is better to wash the cut to remove the latex. The newly planted stems take a few weeks to establish, and then start growing. The best time to strike cuttings are August, September and October (southern hemisphere).