Donate now to support the LLIFLE projects.
Your support is critical to our success.
Since 4 Aug 2013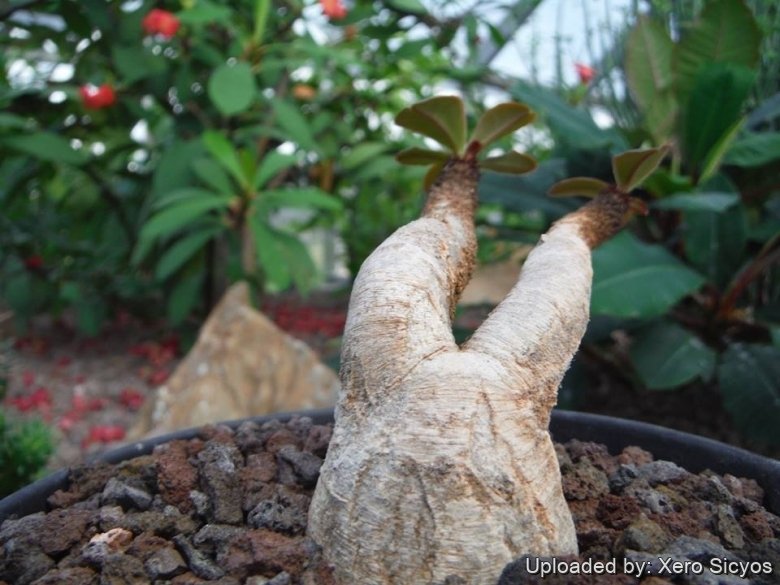 Euphorbia ramena Photo by: Xero Sicyos
Origin and Habitat: Madagascar (Western Indian Ocean, Africa)
Type Locality: N. Madagascar, Antisiranana area.
Habitat and ecology: It grows in the area of the Red Tsingy in steep inaccessible pinnacles.
Synonyms:
Description: Euphorbia ramena is a geophyte that shows big contrast between the thinner branches and the thick caudex-like rootstock.
Derivation name: "ramena" has no relation to the place name Ramena. "Ramena" is a madagascan word and means "red". It refers to the reddish, bristle-like hairs growing in the upper part of the shoots. Moreover, this word also refers to the habitat of Euphorbia ramena the "Red Tsingys".
Bibliography: Major references and further lectures
1) V. Buddensieck & A. Razafindratsira "A new remarkable Euphorbia species from the Red Tsingys of northern Madagascar" Euphorbia World, Vol 11, Nr. 3.
Cultivation and Propagation: Euphorbia ramena is not easy and the plants can easily rot. The plants should receive water mainly in winter and be grown in a well drained sandy soil. It has been propagated by seed only. It rests in summer and produces new leaves and inflorescences in winter, the older leaves wither and drop in spring. Euphorbia ramena is a particular favourite of caudiciform plant enthusiasts. It is particularly prone to rot if left cold and damp while dormant.
Caudex exposure: The remarkable succulent rootstock or caudex is usually raised above the soil line so that this can be seen and more readily appreciated.
Soil and pots: It likes pots with generous drain holes, needs a very airy potting medium which mainly consists of non organic material such us clay, pumice, lava grit, and only a little peat or leaf-mould, seeing that the main trunk is planted with the majority of the roots below the caudex line. It's rare that it will use the upper third of its soil and often this area serves like a mulch or support for the stem.
Fertilization: Need a perfect fertilizer diet in summer. Use preferably a cacti and succulents fertilizer with high potassium content including all micro nutrients and trace elements or slow release fertilizer.
Exposure: This plant has an excellent heat tolerance, and need full sun to light shade exposures, but can tolerate shade.
Watering: Water regularly during the active growing season. No water should ever be allowed to stand around the roots. Keep almost completely dry in winter. Even though the swollen caudex ensures a long lasting water reserve making it very tolerant of under watering, this euphorbia is difficult, turning immediately to mush when over watered, or watered out of season. Care must be given in watering, keeping them warm and wet while growing, and cooler and dry when dormant.
Hardiness: Tender. This spurge can be difficult to get it to look its best without a good amount of heat and sun and so it is only really suited to the tropics (USDA Zones 10-11). Keep the plant cooler in winter, but maintain the light as bright as you can so that any growth which it may produce at this time will not be etiolated. Protection in a warm greenhouse in the middle of the winter will greatly increase the survival rate.
Rot: Rot it is only a minor problem with Euphorbias if the plants are watered and "aired" correctly. If they are not, fungicides won't help all that much. It is very unlikely to lose this plant from root rot from excessive water.
Known hazards: The latex/sap is poisonous and can cause skin rash, itching and general discomfort, and they should be handled with caution, particularly when pruning.
Propagation: The plant can be only reproduced by seeds.