Donate now to support the LLIFLE projects.
Your support is critical to our success.
Since 4 Aug 2013
Accepted Scientific Name: Aechmea victoriana L.B.Sm.
Arq. Mus. Nac. Rio de Janeiro 2(1): 57 (1941)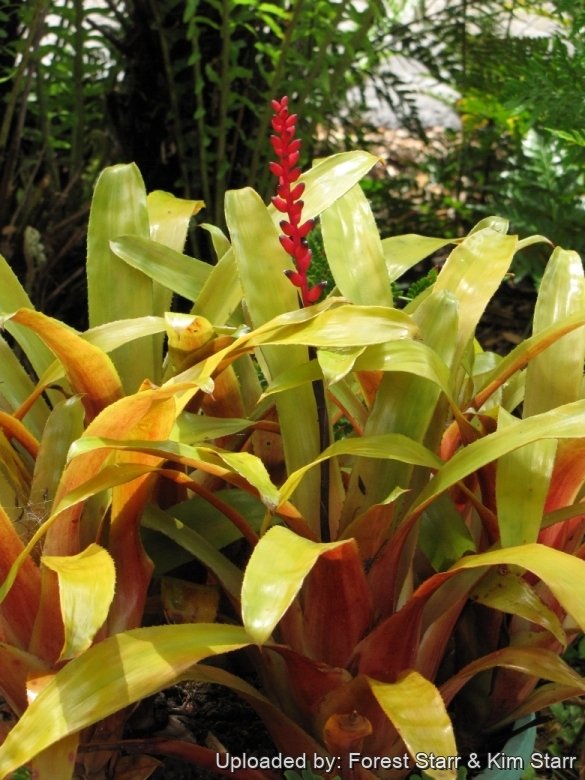 Aechmea victoriana var. discolor Photo by: Forest Starr & Kim Starr
Flowers and leaves at Kula Botanical Garden, Maui, Hawaii (USA). March 07, 2011.
Origin and Habitat: Aechmea victoriana var. discolor is native to the Rio Jucu on the road from Victoria to Campinhos in Espirito Santo, Amazon region of Brazil.
altitude: 10 metres above sea level.
Habitat: It grows on rocks.
Synonyms:
See all synonyms of Aechmea victoriana
Accepted name in llifle Database:
Aechmea victoriana
L.B.Sm.
Arq. Mus. Nac. Rio de Janeiro 2(1): 57 (1941)
Synonymy: 5
Description: Aechmea victoriana var. discolor is a easily grown, semi-epiphytic bromeliad with highly attractive wine coloured leaves on the underside. It is a medium size plant that will grow to a height of approximately 60 cm. A single plant will quickly form a spectacular cluster of multiple rosettes by the liberal production of offsets from the 'mother' plant.
Leaves: Strap-like with serrate margins. The leaves of the typical Aechmea victoriana are light apple-green on both sides when growing in shade or full sun, while the leaves of Aechmea victoriana var. discolor are green above and bronze-red to deep burgundy below. This bronze-red colour on the underside gives the upper side of the leaf a bronzy-green appearance.
Inflorescence: Paniculate. Scape, slender, erect, rather than lax and remain on the plant for months.
Flowers: Tubular and pale purple.
Fruits: Very ornamental berries.
Notes: Aechmea victoriana var. discolor has been used in hybridizing with other Aechmea species. In every resulting cross this definite deep burgundy colour of the underside of the leaf has made a very marked colour effect on the hybrids.
Bibliography: Major references and further lectures
1) Forest & Kim Starr "Aechmea victoriana var. discolor (Aechmea)". Plants of Hawaii. <http://www.starrenvironmental.com>. Downloaded on 20 August 2014.
2) Ulrich Baensch, Ursula Baensch "Blooming bromeliads" Tropic Beauty Publishers, 1994
3) James Cullen, Sabina G. Knees, H. Suzanne Cubey "The European Garden Flora Flowering Plants: A Manual for the Identification of Plants Cultivated in Europe, Both Out-of-Doors and Under Glass" Cambridge University Press, 11/Aug/2011
4) Wikipedia contributors. "Aechmea victoriana." Wikipedia, The Free Encyclopedia. Wikipedia, The Free Encyclopedia, 21 Aug. 2014. Web. 21 Aug. 2014.
5) Martinelli, G., Magalhães Vieira, C., Gonzalez, M., Leitman, P., Piratininga, A. Ferreira da Costa, A. & Campostrini Forzza, R. (2008). "Bromeliaceae da Mata Atlântica Brasileira: lista de espécies, distribuição e conservação." Rodriguésia; Revista do Instituto de Biologia Vegetal, Jardim Botânico e Estaçao Biologica do Itatiaya 59: 209-258.
Flowering habit at Kula Botanical Garden, Maui, Hawaii (USA). March 07, 2011.
Photo by: Forest Starr & Kim Starr
Send a photo of this plant.
The gallery now contains thousands of pictures, however it is possible to do even more. We are, of course, seeking photos of species not yet shown in the gallery but not only that, we are also looking for better pictures than those already present.
Read More...
Cultivation and Propagation: This plant is one of the most ornamental bromeliads for the cool greenhouse, due to the beauty of the foliage, inflorescence and the facility of cultivation.
Growing substrate: This bromeliad grows as an epiphyte or saxicolous and requires a well-drained, aerated, porous and moisture-retentive substratum which is rich of organic substance, or in orchid bark in terracotta pots which allows for better root aeration while providing the occasionally top-heavy plants sufficient support, but best results are obtained when it is grown epiphytically and roots are covered with moss or coarse crushed tree fern fibre encased in a container or wired to the surfaces of boulders, rough bark, rock walls, or tree branches. Root rot can be a problem if the soil is too moist.
Exposition: The Aechmea victoriana var. discolor prefers a sunny to part shaded site. Plants will develop the darkest leaves in good light.
Watering: It enjoys constant moisture from rain or sprinkler. In dry and hot climate, humidity can be increased with nebulisations utilizing water at room temperature and not calcareous. In summer, some distilled water can be left in the central cavity formed by the rosette of leaves, especially if plants are exposed to direct sun rays, renewing it frequently to avoid the formation of a mosquito larvae nest, whilst in winter it is better to leave it dry, thus avoiding possible rottenness. In the cooler seasons watering can be reduced - just keeping the compost damp but no wet. Requires complete and perfect drainage.
Fertilizing: Apply mild solutions (one-quartet strength) of foliar fertilizer at 3-month intervals to both garden and container plants.
Hardiness: It is cultivated in open air in the tropical and humid subtropical climate countries. Plants need to be kept frost free and will happily over winter as a house plant. Recommended minimum temp 10° C but plants will survive a -1°C (or less) frost but leaves may become marked, in these situations it will better resist if sheltered by the winter rains, seen that the humidity and low temperatures render it more sensitive to rottenness. It should be protected from any snow or long lasting frost.
Pest & diseases: It is susceptible to scale, trips and mosquitos that will sometimes breed in the pools of water that are trapped between the leaves. Mealybugs infestations are also a frequent problem.
Pruning: Remove old leaves from plant base and dead flower spikes only. Remove older plant crown when it begins to fade.
Use: Specimen plant; mass planting; container plant; tropical foliage and colourful flowers.
Propagation: Remove and replant offshoots from the base of the parent plant. May also be grown from seed: remove seeds from inflorescence and lay them uncovered on a bed of
crushed tree fern fiber; keep constantly but moderately moist. Starting from the seed, 5-6 years are needed for the blossoming, whilst at least 3 years are needed by division. For wide scale commercial purposes plants are propagated in vitro through lateral shoot growth.