Donate now to support the LLIFLE projects.
Your support is critical to our success.
Since 4 Aug 2013
Pancratium maritimum Photo by: Raimondo Paladini
Origin and Habitat: Pancratium maritimum L. (Amyrillidaceae) is a bulbous perennial plant, with large white flowers, which grows on sandy foreshores on both sides of the Mediterranean region and Black Sea from Portugal, Morocco and the Canary Islands east to Turkey, Syria, Israel and the Caucasus. It can also be seen on the south Bulgarian and north Turkish and Georgian coasts of Black Sea, where it is threatened with extinction. It is also naturalized in southern California, Bermuda and the Azores.
Habitat and ecology: Pancratium maritimum grows on the shorelines, from beaches
to seashore coastal sand dunes, often with much of the leaves and scapes buried in the sand. This plant naturally grows in the sand, and perfectly resists to the drought and the spindrifts. Pancratium maritimum takes root in sandy soils, and has the particularity to be able to bury deeper in order to avoid its loosening, or to lengthen its stem in case of a too important covering by the sand. This species is pollinated by a hawk-moth named Agrius convolvuli.
Synonyms:
See all synonyms of Pancratium maritimum
Common Names include:
ENGLISH:
Sea Pancratium, sea daffodil, sand daffodil, lily of St. Nicholas, sand lily
ARABIC ( لعربية ):
طيطان بحري
ASTURIAN (Asturianu):
azucena de mar
BASQUE (Euskara):
Itsas lilipa
BULGARIAN (Български):
Пясъчната лилия
CATALAN (Català):
lliri de mar, lliri de marines, lliri de platja, nadaleta de mar, lliri de santa Cristina
ESTONIAN (Eesti):
Rand-vägilill
FINNISH (Suomi):
Hietamerinarsissi
FRENCH (Français):
lis des sables, Lis maritime, lis de mer
GEORGIAN (ქართული):
ზღვის შროშანი
GERMAN (Deutsch):
Dünen-Trichternarzisse, Strandlilie
GREEK (Ελληνικά):
Κρίνος της θάλασσας
HEBREW (עברית):
חבצלת החוף
ITALIAN (Italiano):
giglio di mare
PERSIAN (فارسی):
پانکراتیوم ماریتیموم
POLISH ( Polski):
Pankracjum nadmorskie
PORTUGUESE (Português):
pancrácio, lírio-das-praias, narciso-das-areias
RUSSIAN (Русский):
Панкраций морской
SPANISH (Español):
azucena de mar
SWEDISH (Svenska):
Strandlilja
TURKISH (Türkçe):
Kum zambağı
Description: Pancratium maritimum is a bulbous plant from 30 to 70 cm tall, with magnificent, large, white and scented flowers up to 15 cm long. The flowers have a delicate lily scent perceptible only on windless summer nights. The flower stem emerges from a large bulb deeply buried in the sand, allowing the subsistence of the plant during the dry summer season.
Derivation of specific name: The specific epithet 'maritimum' comes from Latin and means "from seaside".
Bulbs: Solitary or gregarious, usually deeply buried, globose or oblong, 5-10 cm long, 4-9 in diameter with a long cylindrical neck covered with a dark skin. The bulb resembles that of the squill (Drimia maritima) but is less covered with a brown skin and white within the coats pellucid and gently striped viscid or full of a clammy bitter juice.
Leaves: The leaves are shaped like a tongue, often twisted in spirals, abruptly narrowed above to a blunt or subacute apex, 15-50(-75) cm long and 5-20 mm wide of a deep glaucous-green, glabrous near the base. Base truncate, without membranous sheath, (3-)5 or 12 of them rising together from the same bulb and developing after flowers. The leaves are evergreen, but the often die back during hot summers, and grow again in September.
Inflorescence(umbel): Scape 10-30(-40) cm long, solid, compressed, glaucous, naked, broadening at the tip (1-2 cm diameter), Plants generally produce one inflorescence per season (occasionally two) containing 3–15 white flowers. The flowers are surrounded by a 2-valved spathe (2 unequal, compressed sheath which cover the flowers before their development and which are located at the root of the peddicels). The spate 5-8 cm long, 1-2 cm diameter, gradually or abrubtly tapering above into an acute apex. These sheaths wither and open on the flat side to make way for the flowers to come out.
Flowers: 10-15 cm long, white, and streaked with green outside,2-3 times as long as the spathe. Pedicels stout, 0.5-1.0(-1.3) cm, shorter than the ovary. The ovaries are situated close to the top of the stalk from these arise the tubes of the flowers which are 7.5-8 cm long, very narrow 1.5-2 times as long as the perianth-segments swelling at the top where the corona is situated on the outside of which are fastened the six segments or petals of the flower these are narrow (2-4 mm diameter), tongue shaped (3-5 cm long) and extend a great length beyond the corona. Corona two-thirds as long as the segments 2-3 cm in diameter, margin 12-teethed. From the border of the corona arise 6 slender, awl shaped, filaments glabrous, 6-10 mm long, terminated by oblong yellow anthers. Ovary glaucous, narrowly ellipsoid, (1.5-)2-3 cm long, 0.5-1 cm diameter, in the centre arises a style the length (or slightly longer) of the stamens terminated by an obtuse white stigma. Pancratium maritimum is not receptive to its own pollen and must be cross-pollinated.
Blooming season: Late summer to autumn. The delicate and ephemeral flowers open at night and give off a fruity fragrance. The flower remains open for 36 hours. Depending on the number of flowers on the inflorescence, the time elapsed between anthesis of the first and last bloom ranges from 3 to 15 days (since flowers open sequentially, generally one per day, though sometimes two or rarely three per day).
Fruits: Roundish to broadly ellipsoid, three sided capsule 2-3 cm long, 1.5-2.5 cm
diameter, located on the fructiferous pedicels, leaned toward the floor. Three celled and three valved. It allows the seed contained in the fruit to spread in the water and on the beaches
Seeds: Several, black, irregularly angular and compressed or cone-shaped, 10-13 mm long, 6-10 mm diameter.
Bibliography: Major references and further lectueres
1) "Encyclopaedia Londinensis, or, Universal dictionary of arts, sciences, and literature" Volume 18. 1821
2) Sydenham Edwards "New Flora Britannica Illustrated with One Hundred and Thirty Three Plants", Volume 2. 1812
3) 1821Wikipedia contributors. "Pancratium maritimum." Wikipedia, The Free Encyclopedia. Wikipedia, The Free Encyclopedia, 4 Jun. 2016. Web. 27 Jul. 2016.
4) "Plants for a Future, sea daffodil, Pancratium maritimum" <http://www.pfaf.org/user/Plant.aspx?LatinName=Pancratium+maritimum>
5) Phillips, R. & M. Rix. "Bulbs". Pan Books. 1989
6) Polunin, O. "Flowers of Greece and the Balkans – a Field Guide".1987
7) Antonio Giovinoa, Gianniantonio Dominab, Giuseppe Bazanc, Patrizia Campisic and Silvia Scibetta "Taxonomy and conservation of Pancratium maritimum (Amaryllidaceae) and relatives in the Central Mediterranean" in Acta Botanica Gallica: Botany Letters, 2015 http://dx.doi.org/10.1080/12538078.2015.1089416
8) "Pancratium Maritimum or Sea Lily Related ingredient: NEUROLIGHT.61 G" CODIF RECHERCHE & NATURE www.codif-rechercher-et-nature.com
9) MONICA MEDRANO, PABLO GUITIAN, AND JAVIER GUITIAN "PATTERNS OF FRUIT AND SEED SET WITHIN INFLORESCENCES OF PANCRATIUM MARITIMUM (AMARYLLIDACEAE): NONUNIFORM POLLINATION, RESOURCE LIMITATION, OR ARCHITECTURAL EFFECTS?" American Journal of Botany 87(4): 493–501. 2000.
10) El-Hadidy, A et al. "Systematic Revision of the Genus Pancratium L. (Amaryllidaceae) in Egypt with a New Addition" Not Sci Biol, 2011, 3(2):24-38 - Available online at www.notulaebiologicae.ro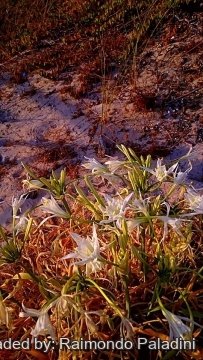 Pancratium maritimum
Photo by: Raimondo Paladini
Blooming habit near a beach north of Tel Aviv, Israel.
Photo by: Judith Abeles
Pancratium maritimum, The black seeds. Lido di Classe (RA), Italy February 2018
Photo by: Valentino Vallicelli
Send a photo of this plant.
The gallery now contains thousands of pictures, however it is possible to do even more. We are, of course, seeking photos of species not yet shown in the gallery but not only that, we are also looking for better pictures than those already present.
Read More...
Cultivation and Propagation: Pancratium maritimum is easy to grown in a dry and sunny position or under a deciduous tree so the plants will receive winter sun, it can be grown in the ground (in warm climate) but requires a very well drained, sandy soil or in a decorative pot. The bulbs are winter active and summer dormant, so they should be given supplemental water in the winter, but none in the summer. Needs hot summers to induce flowering and is often a shy bloomer in cooler climates. When planting in the ground allow ample room for the bulbs to divide and multiply.
Hardiness: Hardy to USDA zone 8. The foliage is hardy to at least 3° C, while the bulb itself can tolerate lower temperatures.
Pancratium maritimum can be grown in a cactus and succulent garden. It can be placed in a decorative pot and used as a winter focal point on a patio. Delicate flowers bloom in summer creating a beautiful sight. This species has the same growing cycle of many winter rainfall South African species like Amaryllis or Brunsvigia.
Medical uses: Pancratium maritimum is hypotensive (reduces blood pressure) and purgative.It would also be used to treat asthma.
Dietary uses: Seeds from Pancratium maritimum would be used as a condiment. It is also said that the bulbs would be edible after being cooked. But they they may be poisonous.
Propagation: Seeds or division after flowering. Seedlings may flower in their third or fourth year.