Donate now to support the LLIFLE projects.
Your support is critical to our success.
Since 4 Aug 2013
sponsored link
Accepted Scientific Name: Eriosyce senilis (Backeb.) Katt.
Eriosyce (Cactac.) gen. revis. & ampl. (Succ. Pl. Res., 1) 119 (1994)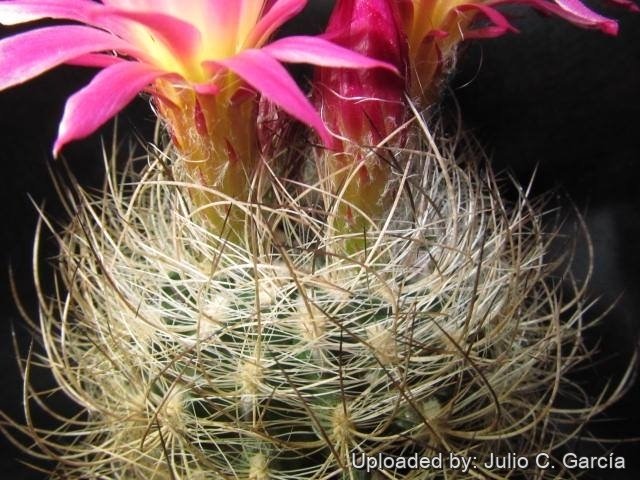 Neoporteria gerocephala Photo by: Julio C. García
Origin and Habitat: Coquimbo Region IV, Chile.
Altitude: 350-750(-1000) metres above sea level.
Habitat and Ecology: The species is frequent but not abundant among small valleys and traverse to the sea in sclerophyllous forest and thorny scrub on rocky soils, the populations are severely fragmented, and illegal collection is causing a continual decline in the number of mature individuals. Furthermore, land conversion for agriculture and urbanization is degrading the habitat surrounding the species.
Synonyms:
See all synonyms of Eriosyce senilis
Accepted name in llifle Database:
Eriosyce senilis
(Backeb.) Katt.
Eriosyce (Cactac.) gen. revis. & ampl. (Succ. Pl. Res., 1) 119 (1994)
Synonymy: 23
Accepted name in llifle Database:
Eriosyce senilis subs. coimasensis
(F.Ritter) Katt.
Eriosyce (Cactac.) gen. revis. & ampl. (Succ. Pl. Res., 1) 119 (1994)
Synonymy: 7
Accepted name in llifle Database:
Eriosyce senilis subs. elquiensis
Katt.
Eriosyce (Cactac.) gen. revis. & ampl. (Succ. Pl. Res., 1) 119 (1994)
Description: Eriosyce gerocephala, best known as Neoporteria gerocephala is one of the many geographical or morphological forms of Eriosyce senilis distinguished by thin, soft and flexible cream-white spines, but plants with different spine colours are often found in cultivation labelled as Eriosyce senilis var. multicolor.
Note: Eriosyce senilis is quite variable and has received numerous unnecessary names of no botanical value, representing no more than local phenotypes: Eriosyce gerocephala is one of them.
Habit: It is a solitary cactus with dens covering of spines.
Stems: Dark purplish and solitary, globose to short columnar, 6-18 cm tall, 5-8 cm in diameter.
Ribs: 13 to 21 notched somehow depressed between the areoles.
Roots: Large, tuberose yellowish.
Areoles: Woolly.
Spines: 15 to 40 radials, very dense, glassy, typically cream-white, straight to curled and tangled, hairlike soft and flexible, of variable length, obscuring the plant body and becoming longer with age.
Central spines: About 20, 30-60 mm long.
Radial spines: 15-40 20-60 mm long.
Flowers: 1-5 (or more) cm long and in diameter, borne at plant apex on young areoles, tubular to narrow funnel-form, showing various shades of purple-pink with clearer throat in the spring, 2.5-5 cm, 1-3 cm wide; Floral tube with tufts of white wool.
Fruits: Elongate to clavate, reddish opening by basal pores at maturity.
curled and tangled, some hairlike soft and flexible, other needle-like and stiff, of variable length, obscuring the plant body and becoming longer with age.
Subspecies, varieties, forms and cultivars of plants belonging to the Eriosyce senilis complex
Bibliography: Major references and further lectures
1) Guerrero, P., Faundez, L., Saldivia, P. & Walter, H.E. 2013. Eriosyce senilis. In: IUCN 2013. "IUCN Red List of Threatened Species." Version 2013.2. <www.iucnredlist.org>. Downloaded on 01 January 2014.
2) Fred Kattermann "Eriosyce (Cactaceae): The Genus Revised and Amplified" David Hunt, 1994
3) Edward Anderson "The Cactus family" Timber Press, Incorporated, 2001
4) James Cullen, Sabina G. Knees, H. Suzanne Cubey "The European Garden Flora Flowering Plants: A Manual for the Identification of Plants Cultivated in Europe, Both Out-of-Doors and Under Glass" Cambridge University Press, 11/Aug/2011
5) David R Hunt; Nigel P Taylor; Graham Charles; International Cactaceae Systematics Group. "The New Cactus Lexicon" dh books, 2006
Neoporteria gerocephala
Photo by: Valentino Vallicelli
Neoporteria gerocephala
Photo by: Julio C. García
Neoporteria gerocephala
Photo by: Alexander Arzberger
Neoporteria gerocephala
Photo by: Peiffer Clement
Cultivation and Propagation: Eriosyce gerocephala, is xerophytic and adapted to very dry soils. It is particularly rot sensitive, especially after planting. It is quite a challenge to grow it into a large mature specimen.
Growth rate: Slow-growing and very long-lived.
Soils: It likes very porous mineral cactus mix soil, but can become too elongated if compost is too rich.
Repotting: This plant needs plenty of space for its roots, repotting should be done every other year or when the it has outgrown its pot. Use pot with good drainage.
Watering: Needs moderate in summer, but do not overwater (extremely rot prone), keep dry in winter at a minimum temperature of 0°C.
Fertilization: Feed with a high potassium fertilizer in summer.
Hardiness: Reputedly resistant to frost if kept on the dry side prior to, and during, cold weather (hardy to -7 C ° C, or less for short periods), but for safe cultivation it is best to avoid freezing temperatures. It need a very good ventilation.
Exposition: The plant tolerates extremely bright situations. Blasting full sun encourages flowering and heavy spine production.
Pests & diseases: It may be attractive to a variety of insects, but plants in good condition should be nearly pest-free, particularly if they are grown in a mineral potting-mix, with good exposure and ventilation. Nonetheless, there are several pests to watch for:
- Red spiders: Red spiders may be effectively rubbed up by watering the plants from above.
- Mealy bugs: Mealy bugs occasionally develop aerial into the new growth among the wool with disfiguring results, but the worst types develop underground on the roots and are invisible except by their effects.
- Scales: Scales are rarely a problem.
- Rot: This species is not easy and accommodating, often suffer of cryptogamic diseases.
Propagation: Seed or grafting. The seeds germinate with some difficulty and a low rate of success.