Donate now to support the LLIFLE projects.
Your support is critical to our success.
Echinocactus horizonthalonius Photo by: Agócs György
It makes a single globular though very flattened stem, greyish or bluish-green in colour with strong pink, grey, tan, or brown spines that generally not hide stem surface.
Origin and Habitat: Mexico (Aguascalientes, Chihuahua, Coahuila, Durango, Guanajuato, Nuevo Le
Synonyms:
See all synonyms of Echinocactus horizonthalonius
Common Names include:
ENGLISH:
Devil's-Head Cactus, Turk's Head, Eagle Claws, Bisnagre, Turk's-head Cactus, Devilshead, Silverbell Cactus, Turk's Head Cactus
SPANISH (Español):
Biznaga Meloncillo, Bisnaga de Dulce, Bisnaga, Biznaga-tonelmancamula
Description: Echinocactus horizonthaloniusSN|1711]]SN|1711]] is a relatively small barrel cactus that normally grows unbranched.
Stems: Pale, grey-green to bright glaucous grey-blue, flat-topped or hemispheric, and deep-seated in substrate, spherical with age or stoutly short cylindrical, stem slowly growing up to 30 cm tall, 15-20 cm in diameter or more. The apical meristem is protected by whitish-yellow wool, which shades developing flower buds and fruits.
Ribs: 5 to 13 ribs (mostly 8), vertical to helically curving around stem, rib crests broadly rounded, uninterrupted or slightly constricted between areoles.
Areoles: Round, full of white wool when young.
Spines: 5 to 10 (more frequently 8) per areole, loosely projecting or strongly decurved, pink, grey, tan, or brown, strongly annulate-ridged, subulate, ± flattened, glabrous, generally not hiding stem surface.
Radial spines: 5(-8) per areole, similar to central spines.
Central spines:: 1(-3) per areole, 18-43 mm, longest spine usually descending, straight or decurved throughout its length.
Flowers: Pinkish-red , 5 to 7 (9) cm in diameter; stigma lobes pinkish to olive.
Blooming season: From the end of March to late May (occasionally on September).
Fruit: Red or pink, oblong, fleshy or semi dry and ephemeral, containing black seeds, indehiscent or weakly dehiscent through basal abscission pore. Once fruits are open, the rough black seeds (2 mm in diameter) lie on the wool atop plants, with seeds rolling off between the ribs.
Remarks: The Sonoran Desert populations of E. horizonthalonius have been segregated as var. nicholii, but are relatively similar to plants in New Mexico and the westernmost part of Texas.
Subspecies, varieties, forms and cultivars of plants belonging to the Echinocactus horizonthalonius group
Bibliography: Major references and further lectures
1) Edward Anderson "The Cactus family" Timber Press, Incorporated, 2001
2) James Cullen, Sabina G. Knees, H. Suzanne Cubey "The European Garden Flora Flowering Plants: A Manual for the Identification of Plants Cultivated in Europe, Both Out-of-Doors and Under Glass" Cambridge University Press, 11/Aug/2011
3) David R Hunt; Nigel P Taylor; Graham Charles; International Cactaceae Systematics Group. "The New Cactus Lexicon" dh books, 2006
4) N. L. Britton, J. N. Rose "The Cactaceae. Descriptions and Illustrations of Plants of the Cactus Family." Volume 4, The Carnegie Institution of Washington, Washington 1923
5) Curt Backeberg "Die Cactaceae: Handbuch der Kakteenkunde" Gustav Fischer Verlag, Stuttgart New York 1982–1985
6) Goettsch, B.K., Gómez-Hinostrosa, C., Heil, K., Terry, M. & Corral-Díaz, R. 2013. Echinocactus horizonthalonius. The IUCN Red List of Threatened Species. Version 2015.1. <www.iucnredlist.org>. Downloaded on 12 June 2015.
Juvenile specimen (Locality: Milagro)
Photo by: Cactus Art
Echinocactus horizonthalonius
Photo by: Valentino Vallicelli
''Devil's Head Cactus''
Photo by: Valentino Vallicelli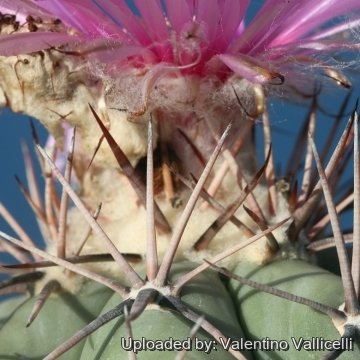 Echinocactus horizonthalonius
Photo by: Valentino Vallicelli
Echinocactus horizonthalonius
Photo by: Valentino Vallicelli
Echinocactus horizonthalonius
Photo by: Agócs György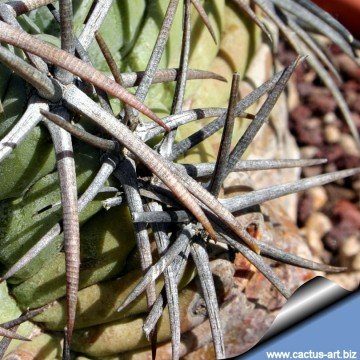 Echinocactus horizonthalonius
Photo by: Cactus Art
Echinocactus horizonthalonius
Photo by: Agócs György
Cultivation and Propagation: This species is not the easiest to cultivate, requiring the maximum amount of sun and care with watering, as it can easily rot. Keep this plant dry in winter at a minimum temperature of 0°C (but it is hardy as low as -10° C). It prefers a very draining mineral compost, and does better with some limestone in the soil mixture. The plant tolerates extremely bright situations, but enjoy some shade during the hottest part of the day in summer.
Propagation: Seeds (it usually doesn't produce offsets), grafting. Seed Collecting: Permit fruits to ripen: Fruit must be significantly overripe before harvesting seed. Clean and dry seeds
Your Photos
---
by Cactus Art
by Valentino Vallicelli

by Cactus Art

by Cactus Art

by Cactus Art