Donate now to support the LLIFLE projects.
Your support is critical to our success.
Accepted Scientific Name: Echinocereus russanthus D.Weniger
Cact. Succ. J. (Los Angeles) 41: 41(-42), fig. 5. 1969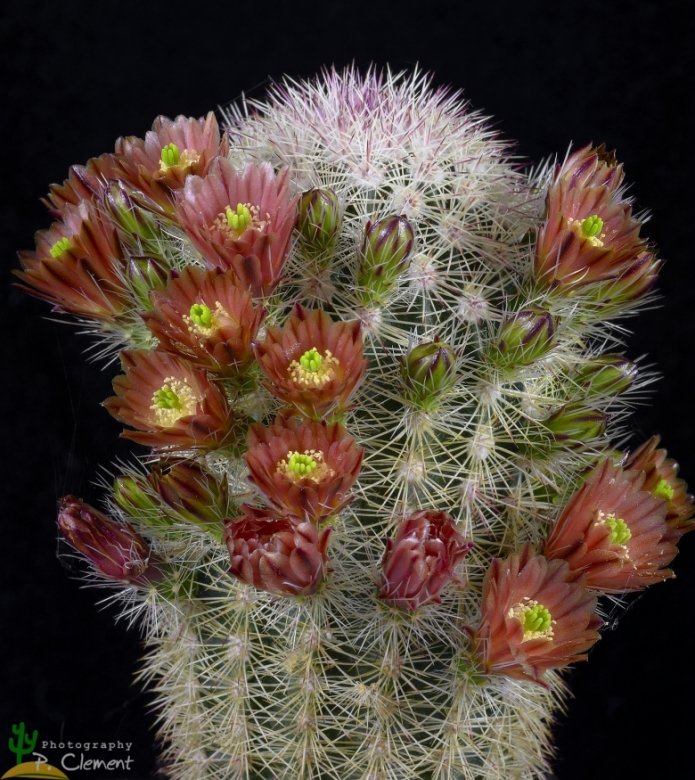 Echinocereus russanthus subs. fiehnii Photo by: Peiffer Clement
Origin and Habitat: It is endemic to the Sierra del Nido, Santa Clara Cañón, central Chihuahua, Mexico.
Altitude: 1400-1800m
Habitat: Echinocereus russanthus subs. fiehnii grows in ascending meadow often on granite and gneiss rocks together with Mammillaria santaclarensis and Echinocereus palmeri. Night frosts are frequent in winter, and plants are often covered by snow. The plant is very rare in nature and endangered of extinction.
Synonyms:
See all synonyms of Echinocereus russanthus
Accepted name in llifle Database:
Echinocereus russanthus
D.Weniger
Cact. Succ. J. (Los Angeles) 41: 41(-42), fig. 5. 1969
Synonymy: 11
Description: Echinocereus russanthus subs. fiehnii is a controversial subspecies of the very variable Echinocereus russanthus. It distinguishes for its cylindrical body, many white-red spines and very small spiny pale red-yellow flowers which are among the smallest in the species. It blooms quite readily making this species a very interesting one at flowering time, which is usually in Spring.
Habit: Single stemmed, or later becoming branched, some having as many as a dozen.
Stem: Erect, spheric to short cylindric, 8-30 tall and 4-8 cm in diameter.
Ribs: 10-20, crests prominent, slightly to conspicuously undulate; areoles 3-12 mm apart.
Spines: Interlocking, bristle-like slender, typically white and reddish obscuring the stems, radiating in all directions.
Flowers: Diurnal, often occurring in clusters around the sides of the stem, shortly funnelform, 2-3,5 long 1,5-3 cm broad not always opening fully; typically pale yellow-red or rust-red, often with darker purplish maroon midstripes, anthers greenish-yellow.
Flowering: March - June.
**Fruits: Yellowish green, dark green, reddish tinged or dark purple, green, very spiny, 6-17 mm, pulp white.
Fruiting:*** Fruits ripen 2 months after flowering.
Subspecies, varieties, forms and cultivars of plants belonging to the Echinocereus viridiflorus/russanthus complex
Bibliography: Major references and further lectures
1) David Hunt, Nigel Taylor "The New Cactus Lexicon" DH Books, 2006
2) John Pilbeam (1999) "Mammillaria The Cactus File Handbook" Nuffield Press.
3) Edward F. Anderson "The Cactus Family" Timber Press, 2001
4) James Cullen, Sabina G. Knees, H. Suzanne Cubey "The European Garden Flora Flowering Plants: A Manual for the Identification of Plants Cultivated in Europe, Both Out-of-Doors and Under Glass"Cambridge University Press, 11/ago/2011
L1076 (Alfred Bernhard Lau) Santa Clara Canyon, Chihuahua, Mexico, 1400-1800 m a.s.l.
Photo by: Valentino Vallicelli
Echinocereus russanthus subs. fiehnii
Photo by: Valentino Vallicelli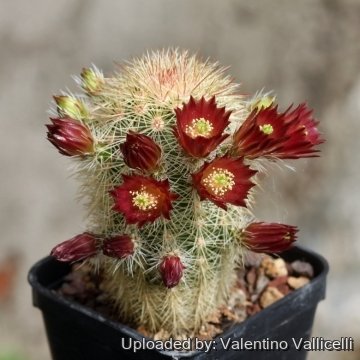 Echinocereus russanthus subs. fiehnii
Photo by: Valentino Vallicelli
Echinocereus russanthus subs. fiehnii
Photo by: Peiffer Clement
Cultivation and Propagation: In culture Echinocereus russanthus is without problems and regularly shows its small purplish flowers if we provide an adequate winter rest period. It is sensitive to overwatering (rot prone) needs good drainage, Keep drier and cool in winter. Need full sun; Very cold resistant hardy to -20° C or less for short periods of time.
Propagation: Seeds or cutting (if available).