Donate now to support the LLIFLE projects.
Your support is critical to our success.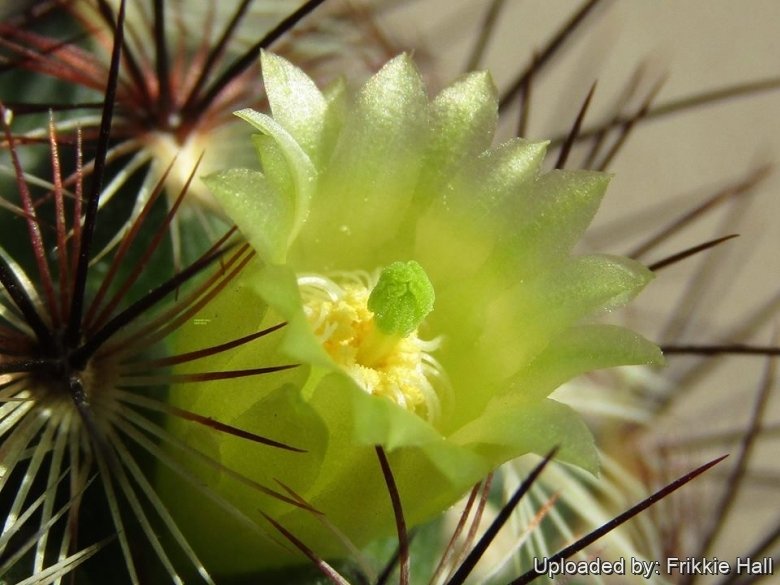 Mammillaria microhelia Photo by: Frikkie Hall
The flowers, originally described as pale yellowish or almost white by Werdermann, may by white, yellowish-green pinkish or purplish. Has creamy-white to purplish flowers in spring.
Origin and Habitat: Mammillaria microheliaSN|28215]]SN|28215]] is only found in the central part of the state of Queretaro, Mexico (Extent of occurrence less than 1,000 km² ).
Altitude range: It grows at elevations of 2,000 to 2,600 metres above sea level.
Habitat and Ecology: This cactus grows amongst volcanic rock in semi-desert (matorral) and submontane deciduous oak forest with Quercus depressipes, Quercus eduardi, Quercus grisea and Quercus potosina. Mammillaria microheliaSN|28215]]SN|28215]] is considered to be Endangered due to its limited range, its occurrence in less than five locations, and an ongoing decline due to habitat degradation (grazing) and possibly decline of mature individuals caused by illegal overcollecting. The estimated population size of this species is estimated to be less than 500 mature individuals.
Synonyms:
See all synonyms of Mammillaria microhelia
Accepted name in llifle Database:
Mammillaria microhelia
Werderm.
Monatsschr. Deutsch. Kakteen-Ges. 2: 236 1930
Synonymy: 8
Common Names include:
SPANISH (Español):
Biznaguita
Description: Mammillaria microheliaSN|28215]]SN|28215]] is a particularly attractive small columnar, perennial cactus both solitary or forming clumps and bearing cream or brown spines, discolouring with age. Has creamy-white to purplish flowers in spring. Spines are arranged like the rays of the sun.
Stems: Cylindrical, medium green, to 15(-25) cm or more high, 3-5(-6) cm in diameter.
Tubercles: Blunt conical, rounded apically, keeled, without latex, axils naked or slightly woolly, later naked.
Central spines: 1-4, sometimes absent, occasionally as many as 8(-11), stout, needle-like, straight or curved,up to to about 11 mm long, dart reddish brown to yellowish brown contrasting with the paler radial spines.
Radial spines: Numerous (30 to 50), radiating, straight or often slightly curved backward, white to yellowish, 4-6 mm long.
Flowers: Bell-shaped, to 16 mm long and in diameter. Tepals creamy-white or yellowish-green, with or without a pink-reddish to purple central band, but also pink or purplish. Stigmas green, short. Outer perianth segments lanceolate, to about 9 mm long, 1 mm wide, pointed or rounded at the top. Inner perianth segments about 5 mm long, 2 mm wide, whitish, yellowish, or pink glossy. Stamens numerous, filaments pure white, anthers pale yellow, all curved towards the centre. Style thin, white. Stigma lobes 5, about 1 mm long upright, pale green, protruding slightly over the stamens.
Fruits: Pale green, or pale pink.
Seeds: brown.
Subspecies, varieties, forms and cultivars of plants belonging to the Mammillaria microhelia group
Mammillaria microhelia

Werderm.

: has a columnar stems. Flowers creamy-white, pink or purplish. Radial spines 30-50 white to yellowish. Centrals 1-4, sometimes absent, occasionally as many as 8(-11) dark reddish brown. Distribution: Queretaro, Mexico.

Mammillaria microhelia var. microheliopsis

(Werderm.) Backeb.

: stems almost spherical, radial spines 30-40, central spines 6-8, flowers mostly pink or purplish. Distribution: unknown (originally described from cultivated plants).
Bibliography: Major references and further lectures.
1) Robert T. Craig "The Mammillaria handbook: with descriptions, illustrations, and key to the species of the genus Mammillaria of the Cactaceae" E P Publishing, 1945
2) John Pilbeam "Mammillaria The Cactus File Handbook" Cirio Pub. Services, 01/Dec/1999Edward Anderson "The Cactus family" Timber Press, Incorporated, 2001
3) James Cullen, Sabina G. Knees, H. Suzanne Cubey "The European Garden Flora Flowering Plants: A Manual for the Identification of Plants Cultivated in Europe, Both Out-of-Doors and Under Glass" Cambridge University Press, 11/Aug/2011
4) David R Hunt; Nigel P Taylor; Graham Charles; International Cactaceae Systematics Group. "The New Cactus Lexicon" dh books, 2006
5) Sánchez , E. & Guadalupe Martínez, J. 2013. Mammillaria microhelia. The "IUCN Red List of Threatened Species." Version 2014.2. <www.iucnredlist.org>. Downloaded on 26 July 2014.
6) Ulises Guzmán, Salvador Arias, Patricia Dávila, "Catálogo de cactáceas mexicanas" Universidad Nacional Autónoma de México, Mexico 2003, p.114.
7) Urs Eggli, Leonard E. Newton: "Etymological Dictionary of Succulent Plant Names" Birkhäuser 2004
8) Christopher Brickell "RHS Encyclopedia of Plants and Flowers" Dorling Kindersley Ltd, 01/Sep/2010
9) Haustein, Erik. "Der Kosmos-Kakteenführer." Kosmos / Gesellschaft der Naturfreunde., Stuttgart, 1983
10) Alfred Byrd Graf "Exotica, series 4 international: pictorial cyclopedia of exotic plants from tropical and near-tropic regions" Roehrs Co. Publishers, 1983
Mammillaria microhelia
Photo by: Diego Armentano
Mammillaria microhelia
Photo by: Frikkie Hall
Mammillaria microhelia
Photo by: Frikkie Hall
Mammillaria microhelia
Photo by: Diego Armentano
Mammillaria microhelia
Photo by: Alexander Arzberger
Mammillaria microhelia
Photo by: Carolina González
Mammillaria microhelia
Photo by: Frikkie Hall
Mammillaria microhelia (white spines form? hybrid?)
Photo by: Julio C. García
Cultivation and Propagation: In good conditions with careful application of water and excellent ventilation Mammillaria microheliaSN|28215]]SN|28215]] grows without difficulty.
Growing rate: It is a slow growing species that rewards the patient grower with a beautiful displays of flowers since from an early age.
Soil: Requires good drainage provided by a very permeable open cactus soil (With not less than 50% grit content). Reduce the use of peat or other humus sources in the potting mixture.
Repotting: Repot every 2-3 years. Use small sized pots.
Feeding: During the beautiful season enrich the soil using a fertilizer rich in potassium and phosphorous, but poor in nitrogen, because this chemical element doesn't help the development of succulent plants, making them too soft and full of water.
Watering: Water should be carefully applied and only when the soil is dry to the touch, as this cliff-dwelling species is very prone to root rot. Allow soil to drain thoroughly before watering again. Additionally, water should not be applied from above, as the feathery spines will retain water and add to rotting problems, but in good conditions with excellent ventilation, in bright light, it usually grows without particular difficulty. Do not water in the winter.
Light: Outside full sun or afternoon shade, inside it needs bright light, and some direct sun. Direct sun encourages flowering and heavy spine production.
Hardiness: Protect from frost. But it's hardy to -5°C if kept dry. A winter rest that allows the plant to shrivel (perhaps losing up to 25% of its summer height) will encourage flowering and long time survival.
Pests & diseases: It may be attractive to a variety of insects, but plants in good condition should be nearly pest-free, particularly if they are grown in a mineral potting-mix, with good exposure and ventilation. Nonetheless, there are several pests to watch for:
- Red spiders: Red spiders may be effectively rubbed up by misting the vulnerable plants every day
- Mealy bugs: occasionally they develop aerial into the new growth among the wool with disfiguring results, but the worst types develop underground on the roots and are invisible except by their effects.
- Scales: Scales are rarely a problem.
- Rot: it is only a minor problem with cacti if the plants are watered and "aired" correctly. If they are not, fungicides won't help all that much.
Propagation: Direct sow after last frost or (rarely) cuttings. Seeds germinate in 7-14 days at 21-27° C in spring, remove gradually the glass cover as soon the plants will be well rooted (ca 1-2 weeks) and keep ventilated, no full sun for young plants!