Donate now to support the LLIFLE projects.
Your support is critical to our success.
Since 4 Aug 2013
sponsored link
Pilosocereus leucocephalus Photo by: Julio C. García
Origin and Habitat: Mexico (States of Tamaulipas, Chiapas, Hidalgo, Querétaro, San Luis Potosí, and Veracruz), south to Guatemala and Honduras.
Altitude: 0 to 1000 metres above sea level.
Habitat and Ecology: Pilosocereus leucocephalusSN|6720]]SN|6720]] inhabits tropical deciduous forest, xerophyllous scrub, and submontane forest. It germinates in the shade of plant canopies and in soil-filled rock crevices than in flat open areas. It is mainly bat-pollinated (bats account for 33-65% of fruit set); although to a lesser degree, diurnal visitors also caused some fruit set (7-15%). Diurnal visitors were more effective in populations containing honeybee hives. P. leucocephalus is partially self-compatible (14-18% of fructification) but unable to set fruit without visitors.
It is widespread and common but threatened by localized small-scale deforestation for cattle and agriculture.
Synonyms:
See all synonyms of Pilosocereus leucocephalus
Common Names include:
ENGLISH:
Woolly Torch, Old Man Cactus, Old Man of Mexico,
SPANISH (Español):
Cabeza de viejo, Tuno, Órgano, Pitayón, Cabeza blanca
Description: Pilosocereus leucocephalusSN|6720]]SN|6720]], more often labelled Pilosocereus palmeriSN|6732]]SN|6732]], is a tree-like cactus whose branches are clothed in thick silky wool. Near the tops emerge short, funnel-shaped, flesh-coloured flowers. Pilosocereus leucocephalusSN|6720]]SN|6720]] is a variable species with a large distribution area. This accounts for the numerous synonyms.
Habitat: It is a columnar cactus becoming a tree 2-6 m tall, more or less branched from below with well-defined short trunks.
Stems: Erect or ascending, 5-10 cm in diameter. dark greener glaucous and light waxy blue at first.
Ribs: 7-9 broad or with shallow sinuses.
Areoles: 1-1.5cm apart, the upper densely clothed with white hairs 2-6 cm long.
Pseudo-cephalium: The area where the flowers will grow is called a pseudo-cephalium, it is usually well defined, apical to lateral, involving three or four ribs. Flower-bearing areoles have much denser silky white hairs 4-10 cm long.
Spines: Brownish or yellow at first, becoming grey with age.
Radial spines: 7-12, slender, approx 1 cm long.
Central spine: One occasionally 2, stronger, 2-3 cm long.
Flowers: Tubular to bell shaped, whitish to light pink inside, reddish green outside, 6-8 cm long. Outer segments purplish brown, inner segments pinkish. There is a large globule of nectar in the base of the flower.
Blooming season: This cactus flowers during the warmest part of the year in asynchronous discrete pulses influenced by temperature, rainfall and plant size.
Fruits: Spherical up to 4 cm in diameter, red, with red pulp and black seeds. They develop in a few weeks.
Subspecies, varieties, forms and cultivars of plants belonging to the Pilosocereus leucocephalus group
Pilosocereus leucocephalus

(Poselg.) Byles & G.D.Rowley

: is a tree-like cactus whose branches are dark greener glaucous and light waxy blue at first and clothed in thick silky wool. Distribution: Mexico, Guatemala and Honduras

Pilosocereus leucocephalus f. cristata

hort.

: crested form. Garden origin

Pilosocereus palmeri

(Rose) Byles & G.D.Rowley

: is a tree-like cactus with blue ribbed stem tufted in thick silky wool from which emerge short flesh-coloured blooms. Distribution: Mexico.
Bibliography: Major references and further lectures
1) "Phenology of Pilosocereus leucocephalus (Cactaceae, tribe Cereeae): a columnar cactus with asynchronous pulsed flowering "Pilosocereus leucocephalus produces flowers in discrete pulses" in: "Issues in Ecosystem Ecology" 2011 Edition Scholarly Editions, 09/Jan/2012
2) James Cullen, Sabina G. Knees, H. Suzanne Cubey "The European Garden Flora Flowering Plants: A Manual for the Identification of Plants Cultivated in Europe, Both Out-of-Doors and Under Glass" Cambridge University Press, 11/Aug./2011
3) David Hunt, Nigel Taylor "The New Cactus Lexicon" DH Books, 2006
4) Edward F. Anderson "The Cactus Family" Timber Press, 2001
5) Cullmann W., Götz E., Gröner G."Kakteen: Kultur, Vermehrung und Pflege - Lexikon der Gattungen und Arten" Ulmer, Stuttgart, 1984
6) Carol C. Baskin, Jerry M. Baskin "Seeds: Ecology, Biogeography, and, Evolution of Dormancy and Germination" Elsevier, 20/Feb/2014
7) Hans Hecht "BLV-Handbuch der Kakteen" BLV-Verlagsgesellschaft, 1982
8) Ishiki, M., Arias, S. & Gómez-Hinostrosa, C. 2013. Pilosocereus leucocephalus. In: IUCN 2013. "IUCN Red List of Threatened Species." Version 2013.2. <www.iucnredlist.org>. Downloaded on 15 March 2014.
Pilosocereus leucocephalus
Photo by: Julio C. García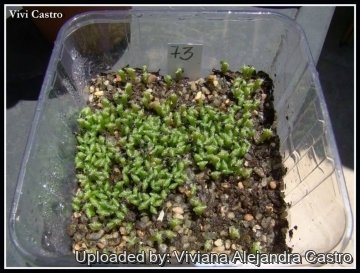 Seedlings.
Photo by: Viviana Alejandra Castro
Pilosocereus leucocephalus
Photo by: Julio C. García
Pilosocereus leucocephalus
Photo by: Valentino Vallicelli
Cultivation and Propagation: Pilosocereus leucocephalusSN|6720]]SN|6720]] grows well and is a very vigorous growers (one of the quickest growing cactus), and is possible to increase the speed of growth to some extent by providing adequate amount of water, warmth, and an all-purpose liquid fertilizer diluted half strength during the active growing season, but it's susceptible to rotting if too wet. It likes a sunny position also blasting sun in summer. If grown indoor provide 4 to 6 hours, or more, direct morning or afternoon sun. It should be watered regularly in Summer and kept drier in Winter. It like pots with generous drain holes, need a very porous, slightly acidic potting medium (add pumice, vulcanite, and perlite). It can be grown outdoors in frost-free climates, needs anyway to kept above 12 °C and dry in winter. But it can tolerate temperatures down to 5° C (or even 0° C) for very short periods if very dry and ventilated.
Manteinance: Repot every two years.
Remarks: Do not use fatty products (like horticultural oil, neem oil, mineral oil, and insecticidal soaps) that can fade and ruin the characteristic blue colouration of the epidermis!
Propagation: Seeds or cuttings.