Donate now to support the LLIFLE projects.
Your support is critical to our success.
Since 4 Aug 2013
Chamaerops humilis Photo by: Valentino Vallicelli
Photo taken at Cervia, Adriatic coast of Emilia Romagna, Italy.
Origin and Habitat: Chamaerops humilisSN|24321]]SN|24321]] is the only palm species native to Europe. (Spain, Portugal, France, Italy and Malta) and northwest Africa (Morocco, Algeria, Tunisia) and eastward to Turkey. It is the northernmost naturally occurring palm in the world.
Habitat: It grows in hot exposed dry cliff-sides of hills and mountains of the Mediterranean Sea basin. It even survives the occasional snowfall in its native habitat.
Ecology: It flowers in April–May and is pollinated by a specific weevil, Derelomus chamaeropsis.
Synonyms:
See all synonyms of Chamaerops humilis
Common Names include:
ENGLISH:
Mediterranean fan palm, European fan palm, Mediterranean dwarf fan palm, Mediterranean dwarf palm, Palm cabbage (buds - vegetable), Dwarf fan palm
ARABIC ( لعربية ):
لكاميروبس
BASQUE (Euskara):
Palmondo nano
CATALAN (Català):
Margalló, Bargalló, Garballó
CHINESE (中文):
叢櫚
CROATIAN (Hrvatski):
Mediteranska lepezasta palma
CZECH (Čeština):
Žumara nízká
DANISH (Dansk):
Dværgpalme-slægten, Dvaergpalme
DUTCH (Nederlands):
Europese dwergpalm
ESPERANT (Esperanto):
Kameropso
FINNISH (Suomi):
Kääpiöpalmu
FRENCH (Français):
Chamérops humble, Palmite nain, Palmite, Palmier éventail, Palmier nain, Palmier doum, Doum, Faux palmier doum
GALICIAN (Galego):
Palmeira anana
GERMAN (Deutsch):
Zwergpalme
GREEK (Ελληνικά):
Χαμαίρωπας χαμηλός
HUNGARIAN (Magyar):
Törpepálma, Lószőrpálma, Lószőrpálma
ITALIAN (Italiano):
Palma nana, Ciafagghiuni (germoglio commestibile - sicilia), Palma di S. Pier martire, Palmizio nano, Palma da scope
MALAYALAM (മലയാളം):
ചിറ്റീന്തൽ
NORWEGIAN (Bokmål):
Europeisk viftepalme
PERSIAN (فارسی):
نخل بادبزنی اروپایی
POLISH ( Polski):
Karłatka niska
PORTUGUESE (Português):
Palmeira anã, Palmeira das vasouras, Palmeira vassoureira
RUSSIAN (Русский):
Хамеропс низкий, Хамеропс приземистый
SARDINIAN (sardu):
Prammittu
SLOVAK (Slovenčina):
Palmička nízka
SPANISH (Español):
Palmito, Palmitera, Palmera enana, Palma enana, Palma de palmitos, Palma de escobas
SWEDISH (Svenska):
Europeisk dvärgpalm
UPPER SORBIAN (Hornjoserbsce):
Niska palmka
WALLOON (walon):
Pålmî nin
Description: It is a shrub-like clumping palm, with several stems growing from a single base than can grow up to 4.5 m in height. It has become very popular in recent years, mostly due to its cold hardiness. Not only can it resist easily temperatures below-6° C but it is fairly fast growing and drought resistant too. It is a very variable species both in leaves-colour and in shape. Some plants form suckers more freely than others, other stay almost single (Chamaerops humilisSN|24321]]SN|24321]] var. elatior). Other are very dwarf growing not exceeding 1.5 m in height.
Stems (trunks): 2-5 m tall, 20–25 cm. in diameter terminating in dense clusters of fronds around the apex.
Leaves: With a 90-120 cm long petiole with numerous sharp needle-like spines terminating in a triangular more or less rounded fan about 50-60 cm and 60 sm wide, deeply divided into 10 to 20 multiple sharp leaflets that are themselves split at the tip each up to 50 cm long.
Flowers: Borne in spring in dense, short inflorescences at the top of the stems held close to the trunk are hidden behind the leaf stems which are armed with very sharp teeth; it is usually (but not invariably) dioecious with male and female flowers on separate plants.
Remarks: It is closely related to the genus Trachycarpus from Asia, differing in clumping habit (Trachycarpus only forms single stems without basal suckers)
Fruit:Dark yellow, orange or brown, and about 1 cm in diameter in the autum.

Subspecies, varieties, forms and cultivars of plants belonging to the Chamaerops humilis group
Bibliography: Major references and further lectures
1) MobileReference "The Illustrated Encyclopedia of Trees and Shrubs: An Essential Guide to Trees and Shrubs of the World" MobileReference 2008
2) Andreas Bärtels "Farbatlas Mediterrane Pflanzen." Ulmer Verlag, Stuttgart (Hohenheim) 1997
3) Herrera, J. "On the reproductive biology of the dwarf palm, Chamaerops humilis, in southern Spain." Principes 33: 27–32. 1989
4) WCSP, World Checklist of Palms: Chamaerops
5) Lorena Lombroso "Il libro completo del giardinaggio" Edizioni Gribaudo, 2010
6) RHS "A-Z encyclopedia of garden plants" United Kingdom: Dorling Kindersley. 2008
7) Merlo M.E., M.M. Aleman, J. Cabello, and J. Penas. "On the Mediterranean Fan Palm (Chamaerops humilis)." in: Principes 37: 151-8.1993.
8) Simon Rickard "The New Ornamental Garden" Csiro Publishing, 03/mar/2011
9) Andy McIndoe "The Horticulture Gardener's Guides – Shrubs" David & Charles, 01/mar/2005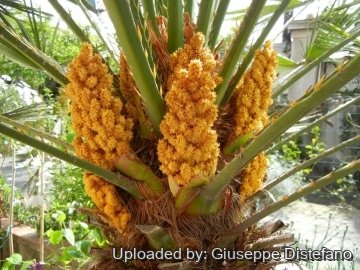 Chamaerops humilis
Photo by: Giuseppe Distefano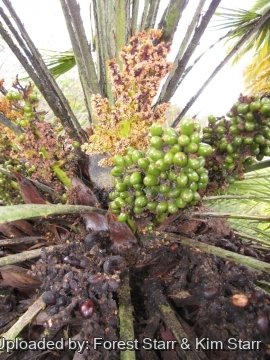 Fruit at Enchanting Floral Gardens of Kula, Maui, Hawaii (USA). March 19, 2012.
Photo by: Forest Starr & Kim Starr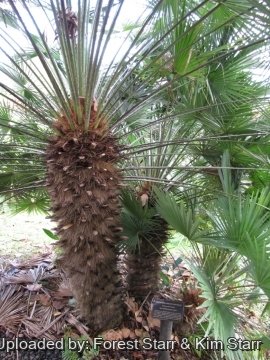 Habit at Garden of Eden Keanae, Maui, Hawaii (USA). March 30, 2011.
Photo by: Forest Starr & Kim Starr
Habit at UH Hilo, Hawaii (USA). July 16, 2012.
Photo by: Forest Starr & Kim Starr
Habit at Enchanting Floral Gardens of Kula, Maui, Hawaii (USA). March 19, 2012.
Photo by: Forest Starr & Kim Starr
Fruit at Enchanting Floral Gardens of Kula, Maui. March 19, 2012.
Photo by: Forest Starr & Kim Starr
Thorny stems at Walmart Kahului, Maui, Hawaii (USA). January 17, 2008.
Photo by: Forest Starr & Kim Starr
Send a photo of this plant.
The gallery now contains thousands of pictures, however it is possible to do even more. We are, of course, seeking photos of species not yet shown in the gallery but not only that, we are also looking for better pictures than those already present.
Read More...
Cultivation and Propagation: It is cultivated in tropical, subtropical and temperate regions and planted in gardens and parks. It is adapted to a Mediterranean climate with cool, moist winters and summer drought, and can grow on poor and rocky soils. If you needs a small low maintenance, but graceful looking palm, it doesn't get any better than Chamaerops humilisSN|24321]]SN|24321]]. It's usually seen in clumps and tolerating neglects.
Soil: It is very adaptable to many kinds of well drained soils.
Fertilization: Need a perfect fertilizer diet including all micro nutrients and trace elements or slow release fertilizer applied during the growing season, or according to package directions, using a fertilizer specifically formulated for palms.
Water Requirements: It tolerates low levels of humidity and summer drought, though it prefers evenly moist but not consistently wet medium. When supplied with adequate moisture and fertilizer it is also fairly fast growing. This palm is very drought tolerant once established. It dislikes soggy soils.
Light: It prefers bright sunny locations, but it also does well in part shade with some direct sunlight. It will survive in rather heavy shade but "stretches" to lose its compact shape. It produces flowers and fruit only in sunny positions.
Aerosol salt tolerance: It is somewhat salt resistant and may be grown near the sea if given some protection (behind a dune, building, etc. )
Wind resistance: It endures drying winds.
Hardiness: These palms are some of the hardier palms, tolerating winter frosts down to about −12°C for short periods ( USDA Zones 8-10)
Roots: Usually not a problem.
Maintenance: For the healthiest and most attractive plant, keep the palm pruned. As the old fronds die, these should be trimmed off and the leaf bases allowed to dry out, but do not prune if the frond still has some green colour. Palms recycle nutrients from dead or dying fronds and use them for healthier fronds. These days it is popular to remove all but a few of the suckers and to prune the leaves to form a cluster of clear trunked "mini" palms.
Uses: It is used massively in gardening and landscaping in many parts of the world though in sheltered areas it will survive prolonged periods below freezing point. It is also excellent in containers and urns. And thanks to its drought resistance and durability to heat it can thrive in harsh urban conditions.
Propagation: By seed, it can also be propagated by dividing clumps or removing suckers