Donate now to support the LLIFLE projects.
Your support is critical to our success.
Since 4 Aug 2013
Ravenea rivularis Photo by: Forest Starr & Kim Starr
Habit at Maui Community College Kahului, Maui, Hawaii (USA). August 06, 2009.
Origin and Habitat: Ravenea rivularisSN|28492]] is known from four fragmented sites in the southwest of Madagascar, between Isalo, Sakaraha and Analavelona mountains. (Extent of occurrence of 2,122 km² and area of occupancy 144 km²). The species may be locally abundant, however, about 900 mature trees are estimated for the whole distribution range.
Altitude: 350 e 750(-1000) metres over sea level.
Habitat: Grows on shady riverbanks in lowland forest, and on waterlogged soils, but also grows in shallow and slow moving water. The threats to this species include habitat loss through clearance for shifting agriculture, logging, and mining for sapphires. Seeds are harvested from the wild for the horticultural trade and this may impact the regeneration potential of the species.
Synonyms:
Common Names include:
ENGLISH:
Majesty palm, Majestic palm
CHINESE (中文):
國王椰子
FRENCH (Français):
Ravénéa des berges
GERMAN (Deutsch):
Autralische Schirmpalme, Weißstammpalme
MALAGASY:
Bakaly, Gora, Malio, Vakaka
PERSIAN (فارسی):
راونیا ریولاریس
SPANISH (Español):
Palma augusta, Palmera majestad
Description: Ravenea rivularisSN|28492]] is one of the most popular palm species from Madagascar, it is very large (massive) and tall, with elegant, upward-arching fronds that are divided into long, thin leaflets. It is a dioecious species (male and female flowers occur on different plants). It is a fast-growing species that in the right conditions can get quite tall.
Trunk: Solitary, thick, cylindrical or slightly inflated towards the middle smooth 5-20 m tall (but eventually up to 33 m), 30-50 cm in diameter, near crown 15-18 cm in diameter, pale brown-grey, ringed with old leaf scars, self cleaning and noticeably swollen at the base. Internodes 4-10 cm
Crown: Beautiful 4-10 m wide with 16-25 fronds.
Crown sheath: 30-50 cm long, 15-16 cm, green and proximally with with cottony white or grey-brown indument.
Leaves (fronds): Pinnate, feather-like, porrect to pendulous, slightly upward-arching, with soft or fleshy bases up to 5,5 m long, medium green divided into long, thin fingers leaflets. Petiole 6-20 cm long above flat with slightly sharp edges, white-waxy and scaly. Rachis green, white and scaly when young, 1.2-1.7 m long. Leaflets 70-73 on each side in one plane, stiff to pendulous, green to slightly yellow, 20-64 long, 1.5-3.2 cm wide about 2 cm apart.
Inflorescence: Branching.
Flowers: Small white.
Fruit: 1-1,5 cm in diameter, round and bright red when ripe.
Male inflorescences: Multiple, erect, branched to 2 orders, 86-90 cm long. Peduncle 32-45 cm, green densely pubescent. Staminate flowers small white with slight resinous smell.
Female inflorescence: Solitary erect or spreading, branched to 1 order, 130-150 cm long. Peduncle 40-60 cm. Pistillate flowers with a ovoid-conical ovary, slightly shorter than the petals.
Fruits: Bright red, globose to slightly ellipsoid, 7.5-9 mm long x 7-8.5 mm in diameter, 1-seeded, with bitter pulp.
Seeds: 5.5-6 x 5.5 mm.
Bibliography: Major references and further lectures
1) Forest & Kim Starr Ravenea rivularis (Majesty palm). Plants of Hawaii. <http://www.starrenvironmental.com>. Downloaded on 21 August 2014.
2) Don Ellison, Anthony Ellison "Cultivated Palms Of The World" UNSW Press, 01/mag/2001
3) Robert Lee Riffle, Paul Craft "An Encyclopedia of Cultivated Palms" Timber Press, Portland 2007
4) John Dransfield, Natalie W. Uhl, Conny B. Asmussen, William J. Baker, Madeline M. Harley, Carl E. Lewis: "Genera Palmarum. The Evolution and Classification of Palms." Royal Botanic Gardens, Kew 2008
5) David Jones: "Palmen" Könemann, Köln, 2000
6) Rosenfeld, Richard. "Houseplants. New York" DK Publishing, Inc., 2004
7) Beentje, H. J. 1994. "A monograph of Ravenea (Palmae: Ceroxyloideae)." Kew Bull. 49(4): 623–671.
8) Dransfield, J. & H. Beentje. 1995. "The Palms of Madagascar" i–xii, 1–475.
9) Jumelle, H. 1945. "Palmiers." Fl. Madagasc. 30: 1–180.
10) Jumelle, H. 1927. "Ravenea et Louvelia, palmiers de Madagascar." Ann. Mus. Colon. Marseille, sér. 4, 5(1): 21–51.
11) Jumelle, H. & H. P. Bâthie. 1913. "Palmiers de Madagascar." Ann. Mus. Colon. Marseille, sér. 3, 1(1): 1–91.
12) Kyburz, R. 2001. "Into the spiny heart of Madagascar." Palms & Cycads 70: 8–17.
13) Dransfield, J., N.W. Uhl, C.B. Asmussen-Lange, W.J. Baker, M.M. Harley & C.E. Lewis. 2008. "Genera Palmarum - Evolution and Classification of the Palms." Royal Botanic Gardens, Kew.
14) Rakotoarinivo, M. & Dransfield, J. 2012. Ravenea rivularis. The IUCN Red List of Threatened Species. Version 2014.2. <www.iucnredlist.org>. Downloaded on 26 August 2014
15) Wikipedia contributors. "Ravenea rivularis" Wikipedia, The Free Encyclopedia. Wikipedia, The Free Encyclopedia, 6 May. 2014. Web. 25 Aug. 2014.
Habit at Garden of Eden Keanae, Maui, Hawaii (USA). March 30, 2011.
Photo by: Forest Starr & Kim Starr
Crown at Maui Community College Kahului, Maui, Hawaii (USA). August 06, 2009.
Photo by: Forest Starr & Kim Starr
Habit at Lowes Garden Center Kahului, Maui, Hawaii (USA). January 03, 2008
Photo by: Forest Starr & Kim Starr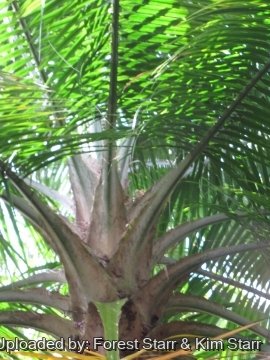 Crown at Garden of Eden Keanae, Maui, Hawaii (USA). March 30, 2011.
Photo by: Forest Starr & Kim Starr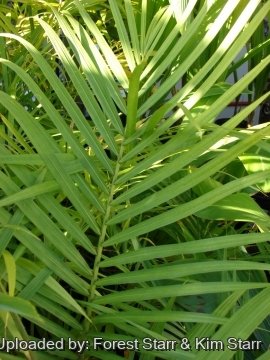 Leaves at Lowes Garden Center Kahului, Maui, Hawaii (USA). January 03, 2008.
Photo by: Forest Starr & Kim Starr
Send a photo of this plant.
The gallery now contains thousands of pictures, however it is possible to do even more. We are, of course, seeking photos of species not yet shown in the gallery but not only that, we are also looking for better pictures than those already present.
Read More...
Cultivation and Propagation: Ravenea rivularisSN|28492]] is relatively easy to grow and very adaptable to soil type, but clay soil is much better than sand, or silt, because clay holds water, this palm is a very fast grower if the water is kept up to it. Ravenea rivularisSN|28492]] is a great palm in a boggy spot where the land has been raped, and drainage is not so good. It is a palm with non-invasive roots.
Fertilization: Need a perfect fertilizer diet including all micro nutrients and trace elements or slow release fertilizer, but particularly it is needs plentiful of magnesium. If it doesn't get enough magnesium, the leaves take on a rather unhealthy yellow colour.
Light: Prefers full sun but will tolerate low light.
Hardiness: Some cold tolerance. This palm has tolerated temperatures down to –2ºC and even a little snow . However it can be difficult to get it to look its best without a great amount of heat and sun.and so it is only really suited to the tropics in frost-free regions (USDA Zones 10-12)
Drought tolerance: This palms like to be waterlogged, since their habitat is along riverbeds and in cultivation they appreciates very abundant waterings. During the summer or warmer months, water frequently (even every 2 days) to keep the soil from drying out. They need also elevated summer humidity, a dry atmosphere can be fatal.
Remarks: Few people are aware of just how large this palm can get, and one often sees it planted in places where its going to cause real problems later on.
Aerosol salt tolerance: It is moderately salt tolerant, but does a lot better inland then it does on the coast.
Maintenance: Prune diseased, damaged or drying fronds, but do not prune if the frond still has some green colour. Palms recycle nutrients from dead or dying fronds and use them for healthier fronds. Palms only have a set number of new leaves that can sprout and grow per year and removing fronds will not increase that number. If you cut off more than what will grow annually, you could be left with a pretty bare and bald Palm.
Propagation: Fresh seeds germinate quickly within a month of being planted and the seedlings are attractive.
Use: Its very neat appearance and stature makes it perfect near highways and used to accent residential landscapes. It is also a very popular indoor plant, but really would prefer more light and fresh air. A shade screen patio will provide an excellent environment for young specimens which can eventually be planted in a sunny location.
Pests & Diseases: Metamasius hemipterus.