Donate now to support the LLIFLE projects.
Your support is critical to our success.
Since 4 Aug 2013
Some of the trunked specimens in the Jurassic Cycad Gardens Ex-Situ conservation collection.
Origin and Habitat: Cycas cairnsianaSN|29853]]SN|29853]] is a vulnerable species found only at a two locations around Mount Surprise on the Newcastle Range of Einasleigh, northern Queensland, Australia.
Altitude range: Occurs at 450-500 metres above sea level.
Habitat and Ecology: C. cairnsiana grows in thin, gravelly soil on low hills among large granite boulders, with plants occurring in exposed situations among grass and sparse low shrubs, with seasonal rainfall of about 1350 mm. This plant is remarkable for its resilience to the seasonal extremes of its native range. At present, there is no evidence of decline, but may be subject to poaching of wild specimens due to the demand for cycads with blue green foliage, while populations may suffer from uncontrolled land clearing for agriculture and grazing.
Synonyms:
Description: Cycas cairnsiana is a curious 'blue' cycads. The plant was first collected in the 1870s, although it did not attract a lot of attention until the late 1980s, when it became extraordinarily popular with collectors.
Distinguishing characteristics: This species is famous for the elegant feathery fronds that are silvery-blue once they mature and orange-brown tomentose when they first flush out, and the very narrow leaflets.
Derivation of specific name: It is named after William Cairns, governor of Queensland from 1875–1877.
Stems: Up to 2-5 m tall and 12-16 cm diameter at narrowest point, with swollen base.
Leaves: Dark orange-brown tomentose on emerging, then very glaucous blue-green and glabrous with age, 60-110 cm long, bowed, keeled, pinnate, with 180-220 leaflets, the leaflets 8-18 cm long and 2-4 mm wide with strongly recurved margins (opposing leaflets inserted at 30-90° on rachis). Basal leaflets not gradually reducing to spines. The petioles are 18-27 cm long, and armed with sharp spines. Cycad leaf development is very fern-like; fronds uncoil from fiddleheads, and in Cycas, so do the leaflets. In fact, it is perfectly correct to refer to cycad leaves as fronds and their leaflets as pinnae.
Cataphylls: The cataphylls (Modified leaf, much reduced and thickened, serving to protect the apical meristem in cycads produced in flushes preceding the emergence of cones or leaves.) are also short, soft, densely orange-floccose ad persistent.
Female cones: Open, with sporophylls 16-21 cm long, with two to four ovules per sporophyll. The lamina is narrowly triangular, with toothed margins and an apical spine.
Male cones: Solitary, ovoid, 16-20 cm long and 7-10 cm diameter, orange brown, and with an upturned apical spine.
Seeds: The sarcotesta is 3-4 mm thick, yellow-brown with a strongly waxy and very glaucous coating, the sclerotesta (seed) ovoid and flattened 36-42 mm long, 30-37 mm wide and smooth. Spongy endocarp absent.
Related species: This cycad is a close relative of both Cycas couttsianaSN|31952]]SN|31952]] and Cycas platyphylla.
Bibliography: Major references and further lectures
1) Cheryll Williams "Medicinal Plants in Australia Volume 3: Plants, Potions and Poisons" Rosenberg Publishing, 01 July 2012
2) Wikipedia contributors. "Cycas cairnsiana." Wikipedia, The Free Encyclopedia. Wikipedia, The Free Encyclopedia, 16 Mar. 2013. Web. 12 Dec. 2014.
3) Hill, K.D. 2010. Cycas cairnsiana. The IUCN Red List of Threatened Species. Version 2014.3. <www.iucnredlist.org>. Downloaded on 12 December 2014.
4) Boriss Lariushin "Cycadaceae Family" CreateSpace Independent Publishing Platform, 19 gen 2013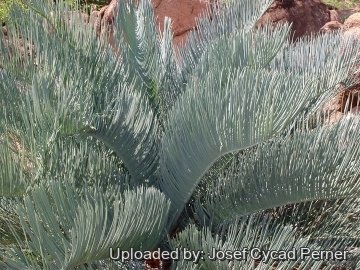 Cycas cairnsiana
Photo by: Josef Cycad Perner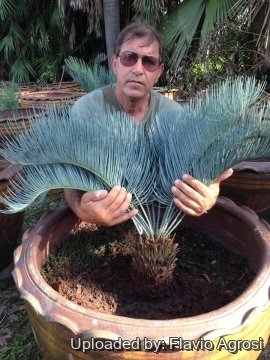 Collesction Noppadon Tanthapaiboon (Bangkok)
Photo by: Flavio Agrosi
Cycas cairnsiana
Photo by: Josef Cycad Perner
Cycas cairnsiana Female in seed.
Photo by: Josef Cycad Perner
Cycas cairnsiana, Male cone.
Photo by: Josef Cycad Perner
The plant survived without any leaf damage with some snow ( -2° C) at Cursi, Lecce, Puglia, Italy. 18 Jan. 2016.
Photo by: Flavio Agrosi
Cycas cairnsiana
Photo by: Josef Cycad Perner
Cycas cairnsiana Female in seed.
Photo by: Josef Cycad Perner
Cultivation and Propagation: Cycas cairnsianaSN|29853]]SN|29853]] is suited to tropical regions which have a seasonally dry climate both on the seaside or inland. It is easy to grow, tolerating dry periods. It is still very rare but time by time seen in cultivation and sought after by collectors.
Growth rate: It is a slow-growing species. Because of its growth habit, fertilize only when terminal bud begins to swell, indicating the start of the annual growth cycle.
Exposure: Plant Cycas cairnsianaSN|29853]]SN|29853]] in full to partial sun.
Soil: Needs a well drained spot, with deep soi. Although this species naturally grows on coral-based or limestone soils with organic matter, avoid planting it in highly alkaline soils to avoid nutritional deficiencies and yellowed foliage.
Maintenance: Minimal; removal of offsets if desired, removal of spent fronds.
Hardiness: This is a tender evergreen species that is tropical in its needs. However it may endure temperatures down to -2° C for short periods without any leaf damage.
Use: Landscape as cultivated perennial in warm, coastal areas; House-plant or interior-scape, as container plant in cool areas, as well very well suited to bonsai culture.
Pests and diseases: Watch out for scale infestations, especially Asian Aulacapsis scale, which will kill a mature plant if untreated.
Maintenance: This is an evergreen species that should only have dead foliage pruned off, never the healthy green leaves.
Propagation: Seed. As a slow growing plant, the seed can take from 6–18 months to germinate. After fertile seeds are collected, they usually need several months of storage before the inner embryo is ready to germinate. Therefore, it is best to clean the seeds of external fruit and set them aside before attempting to propagate the seeds. Usually seeds are ready to germinate after 2-4 month, the germination is rapid and almost all seeds germinate up within 2 month.
Your Photos
---
by Josef Cycad Perner
by Josef Cycad Perner
by Josef Cycad Perner

by Flavio Agrosi
by Josef Cycad Perner