Donate now to support the LLIFLE projects.
Your support is critical to our success.
Since 4 Aug 2013
Cycas armstrongii
Arch. Neerl. Sci. Exact. Nat. 3: 235 (1868)
Family: CYCADACEAE
Cycas armstrongii Photo by: Josef Cycad Perner
Cycas armstrongii in habitat. South of Darwin in the Northern Territory of Australia.
Origin and Habitat: Cycas calcicolaSN|31910]] is endemic to the Northern Territory, monsoonal northern Australia. It extends from the Adelaide River west to the Finniss River and south to the township of Adelaide River, with sporadic occurrences farther south almost to Hayes Creek and Emerald Springs, and in a limited area on Melville Island. Intergrading populations with Cycas calcicolaSN|29959]] occur at Mt Bundey and near Hayes Creek, and apparent hybrids are known with Cycas maconochieiSN|29474]]. Quite often the populations of C. armstrongii spill over into territories where Cycas confertaSN|31836]] grows and at least one researcher believes he has found obvious hybrids between the two species. C. armstrongii is one of the most abundant cycads in the world, with a population estimate of over ten million.
Habitat and Ecology: C. armstrongii is an abundant species, in dense and extensive populations on sandy loam vicinities over tertiary laterites in Eucalyptus miniata / Eucalyptus tetrodonta forests around Darwin. Plants are found under open tropical deciduous woodlands, rarely in it can be found in dense stands near granite outcrops. C. armstrongii, produces new growth on aerial stems after fire in a way reminiscent of re-sprouting by eucalypts, which are the major tree component, except that the cycad re-sprouts first. Regular (almost annual) dry-season fires experienced over much of the range promote leaf-drop, and fertile plants are frequently seen with reproductive structure only, and no leaves. This particular species along with a sister species Cycas armstrongiiSN|31836]] is much maligned in the territory and suffers from the annual burn off which was part of the aboriginal way of life, but is now continued by many cattlemen. However the resulting new fronds carry a very powerful defence mechanism in the poison Cycasin which affects all the cattlemen's herds. Fires generally blacken the caudices, and destroy much of the ripe seed. This species is locally extremely abundant and not considered to be at risk, but land clearing and inappropriate fire regimes may be threats. Increased fire intensity, particularly arising from increased fuel load due to invasion of exotic grasses, is expected to result in higher mortality.
Synonyms:
Common Names include:
ENGLISH:
Fire-fern
Description: Cycas maconochieiSN|31910]], is a palm-like plant with a slender dark grey trunk 1-4 m tall, which terminates in a crown of long, pale green feathery leaves up to 120 centimetres long. The scientific name "armstrongii" honours John Armstrong, a collector for Kew Gardens appointed to establish a government garden at Port Essington in 1838. The species is extremely fire tolerant, and the usually early spring fires initiate a profusioin of new leaf growth in the plants, thus the common name, fire fern. Typical of all the family, the plants are dioecious and in this species, also deciduous, generally after April.
Distinguishing features: It is distinguished by the green mature new growth and the discolorous leaflets with the midrib equally prominent above and below. This species also has the smallest overall stature of all Australian taxa.
Trunk: 1-4 (seldom 6 m) m tall, 5-11(-159 cm thick, slender, dark grey, very rough. Fires natural or man-produced generally blacken the trunks. The regular fires can also kill the above-ground parts of shorter plants, promoting below-ground branching from an often massive swollen subterranean caudex.
Leaves (fronds): About 50 in the crown, 50 cm to a little over 1 m in length, leathery, slightly keeled or flat, pinnate with 100-220 leaflets. Leaflets 5-14 cm long, 4-8 mm wide, 10-12 mm apart, angled forward at 40 degrees, entire, linear, straight, with the midrib equally prominent above and below, densely orange-pubescent a first, then discolorous, glossy pea-green above, light green below and mottled with yellow on underside, with yellowish brown tips, decurrent at the base. Basal leaflets not gradually reducing to spines. Petiole frequently at least partly spinose, or wholly unarmed only on about 10--15% of individuals in a population. This species is facultatively deciduous late in the dry season of the monsoonal climatic cycle experienced in its natural habitat. Plants in cultivation or in locally wetter sites can retain leaves for longer, but become dormant, and it appears that the strong seasonal stress is required to rejuvenate plants. The rejuvenating new fronds of both C. armstrongii and Cycas mediaSN|31836]] are referred to locally as "fire-fern".
Cataphylls: The cataphylls (Modified leaf, much reduced and thickened, serving to protect the apical meristem in cycads produced in flushes preceding the emergence of cones or leaves.) are linear, pungent, pilose, persistent.
Male cones: Oval, 12-20 cm long, 7.5-10 cm diameter at the apex of the plants, orange to deep rusty, with upper half of cone drawn to a poin and composed of hundreds of scales arranged somewhat in a spiral. At first, tightly closed, but opening later to eject dust-like spores.
Female spikes: Like other Cycas species, the female plants do not bear true "cones"; instead they carry ovules and seeds on fleshy, megasporophylls that are open leaf-like flattened structures . The macrosporophylls are triangular flattened, pubescent, 13-22 cm long, with 2 basal lobes, the margins and apex with sharp spines. Ovule per sporophyll 2-4. Thin basal stem lobes are below the ovules. Later this 'cone' opens fully and the sporophylls arch outward and hang pendant from the plant's crown.
Seeds: The pendant fruit are 2-4 cm scross, globular, sarcotesta yellowish green with a yellow/brown coating, when ripe shiny. Fruiting: March to September.
Similar species: Because of certain familiar aspects this species has earlier been confused with the east coast Cycas media. However C. armstrongii has a much narrower caudex, and Cycas calcicolaSN|31800]] is seldom deciduous naturally. It may also be confused with Cycas armstrongiiSN|29474]].
Bibliography: Major references and further lectures
1) Jones, D.L. "Cycads of the World", 2nd edn. Reed Books, Sydney, Australia. 2002.
2) Liddle, D. 2010. "Cycas armstrongii". The IUCN Red List of Threatened Species 2010: e.T41987A10594710. http://dx.doi.org/10.2305/IUCN.UK.2010-3.RLTS.T41987A10594710.en . Downloaded on 23 September 2015.
3) Boris Lariushin "Cycadaceae Family" Lulu.com
4) V.P. Singh "Gymnosperm (naked seeds plant) : structure and development" Sarup & Sons, 01 January 2006
5) Whitelock, Loran M., "The Cycads", Timber press, 2002.
6) Haynes J.L, "World List of Cycads: A Historical Review", IUCN/SSC Cycad Specialist Group, 2012.
7) Janet Sprent "Legume Nodulation" John Wiley & Sons, 08 set 2009
8) Winston Rodger Elliot, David Lloyd Jones "Encyclopaedia of Australian plants suitable for cultivation", Volume 3 Lothian Pub. Co., 1983
9) Wikipedia contributors. "Cycas armstrongii." Wikipedia, The Free Encyclopedia. Wikipedia, The Free Encyclopedia, 28 Mar. 2015. Web. 24 Sep. 2015.
10) Dixon, Dale "A review of the gymnosperms of the Northern Territory". The Beagle, Records of the Museums and Art Galleries of the Northern Territory 20: 1–24. 2004.
11) Brock, John "Native plants of northern Australia", Frenchs Forest, NSW: Reed New Holland, 2001.
12) Napier, D; Smith, N; Alford, L; Brown, J "Common Plants of Australia's Top End, South Australia" Gecko Books, 2012.
13) L. P. Butt in: Palms & Cycads No. 27, Apr-Jun 1990
14) PACSOA contributors "Cycas armstrongii". In: Cycads. Palm and Cycad Societies of Australia (PACSOA) <http://www.pacsoa.org.au/w/index.php?title=Cycas_armstrongii>. 23 November 2013 Web. 28 August 2015.
15) The Cycad Pages "Cycas armstrongii" Royal Botanic Gardens Sydney Written and maintained by Ken Hill 1998-2010 Maintained by Leonie Stanberg and Dennis Stevenson 2010-2012 <http://plantnet.rbgsyd.nsw.gov.au/cgi-bin/cycadpg?taxname=Cycas+armstrongii> Web. 25 August 2015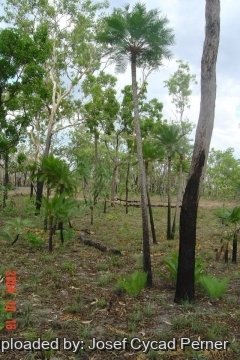 Cycas armstrongii in habitat. South of Darwin in the Northern Territory of Australia.
Photo by: Josef Cycad Perner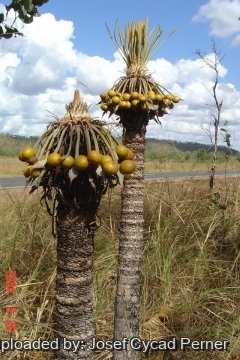 Fruiting habit with new emerging leaves. outh of Darwin in the Northern Territory of Australia.
Photo by: Josef Cycad Perner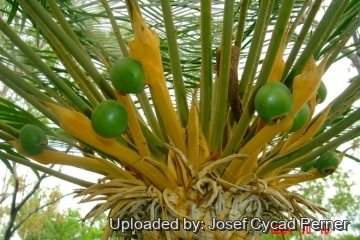 Female specimes with maturing seeds.
Photo by: Josef Cycad Perner
Cataphylls.
Photo by: Josef Cycad Perner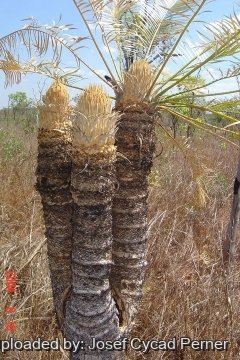 Cycas armstrongii
Photo by: Josef Cycad Perner
New emerging fronds.
Photo by: Josef Cycad Perner
Cycas armstrongii
Photo by: Josef Cycad Perner
Cycas armstrongii
Photo by: Josef Cycad Perner
Cultivation and Propagation: Cycas armstrongiiSN|31910]] is suited to tropical regions which have a seasonally dry climate. It is easy to grow, tolerating dry periods. It makes a beautiful ornamental for tropical and some warm temperate areas but is rather rare in cultivation.
Growth rate: Usually slow growing, however good conditions can speed it up considerably. Because of its growth habit, fertilize only when terminal bud begins to swell, indicating the start of the annual growth cycle.
Exposure: It prefers bright light exposure but colour bleaches when in full sun; best with some protection from afternoon heat.
Soil: Needs a well drained spot, with deep soil, but will still thrive in less than ideal conditions.
Maintenance: Minimal; removal of offsets if desired, removal of spent fronds.
Use: Landscape as cultivated perennial in warm, coastal areas; House-plant or interior-scape, as container plant in cool areas, as well very well suited to bonsai culture.
Propagation: Seed. After fertile seeds are collected, they usually need several months of storage before the inner embryo is ready to germinate. Therefore, it is best to clean the seeds of external fruit and set them aside before attempting to propagate the seeds.
Traditional uses: Treated nuts of Cycas armstrongiiSN|31910]] and other species were a food source for Aboriginal tribes (raw seeds are higtly poisonous). The toxicity of cycads has long been known by natives, who have developed careful and extensive procedures to remove the poisonous substances from cycad plant products.
Propagation: Seed. After fertile seeds are collected, they usually need several months of storage before the inner embryo is ready to germinate. Therefore, it is best to clean the seeds of external fruit and set them aside before attempting to propagate the seeds.
Warning: All plant parts are considered highly toxic.
Your Photos
---
by Josef Cycad Perner
by Josef Cycad Perner

by Josef Cycad Perner
by Josef Cycad Perner
by Josef Cycad Perner