Donate now to support the LLIFLE projects.
Your support is critical to our success.
Since 4 Aug 2013
Cycas macrocarpa Photo by: Josef Cycad Perner
Cycas macrocarpa from habitat collected seeds, (from the South of Thailand) growing in Jurassic Cycad Gardens in Katherine in the Northern Territory of Australia.
Origin and Habitat: Cycas macrocarpaSN|31915]]SN|31915]] is an uncommon and widely scattered species, not forming dense stands that occurs in southern peninsular Thailand, as well as in northern and central peninsular Malaysia. In Thailand plants occur near the Malaysian border, with disjunct occurrences in Prachuap Khiri Khan province in the northern peninsula. This species is more common in Malaysia. Number of mature individuals about 10000.
Habitat and ecology: 100-1000 metres above sea level.
Habitat and Ecology: These cycads originally occurred in primary low elevation closed forest (rainforest), on well-drained, often sloping, deep sandy clay-loam soils and are said to still occur on the less disturbed ridges. In Laos it was observed as a lithophyte in primary and secondary lowland, broad-leaved, evergreen forests and in secondasy scrub on rocky limestone. It also occasionally occurs in humid conditions in moderate shade. This species has suffered extensive habitat destruction for agriculture and it is still ongoing. It is tolerant of disturbance and some specimens still persist in fields and pastures after the forest is cleared. Natural regeneration of this species is more or less successful and it is easily cultivated.
Synonyms:
Common Names include:
ENGLISH:
Fern Sago
MALAY (بهاس ملاي /Bahasa Melayu ):
Paku gunung, Bogak
Description: Cycas macrocarpa is a great, tall growing arborescent cycad to 12 m tall, holding a spreading crown of numerous, flat, glossy dark green leaves to 3.2 m long. Leaves are noticably blue-green when immature. The large habit, long pungent, rigid, densely rusty red-brown tomentose cataphylls and broad highly glossy narrow-based leaflets (more than 10 mm wide) readily distinguish Cycas macrocarpaSN|31915]]SN|31915]] from other Thai species except for Cycas litoralisSN|28857]]SN|28857]], which is similar but has green new leaves; not pungent, triangular grey to pale yellow tomentose cataphylls, and broad-based, leathery leaflets with a broad, low, yellow midrib above. Cycas macrocarpaSN|31915]]SN|31915]] is a dioecious primitive gymnosperm claimed a living fossil.
Derivation of specific name: macrocarpus,-a,-um, from the Greek makros, large, and karpos, fruit: with large fruits, large-fruited
Trunk: 3-12 metres tall, 14-24 cm in diameter.
Leaves (fronds): 30-40 per crown, deep green, highly glossy (bluish when young), 220-320 cm long, flat (not keeled) in section (opposing leaflets inserted at 180° on rachis). Pinnae (leaflets) 80-120 pairs, young with orange to brown, tomentum shedding as leaf expands. Rachis usually terminated by paired leaflets. Petiole 40-80 cm long, petiole glabrous, spinescent for 80-100% of length. Median leaflets simple, strongly discolorous, (15-)24-45 cm long, 12-18 mm wide. Margins flat to slightly recurved. Apex acute, not spinescent; midrib raised above, raised below. Basal leaflets not gradually reducing to spines.
Cataphylls: The cataphylls (Modified leaf, much reduced and thickened, serving to protect the apical meristem in cycads produced in flushes preceding the emergence of cones or leaves.) are to 70-170 mm long, pungent, narrowly triangular with thick, woolly, rusty red-brown indumentum, persistent.
Pollen cones: Ovoid, yellow-orange, 16-22 cm long, 9-12 cm in diameter. Microsporophyll 4-7 cm long, 14-20 mm wide, apical spine prominent to rudimentaiy, sharply up turned.
Female spikes: Like other Cycas species, the female plants do not bear true "cones"; instead they carry ovules and seeds on 10-20 cm long, brown-tomentos, megasporophylls that are open leaf-like flattened structures. The macrosporophylls are 10-33 cm long, brown-tomentose, lamina lanceolate, 5-7(-10) cm long, 17-35(-45) mm wide, shallowly pectinate, with 10-22 pungent lateral spines 5-18 mm long, 1-2.5 mm wide, apical spine distinct from lateral spines, 1.7-4.5(-6) cm long, 2-7 mm wide at base. Ovules 2-4, glabrous.
Seeds: Large and of an unusual oblong ovoid shape, 45-65 mm long, 35-45 mm wide; sarcotesta yellow, not pruinose or slightly pruinose, 3-5 mm thick; fibrous layer present; sclerotesta smooth. Spongy endocarp absent.
Phenology: Pollination June-July, seed Februaly-March.
Bibliography: Major references and further lectures
1) Jones, D.L. "Cycads of the World", 2nd edn. Reed Books, Sydney, Australia. 2002.
2) Boris Lariushin "Cycadaceae Family" Lulu.com
3) V.P. Singh "Gymnosperm (naked seeds plant) : structure and development" Sarup & Sons, 01 January 2006
4) Whitelock, Loran M., "The Cycads", Timber press, 2002.
5) Haynes J.L, "World List of Cycads: A Historical Review", IUCN/SSC Cycad Specialist Group, 2012.
6) Leonid V.Averyanov, Tien Hiep Nguyen, Khang Nguyen Sinh, The Van Pham, Vichith Lamxay, Somchanh Bounphanmy, Shengvilai Lorphengsy, Loc Ke Phan, Soulivanh Lanorsavanh and Khamfa Chantthavongsa "Gymnosperms of Laos" Nordic Journal of Botany 000: 001–041, 2014
7) Donald R. Hodel "The Palms and Cycads of Thailand" Kampon Tansacha, Nong Nooch Tropical Garden, 01 gen 1998
8) Hill, K.D. 2010. "Cycas macrocarpa". The IUCN Red List of Threatened Species 2010: e.T42057A10640751. http://dx.doi.org/10.2305/IUCN.UK.2010-3.RLTS.T42057A10640751.en . Downloaded on 27 September 2015.
9) E. H. BAUMHAUER "ARCHIVES NEERLANDAISES DED SCIENCES" 1870
10) The Cycad Pages "Cycas macrocarpa" Royal Botanic Gardens Sydney Written and maintained by Ken Hill 1998-2010 Maintained by Leonie Stanberg and Dennis Stevenson 2010-2012 <http://plantnet.rbgsyd.nsw.gov.au/cgi-bin/cycadpg?taxname=Cycas+macrocarpa> Web. 25 August 2015
11) PACSOA contributors "The Rediscovery of Cycas macrocarpa". In: Cycads. Palm and Cycad Societies of Australia (PACSOA) <http://www.pacsoa.org.au/wiki/Cycas_macrocarpa>. 23 November 2013 Web. 28 August 2015.
12) De Candolle, A. R "Cycadaceae" in Prodr. Syst. Nat. & Reg. Veg. 16(2): 522-548. 1868
13) Griffith, W. "Icones plantarum asiaticum" 4 (Calcutta).1854
14) Griffith, W. "Notulae ad plantas asiaticas" 4 (Calcutta). 1854
15) Hooker, J.D. & Jackson, B.D. "Index Kewensis" (Oxford). Miquel, EA.W. (1868) Nouveaux materiaux pour servir a la connaissance des Cycadees. Arch Neerl. Sci. Exact. Nat. 3(5): 193-254, 403-425.1893
16) Ridley, H.A. "Flora of the Malay Peninsula" 5 (London).
17) A. J. Lindstrom and K. D. Hill "New Species and a New Record of Cycas (Cycadaceae) from Thailand" Brittonia Vol. 54, No. 4 (Oct. - Dec., 2002), pp. 298-304
18) Smitinand, T. (1971) "The genus Cycas Linn. (Cycadaceae) in Thailand". Nat. Hist. Bull. Siam Soc. 24: 163-175. 1925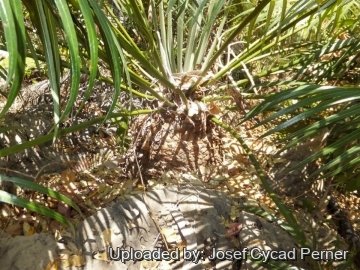 Cycas macrocarpa
Photo by: Josef Cycad Perner
New emerging fronds.
Photo by: Josef Cycad Perner
Fronds.
Photo by: Josef Cycad Perner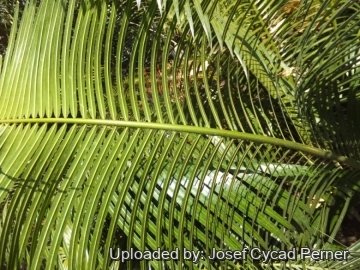 Frond (underside).
Photo by: Josef Cycad Perner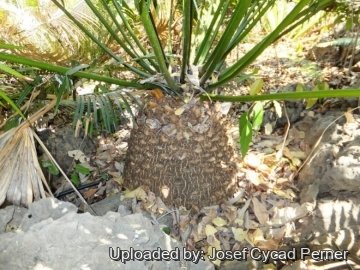 Trunk.
Photo by: Josef Cycad Perner
Send a photo of this plant.
The gallery now contains thousands of pictures, however it is possible to do even more. We are, of course, seeking photos of species not yet shown in the gallery but not only that, we are also looking for better pictures than those already present.
Read More...
Cultivation and Propagation: Cycas macrocarpaSN|31915]]SN|31915]] is a vigorous grower and best suited to the tropics. It is easy to grow, tolerating short dry periods. This species is a beautiful and dramatic plant, and certainly deserves to be more widely grown. It is often the focal point in a large yard.
Growth rate: Usually slow growing, however good conditions can speed it up considerably. Because of its growth habit, fertilize only when terminal bud begins to swell, indicating the start of the annual growth cycle.
Exposure: It prefers filtered light exposure as colour bleaches when in full sun; best with some protection from afternoon heat.
Soil: Needs a well drained spot, with deep soil, but will still thrive in less than ideal conditions. Mulch with organic materials (bark or leaf mould).
Maintenance: Minimal; removal of offsets if desired, removal of spent fronds.
Use: Landscape as cultivated perennial in warm areas. House-plant or interior-scape, as container plant in cool areas.
Warning: Petiolar spines are short and well spaced, but still sharp so take care when pruning. All plant parts are considered highly toxic.
Propagation: The young plant grows very slowly, and therefore needs regular attention so that it is not overgrown by weeds. As an ornamental it is also raised by seed. As a slow growing plant, the seed can take from 6–18 months to germinate. After fertile seeds are collected, they usually need several months of storage before the inner embryo is ready to germinate. Therefore, it is best to clean the seeds of external fruit and set them aside before attempting to propagate the seeds.