Donate now to support the LLIFLE projects.
Your support is critical to our success.
Since 4 Aug 2013
Dioon spinulosum Photo by: Josef Cycad Perner
Origin and Habitat: Endemic to Veracruz and Oaxaca, Mexico. This species occurs in at least three locations near the towns of Ciudad Aleman, Tuxtepec and Ojitlan.
Habitat: Limestone cliffs and rocky hillsides in the tropical evergreen rainforests.
Altitude: It is found at low elevations on the lowlands and hills (about 90-460 metres above sea level) at the foot of the Sierra de Oaxaca.
Habitat and Ecology: Dioon spinulosum is found growing in lowland tropical evergreen rainforest on limestone hills and cliffs. This species is affected by severe habitat destruction as a result of farming, ranching and creation of reservoirs. There has been severe over-collection in the past.
Synonyms:
Common Names include:
ENGLISH:
Gum Palm, Giant Dioon, Mexican dioon
FRENCH (Français):
Cycadale du Méxique
PORTUGUESE (Português):
Dioon-gigante
SPANISH (Español):
Jangó, Changó, Chamal, Coyolillo, Chicalito, Palma de Dolores, Palma de chicalite, Palma de chicle, Coyolito de cerro
Description: Dioon spinulosum is generally a single stemmed plant and one of the tallest cycads in the world, growing in habitat up to 16 m in height over centuries. In a garden this plant rarely exceed 3,5 m of height with a 2 metres leaf spread and a 30 cm diameter trunk. Primeval cycads like this Dioon spinulosum are some of the oldest plants still living on the planet that trace their origins back to the ancient flora of the early Mesozoic era more than 170 million years ago. It is dioecious - it takes two plants to produce viable seeds.
Stem (caudex): Up to 40 cm in diameter, slender, columnar, of irregular breadth, leaning with age, clothed with petiole scars, becoming much compressed, glabrous, grey-brown, often resinous. In the trunk of all cycads growth ring are absent, but, in Dioon spinulosum and Dion edule growth ring are evident, however this growth rings are neither annual nor seasonal and appear only at intervals of 20-30 (or more) years.
Crown: The fronds radiate out from the trunk and grow in an upright manner.
Foliage: It has pinnate leaves that grow to about 1.5-2.1 m in length. Leaflets 120-240 small and flat, shiny, bright green or sea-green with small thorns and taper to a sharp point.
Cones: Female plants produce very large cones (the largest cone of any gymnosperm) on an elongated peduncle, reaching 50-80 cm in length, 20-30 cm in width, weighing up to 15 kg and covered with a dense wool. The cones hang down, towards the ground. Each scale of the female cone has two seeds, hence its genus name Dioon meaning 'two eggs'. A cone may carry 300 or more seeds. When the cone is mature it will burst open with a loud noise, scattering the seeds.
Seeds: Cream to white, oval shaped and approximately 3,8-5,1 cm long and2,8-3,3 cm wide fleshy coat
Remarks: Dioon edule is similar but smaller in stature and more cold hardy.
Bibliography: Major references and further lectures
1) Jules Janick, Robert E. Paull "The Encyclopedia of Fruit and Nuts" CABI, 2008
2) Vovides, A. Chemnick, J. & Gregory, T. 2010. Dioon spinulosum. The "IUCN Red List of Threatened Species." Version 2014.1. <www.iucnredlist.org>. Downloaded on 22 July 2014
3) Keith Boyer "Palms and Cycads Beyond the Tropics: A Guide to Growing Cold-hardy Species" Publication Fund, Palm & Cycad Societies of Australia, 1992
4) Whitelock, Loran M., "The Cycads" Timber press, 2002
5) Norstog, K.J. & Nichols, T.J. "The biology of the cycads." Cornell University Press 1997
6) Jones, D. L. "Cycads of the World." Smithsonian Institution Press, Washington, D.C. 1993
7) Walters, Terrence; Osborne, Roy, "Cycad Classification: Concepts and Recommendations." Portland, Oregon: CAB International. p. 288. 2004
8) Forest & Kim Starr Lepidozamia peroffskyana (scaly zamia, cycad). Plants of Hawaii. <http://www.starrenvironmental.com>. Downloaded on 22 Sep. 2014.
Dioon spinulosum
Photo by: Flavio Agrosi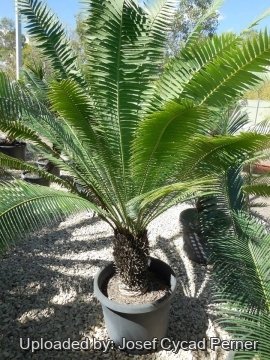 - Dioon spinulosum@ www.cycadinternational.com
Photo by: Josef Cycad Perner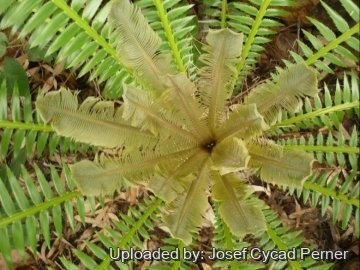 Bronze emergent Dioon spinulosum.
Photo by: Josef Cycad Perner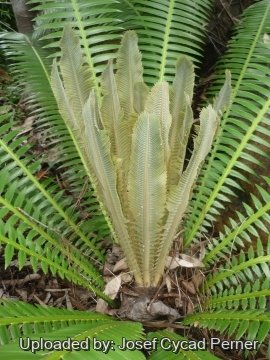 Bronze emergent Dioon spinulosum.
Photo by: Josef Cycad Perner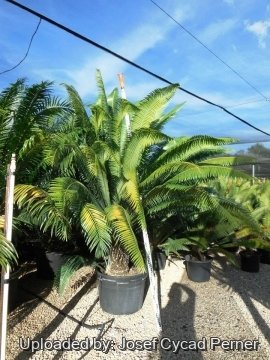 A massive Dioon spinulosum in 680mm pot.
Photo by: Josef Cycad Perner
Leaves at Enchanting Floral Gardens of Kula, Maui, Hawaii (USA). October 24, 2007.
Photo by: Forest Starr & Kim Starr
Potted specimen at Cycad International, Katherine, Northern Territory, Australia
Photo by: Josef Cycad Perner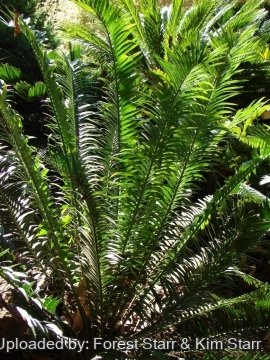 Habit at Enchanting Floral Gardens of Kula, Maui, (USA). October 24, 2007.
Photo by: Forest Starr & Kim Starr
Cultivation and Propagation: Dioon spinulosum is a very adaptable plant well suited to warm temperate and subtropical climates. It is long lived and slow to moderately fast growing and a plant with 30 cm of stem can be quite old (10-20 or more years). However, in cultivation, a plant with decimetres of trunk is fairly old and considered a specimen. It is a good replacement for the scale prone Cycas revoluta and particularly priced for its blue-green-silvery leaves that are perfectly arranged in a almost mesmerizing geometric overlapping pattern. This is a frost-tolerant, heat-tolerant and sun-tolerant species.
Soils: It prefer well drained, gritty soil with plenty of water, especially in dry weather.
Fertilization: Naturally undemanding for nutrients, it responds very well to regular applications of fertilizer. Growth can be greatly improved through the application of fertilizers. Most growers find that a fertilizer having an even NPK (Nitrogen, Phosphorus, Potassium) balance, and supplemental trace elements, provides a good start for cycads.
Exposure: It thrives and grows best in partial shade.
Waterings: In cultivation prefers moist soil with good drainage for optimal growth. But it is eventually very drought resistant.
Hardiness: Mature and established plants have been reported to tolerate light frosts for some days.
Propagation: Virgin's palm may be propagated by seeds or by division and replanting of the attractive offsets or "pups" formed at the base of the oldest plant. They are among the easiest plants to germinate. The seeds are about a large grape size and hard as a rock.
Uses: The leaves (fronds) were used for decoration, especially in religious ceremonies. The Mexican genus Dioon all have edible seeds, with the most commonly consumed being Dioon edule Miq. Dioon spinulosum.
Warning: The leaflets of dioon taper to a sharp point. It is well advised to plant virgin's palm away from footpaths and walkways. Wear heavy gloves when handling or working close to the virgin's palm to avoid getting jabbed by the sharp points of the leaflets.