Donate now to support the LLIFLE projects.
Your support is critical to our success.
Since 4 Aug 2013
Accepted Scientific Name: Lepidozamia peroffskyana Regel
Bull. Soc. Imp. Naturalistes Moscou 30(1): 182 (1857)
Macrozamia peroffskyana (Lepidozamia peroffskyana) Photo by: Forest Starr & Kim Starr
Habit at Iao Tropical Gardens of Maui, Maui, Hawaii (USA). May 22, 2012.
Origin and Habitat: Endemic to Eastern Australia ( stretching over approximately 700 kms from north coast of New South Wales to south-eastern coast of Queensland). The population size is estimated to be more than 20,000 plants in the wild.
Habitat: It normally grows in coastal and near coastal areas on stabilised sand dunes, sand hills or steep slopes on mountain. It is often found scattered in small communities in dense stands under eucalypt canopy in rainforest or in open scrubby forest, wet sclerophyll forests often on the rainforest margins. It is often abundant, with adult plants growing so prolifically that the fronds of numerous plants actually overlap each other. Average rainfall about 2000 mm per annum. Although declining in some places due to habitat destruction, this species is regarded as Least Concern due to large and stable populations across its range.
Altitudes: Up to 1000 metres above sea level.
Ecology: The trunks and crowns of Lepidozamia peroffskyanaSN|24517]]SN|24517]] are often host to epiphytic plants such as Platycerium bifurcatum (elkhorn), Asplenium australasicum (bird's-nest fern) and Davallia sp. (hare's-foot ferns).
Synonyms:
See all synonyms of Lepidozamia peroffskyana
Accepted name in llifle Database:
Lepidozamia peroffskyana
Regel
Bull. Soc. Imp. Naturalistes Moscou 30(1): 182 (1857)
Synonymy: 9
Common Names include:
ENGLISH:
Burrawang Palm, Cycad, Pineapple Zamia, Scaly Zamia
RUSSIAN (Русский):
Лепидозамия Перовского
Description: Lepidozamia peroffskyanaSN|24517]]SN|24517]] is a large and handsome palm-like cycad with no spines and one of two species in the genus Lepidozamia, the other being Lepidozamia hopei.
Trunk: Columnar, unbranched (or occasianally branched forming multi-headed plants with as many as 5 separate trunks), usually 0,6 to 1,8 tall but to a maximum height of approximately 5-7 metres and ranging up to 35(-80) cm in diameter and is covered by the persistent remains of leaf bases.
Crown: Formed from 30 to 60 very evenly symmetrical fronds, the newest of which are produced in flushes every 4-12 months (depending on climate, water, fertilizer and light) and rise almost vertically. With age, the fronds tend to arch and produce a graceful palm-like appearance and looks very tropical... almost ferny.
Leaves (fronds): Pinnate (fern-like), very glossy, dark green, 2 to 3 metres in length. Rhachis untwisted. Pinnae (leaflets) about 150-250, narrow, entire, 20-40 cm long by 3 cm wide, somewhat lax and softly coriaceous, rising in an arching manner from the rhachis, then tending to droop with short hairs near the bases, on new fronds leaflets are a distinctive bronze (sometimes brownish) colour, but change to a glossy dark green as the fronds reach full size and undergo a hardening process. Each has seven to thirteen parallel veins which helps to distinguish this species from other members of the genus.
Flowers (Cones): Like all cycads, there are male and female plants (dioecious), and they reproduce similar to conifers by coning. The male cones are grey-brown broadly cylindrical 45-75 cm long and 12-20 cm in diameter with a open spiral pattern; The female cones are barrel shaped red 40-90 cm long and 12-25 cm in diameter, weighing up to 45 kg and contain over 100 seeds. When ripe, the cone on the female plant breaks apart to release the seeds. The cones are some of the largest of all cycad cones, rivalled only by Encephalartos transvenosusSN|29893]]SN|29893]].
Seeds: Large and numerous, ovoidal, 40-60 mm long by 25mm wide, with a bright red fleshy sarcotesta, though occasionally with yellow coloured flesh.
Remarks: The pinnae (leaflets) emerge alternately from the top of the rachis (leaf stem) which is a helpful in identification, as opposed to the pinnae on various Macrozamia species which rise or extend laterally. In contrast with most Macrozamia species, the pinnae on Lepidozamia peroffskyana do not have a pronounced or coloured callous at the point where they join the rhachis, nor do they have sharply pointed tips. Another feature that stands out is it's lack of spines. Most species of cycads have some type of spines or prickles, but Lepidozamia peroffskyanaSN|24517]]SN|24517]] has none.

Bibliography: Major references and further lectures
1) Forest & Kim Starr Lepidozamia peroffskyana (scaly zamia, cycad). Plants of Hawaii. <http://www.starrenvironmental.com>. Downloaded on 16 Sep. 2014.
2) Jones, David L. "Cycads of the World." Reed Books. 1993
3) Hill, K.D. 2010. Lepidozamia peroffskyana. The IUCN Red List of Threatened Species. Version 2014.2. <www.iucnredlist.org>. Downloaded on 21 September 2014.
4) Wikipedia contributors. "Lepidozamia peroffskyana." Wikipedia, The Free Encyclopedia. Wikipedia, The Free Encyclopedia, 9 Apr. 2014. Web. 21 Sep. 2014.
5) Whitelock, Loran M. "The Cycads" Timber press, Portland, Oregon 2002
6) Haynes J.L, World "List of Cycads: A Historical Review" IUCN/SSC Cycad Specialist Group, 2012.
7) S. P. Bhatnagar, Alok Moitra "Gymnosperms" New Age International, 1996.
8) Bryan G. Bowes "Trees & Forests, A Colour Guide: Biology, Pathology, Propagation, Silviculture, Surgery, Biomes, Ecology, and Conservation" CRC Press, 15/Jan/2010
9) Stuart Max Walters "European Garden Flora: A Manual for the Identification of Plants Cultivated in Europe, Both Out-of-Doors and Under Glass" Cambridge University Press, 31/Mar/1986
Pollen cone at Iao Tropical Gardens of Maui, Maui, Hawaii (USA). May 22, 2012.
(Lepidozamia peroffskyana)
Photo by: Forest Starr & Kim Starr
Macrozamia peroffskyana
(Lepidozamia peroffskyana)
Photo by: Flavio Agrosi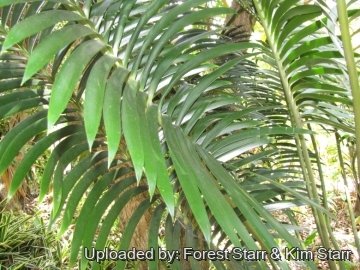 Frond at Iao Tropical Gardens of Maui, Maui, Hawaii (USA). May 22, 2012.
(Lepidozamia peroffskyana)
Photo by: Forest Starr & Kim Starr
Base at Iao Tropical Gardens of Maui, Maui, Hawaii (USA). May 22, 2012.
(Lepidozamia peroffskyana)
Photo by: Forest Starr & Kim Starr
Frond at Iao Tropical Gardens of Maui, Maui, Hawaii (USA). May 22, 2012.
(Lepidozamia peroffskyana)
Photo by: Forest Starr & Kim Starr
Send a photo of this plant.
The gallery now contains thousands of pictures, however it is possible to do even more. We are, of course, seeking photos of species not yet shown in the gallery but not only that, we are also looking for better pictures than those already present.
Read More...
Cultivation and Propagation: Lepidozamia peroffskyanaSN|24517]]SN|24517]] is easy to grow and the more common species in cultivation both for gardens or containers, and is a great beginner plant. It is very attractive and particularly 'user-friendly' (no sharp edges or spines). Because of its ruggedness, low maintenance and drought tolerance it is commonly grown in tropical and subtropical regions. This species is rather fast and in good conditions can speed it up considerably and can produce an attractive foliage display in 3-4 years. This plant may be cultivated as an indoor plant in temperate countries.
Exposition: It prefers filtered sunlight to partial shade as colour bleaches when in full sun; best with some protection from afternoon heat but not in constant deep shade. Generally speaking the plants that are in a situation under shrubs are more vigorous.
Soil: Needs a well drained sandy or sandy loam spot, with deep soil, neutral or basic (tolerate limestone) but will still thrive in less than ideal conditions. Mulch with organic materials (bark or leaf mould).
Moisture: It appreciates lots of water, heat and fertilizer, but can withstand extended dry periods.
Fertilization. Because of its growth habit, fertilize only when terminal bud begins to swell, indicating the start of the annual growth cycle. Fertilization helps to maintain that dark green colour.
Hardiness: It is pretty cold hardy cycad tolerating some frost for such a tropical looking plant. Sustains leaf damage at -4° C.
Salt aerosol tolerance: It is quite salt resistant.
Maintenance: Minimal; removal of offsets if desired, removal of spent fronds
Use: It is a, highly ornamental cycad which is excellent for making a strong structural impact in the landscape in warm, coastal areas. It makes a great accent or specimen plant and can be used in beach-side plantings. Several can be planted together for a lush, tropical effect. Plant on three to five-foot-centers to create a mass planting. Use near the patio, in mixed foundation plantings or in perennial beds. It is a spectacular house-plant or interior-scape specimen in cool areas tough enough to survive occasional neglect and harsh indoor environments.
Warning: Like other cycads, the seeds contain toxic compounds which have caused fatalities to both humans and livestock. Poisonous Parts: Fleshy seeds, stems, roots, leaves. Protect pets and instruct children to never eat or chew any plant material without permission.
Edibility: The aborigines developed a method of vigorous leaching to remove the toxins and many cycad species were an important part of their diet. But also processed flour is toxic if large quantities eaten.
Propagation: The propagation is from seed which germinates easily without the need for any pretreatment, it is best to clean the seeds of external fleshy part. Seeds should be sown in shallow container, lightly covered with sand, and after germination, potted off in small pots of moderately rich, light soil. The growing plants do best in partial shade. The old plants occasionally send up suckers around the base of the trunk. These may be taken off when in a dormant state and rooted, care being taken to remove the leaves to guard against excessive transpiration. The advantage of the "pups" is that you will know its sex, for seedlings you will have to wait several years until the plant flowers to find out.