Donate now to support the LLIFLE projects.
Your support is critical to our success.
Since 4 Aug 2013
Ceratozamia kuesteriana Photo by: Josef Cycad Perner
Male cone.
Origin and Habitat: Ceratozamia kuesteriana is endemic to the southern Tamaulipas state of Mexico, where it occurs along the Sierra Madre Oriental at Ocampo (between Gomez Farias and Tula). One other population is known. The population consists of 250-500 mature individuals.
Altitude range: 1000-1800 metres above sea level.
Habitat and Ecology: Plants occur in pine-oak dominated cloud forests on steep slopes in deep soil mixed with limestone rocks. This species declined dramatically as a result of plant collecting over the past 50 years, and more recently due to land clearing for agriculture.
Synonyms:
Common Names include:
ENGLISH:
El Cielo horncone
Description: Ceratozamia kuesteriana is a small almost acaulescents cycad with a short globose caudex that supports a head of finely pinnate, feathery leaves 1 m or more long and attain a 1.8 m spread. The closely spaced, thin lanceolate leaflets are a beautiful brown colour, soft and pliant when emergent, becoming dark green or olive colour on surface, paler brownish-green beneath, leathery and rigid with age. The narrow leaflets and smooth petioles separate this species from similar species in the genus. This is one of only a few cycads that have no spines, making them very garden friendly. C. kuesteriana is dioecious, meaning each plant is either male or female. Male plants bear a single large corncob-shaped cone on a fuzzy brown stalk. Females produce a barrel-shaped cone with large scales and a pointed, spiny cap. The seeds are large and reddish-brown. C. kuesteriana is very closely allied to Ceratozamia zaragozae Medellin but differs by not having twisted leaves.
Caudex: Sub-globose or branching, mostly subterranean with about a maximum of 10-20 cm of caudex above ground, 9-13 cm diameter, clothed with persistent leaf-bases, spreading, glabrous, orange, much compressed in old age.
Leaves (fronds): 6-20 in crown. Erect 80-150(180) cm long, with about 30-50 pairs of leaflets evenly arranged along the rachis in one plane (not keeled). Emergent growth, pilose, bronze, red or chocolate brown, becoming dark green, glabrous except for the persistently tomentose base and uncoil as they open, like fern fiddleheads. Leaflets, opposite or near opposite, not clustered, linear-lanceolate, symmetric or semi-falcate, broadest below middle, abruptly cuneate basally, tapering very finely, 10-22(-30) cm median length and 6-15 mm wide, closely spaced thick or leathery, glabrous, weakly discolorous, upper surface dark green with marked concavity, rigid; undersides, paler, margins revolute. Venation straight, veins 7-9 prominent beneath and obscure above. Petiole and rachis quasi-terete, bisulcate above, dull, brownish or reddish-brown, smooth unarmed, or sometime sparsely prickled. Rachis not or slightly spirally twisted; petiole 20-30 cm long.
Male cone (Microstrobilus): Dark brown, glabrous, narrowly ovoid-cylindrical to fusiform-cylindrical, 9-15 cm long, 2.5-3 cm in diameter. Peduncle 9-13(-15) cm long unarmed, woolly. Microsporophyll lamina 9-11 mm long, 6-9 mm wide much reduced to a bidentate, laterally running ridg.
Female cone (Megastrobilus): Green to dark grey-brown, ovoid-cylindrical, 13.5-20 cm long, 6.5-8 cm in diameter, becoming flaccid and fragile on dispersal. Peduncle 12.5-15 cm long. Megasporophyll 28-32 mm long, with an expanded peltate apex 25-32 mm wide.
Seeds: Ovoid, 16-21 mm long, 12-16 mm wide; sarcotesta white, aging to brown.
Historical notes: Described in 1857 by German-born Russian botanist and cycad specialist Eduard von Regel, from plants in his collection in the botanic garden in St Petersbourg from an unstated location. Ceratozamia kuesteriana subsequently disappeared from cultivated, reappearing in the 1970's under the name Ceratozamia angustifolia. This was recognised as C. kuesteriana when the wild occurrences were rediscovered in 1982. Both the plant described above and another which apparently conformed equally well to Regel's description. Since the above Ceratozamia presented most of the characteristics described for C. kuesteriana, it was held to merit the revival and re-allocation of the taxon. This left the kuesteriana known to horticulture nameless until Vovides proposed Ceratozamia microstrobilia in 1985.
Bibliography: Major references and further lectures
1) Chemnick, J. & Gregory, T. 2010. Ceratozamia kuesteriana. The IUCN Red List of Threatened Species 2010: e.T42101A10644486. http://dx.doi.org/10.2305/IUCN.UK.2010-3.RLTS.T42101A10644486.en . Downloaded on 27 October 2015.
2) V.P. Singh "Gymnosperm (naked seeds plant): structure and development" Sarup & Sons, 01 January 2006
3) A. Moretti, S. Sabato & M. Vasquez Torres "The rediscovery of Ceratozamia kuesteriana (Zamiaceae) Mexico" Brittonia, 34(2): 185-188, 1982.
4) "The Plantsman" New Perspectives Pub., 1986
5) Alfred Byrd Graf "Exotica, series 4 international: pictorial cyclopedia of exotic plants from tropical and near-tropic regions" Roehrs Co. Publishers, 1985
6) Whitelock, Loran M., "The Cycads", Timber press, 2002.
7) The Cycad Pages "Ceratozamia kuesteriana" Royal Botanic Gardens Sydney Written and maintained by Ken Hill 1998-2010 Maintained by Leonie Stanberg and Dennis Stevenson 2010-2012 <http://plantnet.rbgsyd.nsw.gov.au/cgi-bin/cycadpg?taxname=Ceratozamia+kuesteriana> Web. 02 October 2015.
8) Jones, D. L. 1993. "Cycads of the world, ancient plants in today's landscapes".
9) Stevenson, D. W. et al. "A new species of Ceratozamia (Zamiaceae) from Veracruz, Mexico with comments on species relationships, habitats and vegetative morphology" in Ceratozamia. Brittonia 38:26.1986.
10) Stevenson, D. W. et al. "A world list of cycads". Mem. New York Bot. Gard. 57:201. 1990.
11) Haynes J.L, "World List of Cycads: A Historical Review", IUCN/SSC Cycad Specialist Group, 2011.
12) PACSOA contributors "Ceratozamia kuesteriana". In: Cycads. Palm and Cycad Societies of Australia (PACSOA) <http://www.pacsoa.org.au/wiki/Ceratozamia_kuesteriana>. 23 November 2013 Web. 28 August 2015.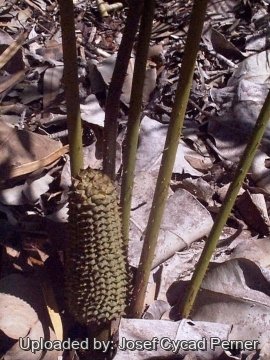 Ceratozamia kuesteriana
Photo by: Josef Cycad Perner
Send a photo of this plant.
The gallery now contains thousands of pictures, however it is possible to do even more. We are, of course, seeking photos of species not yet shown in the gallery but not only that, we are also looking for better pictures than those already present.
Read More...
Cultivation and Propagation: Ceratozamia kuesteriana is a small, elegant palm-like plant with long fronds, with new growth emerging exceptional colour, the new foliage is a superb bronze. It's a beauty and one of the best landscape plants in the genus. It prefers to be in half-shade in sheltered conditions to look its best and germinates readily from seed. It has proven to be very cold and frost hardy. The stems are subterranean, so these plants can easoly survive a freeze if the stem is covered. The leaves are very frost tolerant too. It grows fairly slow, but reacts well to fertilizer applications and reaches adult size taking about five years under ideal conditions to produce cones. It is a very attractive plant, quite popular with collectors and relatively common in cultivation and available at specialty nurseries. Makes an attractive subject for containers. This is among the most beautiful cycads for the garden.
Exposition: It prefers bright light exposure but thrives in either shade or full sun; best with some protection from afternoon heat but not in constant deep shade. The amount of light only seems to affect the overall leaf length.
Soil: Needs a neutral or slightly alkaline, well drained sandy soil spot, with deep soil, but will still thrive in less than ideal conditions. Mulch with organic materials (bark or leaf mould).
Moisture: Water when dry. Drought tolerant.
Fertilization. Because of its growth habit, fertilize only when terminal bud begins to swell, indicating the start of the annual growth cycle.
Hardiness: Ceratozamia hildae is remarkably cold tolerant (USDA Hardiness Zone 8 - 13). It should be protected from extreme cold , but it is much hardier than you might think. Plants survive freezing conditions as low as -9° C for short periods of time, regularly enduring temperature well below -1° C each winter. In most cases the foliage is completely undamaged by such freezes but occasional leaf burning may occur. Small plants appear to be more tolerant of severe cold than large, old specimens.
Maintenance: Minimal; removal of offsets if desired, removal of spent fronds
Use: Landscape as cultivated perennial in warm areas, it makes a great accent or specimen plant. Several can be planted together for a lush, tropical effect. Plant on three to five-foot-centers to create a mass planting. Use near the patio, in mixed foundation plantings or in perennial beds. It is a spectacular house-plant or interior-scape specimen in cool areas tough enough to survive occasional neglect and harsh indoor environments.
Warning: All parts of the plant are poisonous to animals and humans. The toxicity causes liver and kidney failure, as well as eventual paralysis. Dehydration sets in very quickly. No treatment for the poisoning is currently known. Poisonous Parts: Fleshy seeds, leaves. Protect pets and instruct children to never eat or chew any plant material without permission.
Propagation: Seeds. The seeds are covered with a light yellow pulp. This rots quickly rather than drying hard, once seeds have been released from the cone, allowing the seeds to be easily cleaned. Seed production can be increased with hand pollination. Fresh seeds germinate within 90 days after planting. Seeds should be sown in shallow container, lightly covered with sand, and after germination, potted off in small pots of moderately rich, light soil. The growing plants do best in partial shade. The old plants occasionally send up suckers around the base of the trunk. These may be taken off when in a dormant state and rooted, care being taken to remove the leaves to guard against excessive transpiration. The advantage of the "pups" is that you will know its sex, for seedlings you will have to wait several years until the plant flowers to find out.