Donate now to support the LLIFLE projects.
Your support is critical to our success.
Since 4 Aug 2013
Cheiridopsis brownii Photo by: Valentino Vallicelli
Origin and Habitat: Coast around Alexander Bay and Richtersveld Natl Pk, Orange River, Cape province, South Africa.
Habitat: Coastal desert mountains, grows in shale or on quartz ridge in cracks and fissures.
Synonyms:
See all synonyms of Cheiridopsis brownii
Accepted name in llifle Database:
Cheiridopsis brownii
Schick & Tischer
Möller's deutsche gärtner-zeitung 43: 248 1928.
Synonymy: 8
Description: Cheridopsis brownii is a small cushion forming leaf succulent, it has approx the size of a Lithops and forms clumps 5-10 cm in diameter. Cheiridopsis are dormant in summer.
Stems: Very short with only 2 or 4 leaves.
Leaves: Bluish-grey-green 3-5 cm long with darker green dots, united to form a conical body.
Flowers: Yellow, up to 6 cm in diameter.
Blooming season: Late autumn. Sometime plants blooms when though they are still in their old sheat.
Remarks: Cheiridopsis are distinguished from Lithops for the fact that the flower has 12 stigmas, versus 5 or 6 in Lithops. This directly affects the number of seed chambers.
Subspecies, varieties, forms and cultivars of plants belonging to the Cheiridopsis brownii group
Bibliography: Major references and further lectures.
1) Heidrun E. K. Hartmann "Aizoaceae F-Z" Springer, 2002
2) James Cullen, Sabina G. Knees, H. Suzanne Cubey "The European Garden Flora Flowering Plants: A Manual for the Identification of Plants Cultivated in Europe, Both Out-of-Doors and Under Glass - Casuarinaceae to Aristolochiaceae" Cambridge University Press, 11/ago/2011
3) Hermann Jacobsen, Vera Higgins "Succulent Plants: Description, Cultivation and Uses of Succulent Plants, Other Than Cacti" Williams and Norgate, Limited, 1935
Cheiridopsis brownii
Photo by: K.k. Agrawal
Cheiridopsis brownii
Photo by: Cactus Art
Cheiridopsis brownii
Photo by: Cactus Art
Cheiridopsis brownii
Photo by: Cactus Art
Cheiridopsis brownii
Photo by: Valentino Vallicelli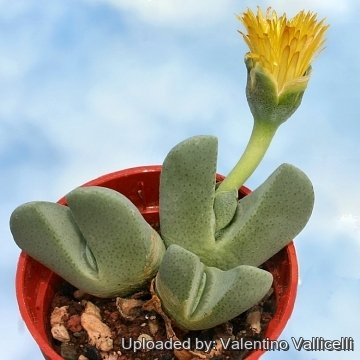 Cheiridopsis brownii
Photo by: Valentino Vallicelli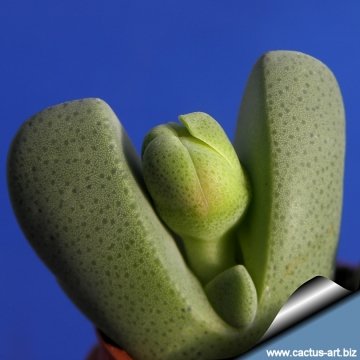 Cheiridopsis brownii
Photo by: Cactus Art
Cheiridopsis brownii
Photo by: Cactus Art
Cultivation and Propagation: Cheiridopsis brownii is a "winter" grower which are most active from late winter until later spring and heading for summer dormancy, but in favourable growing conditions it keeps going over the summer too and doesn't need particular care. It is relatively easy to grow.
Soil: Requires good drainage as it it is prone to root rot. It can grows outdoor in sunny, dry, rock crevices (protection against winter wet is required) It can also be cultivated in alpine house, in poor, drained soil.
Fertilization: It thrives in poor soils and seems sensitive to an excess of potassium.
Watering: Water minimally in summer, only when the plant starts shrivelling, water more abundantly when they are growing in the autumn and spring. Requires little water otherwise its epidermis breaks (resulting in unsightly scars).
Light: It needs a bright sunny or light shade exposure in winter, but keep cool and shaded in summer.
Hardiness: It prefer a very bright situation and will take a light frost (Hardy to -5°C) if it is in dry soil. USDA zones 9A – 11.
Uses: Container, rock garden.
Propagation: Seed in spring or (or rarely) cuttings. It is easily propagated by seed.