Donate now to support the LLIFLE projects.
Your support is critical to our success.
Since 4 Aug 2013
sponsored link
Conophytum longum Photo by: Giuseppe Distefano
Origin and Habitat: Namaqualand, Northern Cape, South-Africa.
Altitude: 860 - 1150 metres above sea level.
Habitat and ecology: It grows on quartz or granite slopes, often half-sunken.
Synonyms:
See all synonyms of Conophytum longum
Accepted name in llifle Database:
Conophytum longum
N.E.Br.
Gard. Chron. III, 88: 8 1930.
Synonymy: 10
Common Names include:
ENGLISH:
Eye-Leaves
Description: Conophytum longum is the name now given to the former Ophthalmophyllum herrei Lavis. It is a miniature succulents prized by enthusiasts for its beautiful, velvety-soft, lime green bodies with striking white or pink flowers. It is one of the most free-flowering species of the whole genus.
Habit: It is a perennial-succulent, single or sparsely branched with age and forming a small mat.
Bodies (paired leaves): 20-30 mm tall, 12-20 mm wide, 5-10 (or more) mm thick, soft in substance, fused cylindric to urn-shaped, often strongly keeled, bilobed at the apex, fissure shallow, upper face irregularly convex, pale yellowish-green to dark-green (never brown) velvety, windowed and papillate; smaller windows usually murky. Sheath yellowish-brown, thin and brittle.
Flowers: Bracteoles rounded and succulent, petals white to pink. Flowers are strongly scented
Fruits: 5-7-chambered.
Remarks: This species along with Conophytum lydiae, Conophytum praesectum and Conophytum friedrichiae have been defined from a complex of populations across the Northern Cape and assigning a name to any population can be tricky. However the green-bodied forms with pale flowers that grow in the western end of the distribution tend to be known as Conophytum longum. Note the velvety texture of the leaves that is associated with all four species. Conophytum longum is also the most widely grown member of Conophytum/Ophthalmophyllum; unfortunately it readily hybridizes with every other species of the section kept in cultivation, producing unidentifiable offsprings.
Subspecies, varieties, forms and cultivars of plants belonging to the Ophthalmophyllum longum group
Conophytum longum

N.E.Br.

: (syn: Ophthalmophyllum longitubum L. Bolus 1962) has small single or sparsely branched velvety-soft, lime green bodies with age and forming a small mat. Flowers white or pink. Distribution: Namaqualand, Northern Cape.
Conophytum rawei

G.D.Rowley

: this is a local form found 25 miles (40 km) west of Goodhouse on the way to Jakklswater. It is not not distinguishable, if not for the geographical provenance.

Ophthalmophyllum schlechteri

Schwantes ex H.Jacobsen

: has 1-2 bodies up to 40 mm long, 18 mm in diameter, smooth, not hairy, dark green to pale flesh tint or somewhat reddish. Distribution: Little Namaqualand, forty miles east of Port Nolloth.
Bibliography: Major references and further lectures
1) Gibbs Russell, G. E., W. G. Welman, E. Reitief, K. L. Immelman, G. Germishuizen, B. J. Pienaar, M. v. Wyk & A. Nicholas. 1987. "List of species of southern African plants." in: Mem. Bot. Surv. S. Africa 2(1–2): 1–152(pt. 1), 1–270(pt. 2).
2) James Cullen, Sabina G. Knees, H. Suzanne Cubey "The European Garden Flora Flowering Plants: A Manual for the Identification of Plants Cultivated in Europe, Both Out-of-Doors" Cambridge University Press, 11/Aug./2011
3) Hammer, S. 1993. "The Genus Conophytum - A Conograph." Succulent Plant Publications, Pretoria.
4) Hammer, S. 2002. "Dumpling and His Wife: New Views of the Genus Conophytum." East Anglia Engraving Creative Colour Ltd, Norwich, England.
5) Ernst Van Jaarsveld, Ben-Erik Van Wyk, Gideon Smith "Succulents of South Africa: A Guide to the Regional Diversity" Tafelberg Publishers, Limited, 01/lug/2000
6) Heidrun E.K. Hartmann "Illustrated Handbook of Succulent Plants: Aizoaceae A-E" Springer, 2002
7) Werner Rauh "The Wonderful World of Succulents: Cultivation and Description of Selected Succulent Plants Other Than Cacti" Smithsonian Institution Press, 1984
8) Gard. Chron., ser. 3 71: 231 (1922)
9) Victor, J.E. & Hammer, S.A. 2005. Conophytum longum N.E.Br. National Assessment: "Red List of South African Plants" version 2013.1. Accessed on 2014/04/21
Conophytum longum
Photo by: Giuseppe Distefano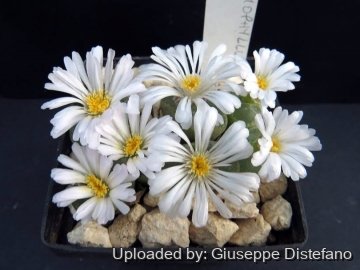 Conophytum longum
Photo by: Giuseppe Distefano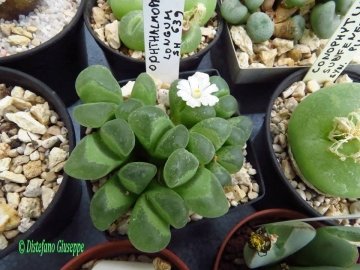 Conophytum longum
Photo by: Giuseppe Distefano
Send a photo of this plant.
The gallery now contains thousands of pictures, however it is possible to do even more. We are, of course, seeking photos of species not yet shown in the gallery but not only that, we are also looking for better pictures than those already present.
Read More...
Cultivation and Propagation: The Conophytums belonging to the Ophthalmophyllum group are some of the world's most fascinating plants and are sought by the collector of succulent plants. They grow on winter rain and heads for summer dormancy. They are notoriously difficult to grow because they rot very easily. Paying attention to the particular growing requirement of Ophthalmophyllum is especially important. If you provide the Ophthalmophyllum with the right conditions, they will reward you with their unique shape, size, colour and a proliferation of blooms in autumn. However, Ophthalmophyllum are tricky plants that are very particular about their growing conditions and require the right maintenance in order to keep happy. But don't be afraid even the best growers have plants that mysteriously dry up, or leave during the night. While Ophthalmophyllum are picky about their care, if you are patient and remember the basics, your efforts will be rewarded. Being small plants, a representative collection can be grown on a patio table, a sunny windowsill or a shelf in the greenhouse.
The growing season in northern hemisphere is from September to March.
Soil: It grows best in sandy-gritty soil and requires good drainage as it it is prone to root rot. It can grows outdoor in sunny, dry, rock crevices (protection against winter wet is required) It can also be cultivated in alpine house, in poor, drained soil.
Repotting: Repotting every year is not recommended. They may stay in the same pot for many years. Plants grown in larger containers have frequently relatively poor flowers. They might improve when the plants are given their own, small individual pots.
Fertilization: Feed it once during the growing season with a fertilizer specifically formulated for cactus and succulents (poor in nitrogen), including all micro nutrients and trace elements diluted to ½ the strength recommended on the label. It thrives in poor soils and need a limited supplies of fertilizer to avoid the plants developing excess vegetation, which is easily attacked by fungal diseases.
Watering: The Ophthalmophyllum thrive in dry and desert regions and are able to stand extended periods of drought and require careful watering. Water minimally in summer, (only occasional misting), water more abundantly after the previous year's leaves have dried up when they are growing in the autumn and spring, but let the soil dry between soaking. Requires little water otherwise its epidermis breaks (resulting in unsightly scars). If grown in a container, bottom watering by immersing the container is recommended. Ensure a very good ventilation.
Light: It enjoy some shade (avoid direct sun as it grows wild among rocks and under the shade of other plants) and in summer it need to be kept in a cool area.
Hardiness: It prefer a very bright situation and require a minimum temperature 5°C (But will take a light frost and is hardy down to -7° C for short periods if it is in dry soil). USDA zones 9A – 11.
Uses: Container, rock garden.
Pests and diseases: It is vulnerable to mealybugs and rarely scale.
Propagation: It can be reproduced both by seed in autumn or (or rarely) cuttings. Take the cutting from a grown-up mother plant. Each cutting must contain one or more heads along with a fraction of root and permit to dry out a couple of days, lay it on the soil and insert the stem end partially into the soil. Try to keep the cutting somewhat upright so that the roots are able to grow downward. It is relatively difficult to root Ophthalmophyllum from cuttings and generally pointless as well, so quick are they from seed.