Donate now to support the LLIFLE projects.
Your support is critical to our success.
Since 4 Aug 2013
sponsored link
Pachypodium geayi Photo by: K.k. Agrawal
Origin and Habitat: Southwest Madagascar. (localities: Toliara, Leeu-wenberg, Rapanarivo, Mont Eliva, Mahafaly, Betioky, Tsimanampetsotsa, Menarandra, Manambovo, Ampanihy, Tsiombe, Antananarivo, Tulear.)
Habitat: It grows in a variety of soils and habitats comprising sandy soil in old dunes near the sea, limestone (calcareous rocks), schists and red sandy soil in low open dry forest in association with: Didierea madagascariensisSN|11208]], Alluaudia proceraSN|487]], Adansonia za, Euphorbia stenocladaSN|22235]], Delonix adansonioidesSN|11205]], Cedrelopsis grevei and Fernandoa madagascariensi.
Synonyms:
Common Names include:
ENGLISH:
Elephant's foot, Madagascar Palm
CHINESE (中文):
亞阿相界
DANISH (Dansk):
Madagaskarsøjle-slægten
ESPERANT (Esperanto):
Madagaskara palmo
FINNISH (Suomi):
Paksujalat, Madagaskarinpalmuiksi
FRENCH (Français):
Baobab nain
ITALIAN (Italiano):
Palma del Madagascar
JAPANESE (日本語):
アアソウカイ
LITHUANIAN (Lietuvių):
Aukštasis tukvis
MALAGASY:
Vontaka
SWEDISH (Svenska):
Smalbladig ökenstjärna
UKRAINIAN (Українська):
Паxіподіум Жаї
Description: Pachypodium lamereiSN|14812]] is an extraordinarily decorative bottle-shaped tree, 4-7(-8) m high whit stem and branches metallic grey thick and succulent. It strongly resemble cereiform cacti, with highly succulent, cylindrical stems armed with sharp spines. P. geayi is often confused with the more common Pachypodium lamereiSN|10823]], but easily distinguished by having thinner leaves accented with a prominent midrib of a different colour than the rest of the leaf and in the hairs which adorn the young branches and the leaves. P. geayi is one of the largest of the Madagascar species and may be regarded as more decorative than Pachypodium geayiSN|10823]].
Pachycaule trunk (caudex): Generally unbranched, wholly above ground, columnar, thick, elongated, cigar- or bottle-shaped, 3-6 m long, 15-30 cm in diameter at the base, gradually thickened above up to 40-80 cm, young growth covered entirely with silvery grey felt. Older parts with greyish white to yellowish white papery bark. The trunk contains as much as 91.5% water.
Secondary branches: Few to several only at the summit of the trunk, candelabra-like, more or less horizontal, somewhat stubby.
Leaves: Tufted at the very tips of the branches, thin, linear-lanceolate, narrowing at the top, up to 40 cm long, upper surface glossy grey-green or dark-green, with a bright pink mid-rib. Plants that are stressed by intense heat, cold or lack of water tend to have darker leaves, still, almost purple in colour.
Flowers: The plant has white flowers with recurved corolla lobes and exerted stamens on a rather lax inflorescence.
Notes: Two significant adapations allow Pachypodium to survive in dry, hostile environments: "pachycaul" trunks, and spines. The thick, more or less pithy, trunks of pachypodium facilitate water storage similar to a cactus. The trunks and branches can also photosynthesize, making the leaves, which can cause rapid water evaporation from the plant, unnecesary in times of drought. Spines help condense moisture from fog or dew into drops which fall at the base of the plant. (http://en.wikipedia.org/wiki/Pachypodium)
Bibliography: Major references and further lectures
1) S. H. J. V. Rapanarivo "Pachypodium (Apocynaceae)" CRC Press, 01/Jun/1999
2) Werner Rauh "The Wonderful World of Succulents: Cultivation and Description of Selected Succulent Plants Other Than Cacti" Smithsonian Institution Press, 1984
3) Debra Brown Folsom, Huntington Botanical Gardens "Dry climate gardening with succulents" Pantheon Books, 14/Mar/1995
4) Kirsten Albrecht Llamas: "Tropical Flowering Plants. A Guide to Identification and Cultivation." Portland: Timber Press, 2003
5) T. K. Bose, P. Das, G. G. Maiti "Trees of the world" Volume 1 Regional Plant Resource Centre, 1998
6) G. D. Rowley: Pachipodium. In: Urs Eggli: "Illustrated Handbook of Succulent Plants: Dicotyledons." Springer Verlag, 2002
7) Tjaden, W. "Pachypodium geayi" in: Brit. Cact. Succ. J. 8: 79-80. 1990
8) Costantin, J. & D. Bois. "Contribution a l'etude du genre Pachypodium." in: Ann. Sci. Nat., Bot., sér. 9, 6: 308–330. 1907[1908]
9) Perrier de la Bathie, H.. "Les Pachypodium de Madagascar." in: Bull. Soc. Bot. France 81: 297–318. 1934
10) Pichon, M. "Classification des Apocynacées." in: Mém. Inst. Sci. Madagascar, Sér. B, Biol. Vég. 2(1): 45-140. 1949
11) Poisson, H. & R. Decary. "Nouvelles observations biologiques sur les Pachypodium malgaches." in: Bull. Trimestriel Acad. Malgache, n.s., 3: 241–246. 1922
12) Das, A. B., S. Mohanty & P. Das. "New report on chromosome number, karyotype and 4C DNA content in three species of Pachypodium" Lindley. Caryologia 51(3-4): 245–252. 1998
13) Humbert, J.-H., "Flore de Madagascar et des Comores" ed.1936
14) Rapanarivo, S. H. J. V. & A. J. M. Leeuwenberg. "Taxonomic revision of Pachypodium. Series of revisions of Apocynaceae XLVIII." Pp. 44-49 in: Rapanarivo, S. H. J. V. et al., "Pachypodium (Apocynaceae): taxonomy, habitats and cultivation." 1999.
15) Eggli, Urs. "CITES Aloe and Pachypodium checklist." ed.2001
16) Eggli, Urs. "Glossary of botanical terms with special reference to Succulent Plants. with German Equivalents" (British Cactus & Succulent Society: United Kingdom) 1993
17) Rowley, G. "Pachypodium & Adenium." in: Cactus File 5: 1-79. 1999
18) Rowley, Gordon. "Didiereaceae: Cacti of the Old World" (The British Cactus and Succulent Society [BSCS]: 1992)
19) Rowley, G.D. "The Pachypodium rosulatum aggregate (Apocynaceae) - one species or several?" Bradleya: The British Cactus and Succulent Society Yearbook. (16/1998)
20) Lüthy, Jonas M. "Another look at the pachypodiums of Madagascar." Bradleya: The British Cactus and Succulent Society Yearbook. (22/2004)
Pachypodium geayi
Photo by: © Plantemania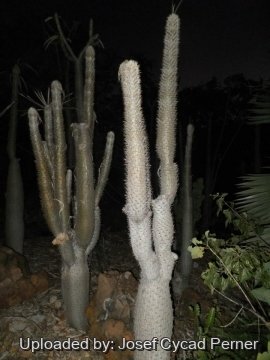 3-4 meter tall plant at at Cycad International, Katherine, Northern Territory, Australia.
Photo by: Josef Cycad Perner
Pachypodium geayi
Photo by: Giuseppe Distefano
3-4 meter tall plant.
Photo by: Josef Cycad Perner
Pachypodium geayi de semillas from seeds, 2 years old.
Photo by: Alexander Arzberger
Send a photo of this plant.
The gallery now contains thousands of pictures, however it is possible to do even more. We are, of course, seeking photos of species not yet shown in the gallery but not only that, we are also looking for better pictures than those already present.
Read More...
Cultivation and Propagation: Pachypodium geayi is fairly easy to grow both indoors, as well as outdoors in warm climates and can grow at about 10 cm a year. In the winters it is deciduous, except in very tropical areas. It is a magnificent form/accent plant. It growing requirements are very similar to those of Pachypodium lamerii, but lameri is the slightly faster grower and more gardening friendly.
Growth rate: It is a fairly slow growing plant which in 10 years it can easily outgrow its indoor location, requiring a 'pruning'. Though branching is usually a response to natural injury, or something that happens in older specimens, one can stimulate branching by cutting off its top. It has amazing regenerative properties.
Soil: It needs a draining cactus potting mix.
Repoting: Repot the plant every 3 years; this is quite tricky given all the spines. The best way is to wrap several layers of newspaper around the trunk where it is to be handled.
Waterings: It needs regular water when the plant has leaves, contrary to popular belief, it likes a lot of water in the warm summers, as long as it's planted in a very well draining soil. Indoors it is best to err on the dry side, or it is prone to rot.
Exposures: It like full sun to light shade with warm temperatures.
Warning: The body of this plant is very spiny and dangerous to handle.
Propagation: Seeds or division.Fresh seeds results in a remarkable yield of new plants, perhaps 90%, Soak seeds in warm water for 24 hours before sowing in moist sand. Seed start sprouting in just 3-4 days ( but continue to germinate erratically for about 6 month). They are also propagated by removal of truncheons. Carefully cut off the offshoots, they should be allowed to dry for 5 to 8 days before potting up.