Donate now to support the LLIFLE projects.
Your support is critical to our success.
Since 4 Aug 2013
sponsored link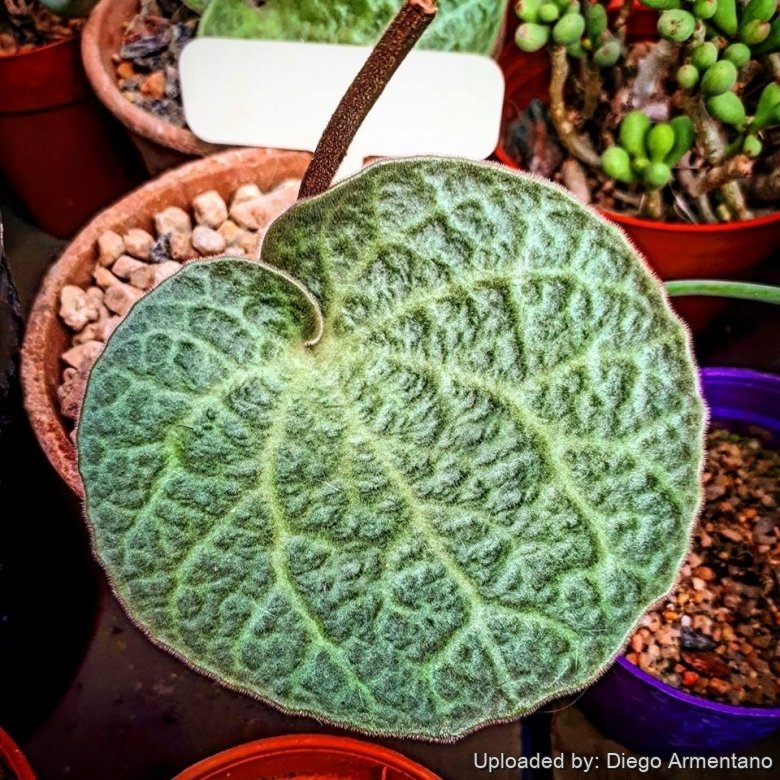 Tylecodon singularis Photo by: Diego Armentano
(Coleccion privada de Norma Maatz)
Origin and Habitat: Tylecodon singularisSN|35331]]SN|35331]] is only known from one locality on the Huns Mountains near Rosh Pinah in Namibia.
Habitat and ecology: Succulent Karoo. This species grows in rock crevices on layered arches of limestone caves on the foothills of the Flunsberge near Rosh Pinah, the plants growing in the mouth of the caves, or at least they used to. In this area the sea-mist condenses on the soil and plant leaves. Apparently, the plant no longer exists there because of illegal collection. Fortunately two other (tiny) habitats are now known, but they are kept secret. Flowering period: Spring (September-November).
Synonyms:
Common Names include:
AFRIKAANS (Afrikaans):
ploegskaarplakkie
Description: Tylecodon singularisSN|35331]]SN|35331]] is a very small geophyte. It is a bizarre freak of the plant world, and is only recognisable as belonging to Crassulaceae when in flower. It is, as its nature implies, most unusual: stemless, with tuberous roots, producing one or two massive fleshy leaves, almost circular, up to 8 cm in diameter, and withering before the flowers appear. The plant is leafless over summer, just the tuberous root waiting for autumn. The maroon inflorescence is 150-250 mm tall, terminating in a sparsely-branched panicle of greenish-yellow flowers.
Derivation of specific name: "singularis" Latin, alone, singular, solitary; for the unique characteristics and the normally solitary leaf.
Stem: Very short, smooth, underground, bonsai-like barely one centimetre tall, 7 mm in diameter and producing each winter a single leaf.
Tubers bulbous base: Irregular, with thickened, spindle-shaped roots.
Leaves: Single, rarely two, shortly petiolate, spreading, covered with simple and glandular hairs. Blade orbicular, 50-80 mm in diameter, almost circular and deeply heart-shaped at the base, rounded at apex, vaguely crenate, concave-shaped, green with paler veins above, pale purple below with glandular hairs. Petiole 0-20 mm long. The leaves dries up as summer approaches. If you give too much water, however, more leaves can be produced as the plant gets all out of whack with the seasons.
Inflorescence (thyrse): The inflorescence is 15-258-35) cm tall, terminating in a 2-4 long monochasia, each with 5-10 flowers, and glandular-pubescent. Peduncle 15-35 cm long, purplish to maroon. Pedicel 3-8 mm long, purplish.
Flowers: Calyx 3-4 mm long, purplish, pubescent; lobes ovate, usually obtuse. Corolla pale yellowish green; tube almost cylindrical but slightly widened at mouth, 10-13 mm long, with fine hairs on outside, glabrous inside except for a few hairs where filaments are fused to tube. Lobes 6-7 mm long, recurved or recoiled later. Anthers c. 1,3 mm long. Squamae about square, 0,8-0,9 X 0,7-0,9 mm, entire to slightly emarginate; slightly succulent, pale yellow.
Bibliography: Major references and further lectures
1) Doreen Court "Succulent Flora of Southern Africa" CRC Press, 01 June 2000
2) J.P. Roux, "Flora of Southern Africa", 2003
3) Urs Eggli "Illustrated Handbook of Succulent Plants: Crassulaceae" Springer Science & Business Media, 06 December 2012
4) Urs Eggli, Leonard E. Newton, "Etymological Dictionary of Succulent Plant Names" Springer Science & Business Media, 29 June 2013
5) Richard Cowling, "Namaqualand: A Succulent Desert", Penguin Random House South Africa, 5 November 2015
6) Cactus and Succulent Journal, Volume 76, 2004
7) Coromandel Cacti, Tylecodon singularis web: http://www.cacti.co.nz/library/tylecodon-singularis/
8) "Tylecodon singularis". In: Wikipedia, Die freie Enzyklopädie. Bearbeitungsstand: 14. Januar 2018, 18:43 UTC. URL: https://de.wikipedia.org/w/index.php?title=Tylecodon_singularis&oldid=172926344 (Abgerufen: 27. August 2018, 20:10 UTC)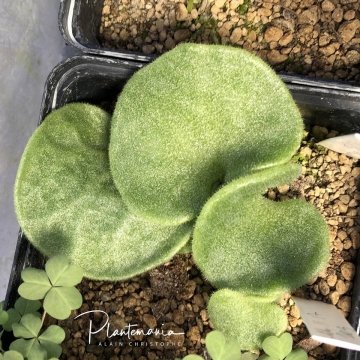 Tylecodon singularis. 18 months old seedling.
Photo by: © Plantemania
Send a photo of this plant.
The gallery now contains thousands of pictures, however it is possible to do even more. We are, of course, seeking photos of species not yet shown in the gallery but not only that, we are also looking for better pictures than those already present.
Read More...
Cultivation and Propagation: Indoors, keep dry in summer.