Donate now to support the LLIFLE projects.
Your support is critical to our success.
Since 4 Aug 2013
Adansonia madagascariensis Photo by: Forest Starr & Kim Starr
Habit trunk and bark at Kahanu Gardens NTBG Kaeleku Hana, Maui, Hawaii (USA). November 04, 2009.
Origin and Habitat: Adansonia madagascariensis is one of six species of baobab endemic to Madagascar. The species extends from Antsiranana to the Sambirano region and perhaps Soalala. Occurrences in the south-east of the country appear to be Adansonia za.
Habitat and Ecology: It occurs in the Madagascar in a variety of vegetation types usually on calcareous soils: dry deciduous forest, mesic subdeciduous forest and coastal scrub. It also occurs perched on cliffs and on karstic limestone outcrops. The relatively high precipitation, basaltic soils and the shelter provided by the canyons of the Ankarana plateau support a dense tree cover, with A. madagascariensis as one of the dominants. Little is known of the conservation status but the clearance of the habitat as a consequence of slash-and-burn farming, has been extensive in places. Because the trees have been required to evolve a survival technique through dry seasons that often last for many months, the baobabs will happily shed their leaves for the duration, thus dramatically cutting down on transpiration.
Synonyms:
See all synonyms of Adansonia madagascariensis
Common Names include:
ENGLISH:
Upside-down tree, Malagasy baobab, Monkey-bread tree, Baobab
ARABIC ( لعربية ):
تبلدي مدغشقري
DUTCH (Nederlands):
Malagassische baobab
ITALIAN (Italiano):
Baobab del Madagascar
MALAGASY:
Bozy, M'bois, Renida, Za, Zabe
POLISH ( Polski):
Baobab madagaskarski, Baobab madagaskarski
RUSSIAN (Русский):
Адансония мадагаскарская
Description: Adansonia madagascariensis is a rare small to large deciduous tree, 5-20(-25) m tall by about 12 m in spread. It is has massive succulent trunks with comparatively small, sparse, irregular compact crowns and is similar to Adansonia digitata, but with erect, pink-red flowers. The leaves have petioles but the leaflets are sessile and spatulate. It is rarely cultivated.
Related species: Adansonia madagaseariensis is closely related to Adansonia za and these two species cannot always be clearly distinguished. The former is characterized by its usually red petals, non-persisting style and broader fruit.
Stems: The trunk has little swelling, being bottle shaped, but can also be cylindrical or tapering from the base to the branches; it is usually unbranched until very near the top. Trunk diameter up to 3.8 m, trunk girth 12 m. Being deciduous, the branches are regularly leafless for long periods, contributing to the distorted appearance suggesting that the roots are spreading out from the top of the trunk and giving it the popular name of 'upside-down tree'. The wood is also very soft and fibrous, allowing it to store considerable reserves of water. The bark is usually smooth and has a remarkable capacity for regeneration, even when the bark has in places been removed around the entire circumference of the trunk, a process called girdling or ring-barking.
Leaves: Adult leaves palmate. Leaflets 5-7, obovate-spatulate, 9-10 cm long, 3-4 cm wide, glabrous, margins entire. Petiole 6-7 cm long.
Flowers: Solitary, erect; Sepals lorate, 18 cm long, 1-1.7 cm wdide. Petals pink-red, lorate, 13 cm long, 1.5 cm wide. Stamens numerous, fused in a tube to 9 cm long, free tips 5-11 cm.
Fruits: Globose-ovoid pendulous.
Chromosome number: 2n = 88.
Bibliography: Major references and further lectures
1) Wickens, Gerald E.; Lowe, Pat "The baobabs: pachycauls of Africa, Madagascar and Australia." Springer. 2008
2) Wikipedia contributors. "Adansonia madagascariensis." Wikipedia, The Free Encyclopedia. Wikipedia, The Free Encyclopedia, 17 Jun. 2014. Web. 2 Dec. 2014.
3) Forest & Kim Starr "Adansonia madagascariensis (Baobab)". Plants of Hawaii. <http://www.starrenvironmental.com>. Web. 2 Dec. 2014.
4) David A. Baum. «The Comparative Pollination and Floral Biology of Baobabs (Adansonia- Bombacaceae)». Annals of the Missouri Botanical Garden, Vol. 82, Nº 2 1995
5) David A. Baum, Randall L. Small, Jonathan F. Wendel "Biogeography and Floral Evolution of Baobabs (Adansonia, Bombacaceae) as Inferred from Multiple Data Sets" in Systematic Biology, Vol. 47, No. 2 (Jun., 1998), pp. 181-207.
6) World Conservation Monitoring Centre 1998. "Adansonia madagascariensis." The IUCN Red List of Threatened Species. Version 2014.3. <www.iucnredlist.org>. Downloaded on 02 December 2014.
7) van der Vossen, H.A.M. & Mkamilo, G.S. "Vegetable oils" PROTA
8) Urs Eggli "Illustrated Handbook of Succulent Plants: Dicotyledons" Springer Science & Business Media, 2002
9) "Traditional Food Plants: A Resource Book for Promoting the Exploitation and Consumption of Food Plants in Arid, Semi-arid and Sub-humid Lands of Eastern Africa" Food & Agriculture Org., 01 gen 1988
10) Michael Jordan "The Beauty of Trees" Hachette UK, 30 ago 2012
11) Werner Rauh, Herman Schwartz "Succulent and xerophytic plants of Madagascar" Volume 2 Strawberry Press, 1998
12) Jean-Pierre Sorg "Ecology and economy of a tropical dry forest in Madagascar" E. Goltze, 1996
13) Hilary Bradt "Guide to Madagascar" Bradt, 1997
Flowers and leaves at Kahanu Gardens NTBG Kaeleku Hana, Maui, Hawaii (USA). November 04, 2009.
Photo by: Forest Starr & Kim Starr
Flowering habit at Cycad International, Katherine, Northern Territory, Australia.
Photo by: Josef Cycad Perner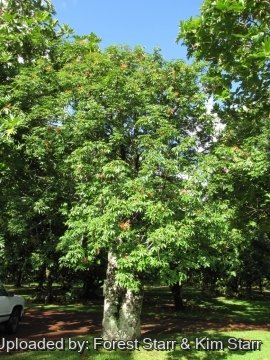 Flowering habit at Kahanu Gardens NTBG Kaeleku Hana, Maui, Hawaii (USA). November 04, 2009.
Photo by: Forest Starr & Kim Starr
Flower at Kahanu Gardens NTBG Kaeleku Hana, Maui, Hawaii (USA). November 04, 2009.
Photo by: Forest Starr & Kim Starr
Adansonia madagascariensis
Photo by: Josef Cycad Perner
Coning habit at Cycad International, Katherine, Northern Territory, Australia.
Photo by: Josef Cycad Perner
Cultivation and Propagation: Adansonia madagascariensisSN|3574]]SN|3574]] are quite easily grown from seed although they are seldom available in nurseries. Grow in good light, don't over-water and provide a minimum winter temperature of 10-13C as they cannot tolerate frost. Despite its adaptations to dry climates, baobab will thrive in rainy climates provided it has a well drained soil provided they are frost free and don't experience cold winters. Saplings can be effectively grown in containers for many years before becoming too large and requiring to be planted into the ground. In this manner one can move them out of the cold into a warm position in a glasshouse or indoors behind a sunny window to prevent frost damage. It can be also trained as a bonsai tree.
Watering: Baobab is very drought tolerant, and needs no water at all during the winter.
Uses: The young leaves and fruits are edible, but they are are rarely used as food. The large, pendulous fruits are an important source of vitamin C, containing up to ten times the vitamin content of oranges. The seeds consists about 37% of edible oil, but also contain cyclopropenic fatty acid (CPEFA); This acid may be harmful if consumed in quantity. Fibre known as bast is extracted from the inner bark to be used in rope making, a practice common among the indigenous populations in Madagascar on account of the medicinal properties of the bark.
Reproduction: The seeds should be soaked in a container of hot water and allowed to cool, they may then be sown after soaking for 24 hrs. To break dormancy, the seeds require a high moisture content between 80% and 90% field capacity. Sow in trays, pots, etc o in a well-drained seedling mixture containing one-third sand in a propagator or warm place with a minimum of 25°C to a soil depth of 5cm. The optimum temperature required is 27°C, with 30°C for maximum germination and plant growth. Seeds are best sown in spring and summer. Germination may take from two to six weeks. Baobabs grow reasonably quickly when they are young. It also can be started from cuttings.