Donate now to support the LLIFLE projects.
Your support is critical to our success.
Cereus stenogonus Photo by: Alexander Arzberger
Origin and Habitat: Cereus stenogonusSN|7052]]SN|7052]] occurs in Argentina, in the provinces of Chaco, Corrientes, Formosa and Misiones, as well as in Paraguay ( Alto Paraguay, Caaguazú, Central, Concepción, Cordillera, Guairá, Paraguarí and Presidente Hayes departments) and Uruguay.
Altitude range: This species can be found at elevations between 10 and 500 metres above sea level.
Habitat and Ecology: This cactus grows in sandy and clayey soils, in forest edges and as part of the scrub within low, subhumid forests together with Stetsonia coryneSN|19128]]SN|19128]] and Quiabentia pflanziiSN|19007]]SN|19007]]. It also occurs in rocky areas. Harrisia bonplandiiSN|8325]]SN|8551]], Harrisia martiniiSN|8551]]SN|8325]], Opuntia sulphureaSN|32053]], and Opuntia sulphureaSN|32053]] are also present in the understory. All of these cacti tolerate prolonged periods of heavy rain and saturated soil. Cereus stenogonusSN|7052]]SN|7052]] is common and abundant throughout its range and there are no known threats to this species.
Synonyms:
See all synonyms of Cereus stenogonus
Accepted name in llifle Database:
Cereus stenogonus
K.Schum.
Monatsschr. Kakteenk. 9: 165. 1899
Synonymy: 5
Common Names include:
ENGLISH:
narrowangled cereus
FRENCH (Français):
cierge à angled étroits
GERMAN (Deutsch):
Säulenkaktus
SPANISH (Español):
caracoré, cardón mesopotámico, cardón
Description: Cereus stenogonusSN|7052]]SN|7052]] is a tree-like columnar cactus, with erect stems up to 6 to 8 meters high, much branched or nearly simple.
Derivation of specific name: The epithe stenogonus Greek 'stenos', narrow, slender; and Greek 'gonia', corner, margin, refers to the narrow ribs.
Stems: Cylindrical, bluish green, later yellowish green, 6-9 cm in diameter.
Ribs: 4 or 5, very narrow, high and deeply notched.
Areoles: Borne at the notches, widely separated.
Spines: 2-4, short, conical, thick or bulbous basally, spreading, yellow with black tips or black the longest 5 to 7 mm long or subulate and the longer up to 4.5 cm long.
Flowers: Large, pink to rose, 20 to 22 cm long, funnelform, the tube long and slender. Outer perianth-segments narrow, 7 to 8 cm long, mucronate, rose-colored or with rose-coloured margins.
Fruit: Large, ovate, 10 cm. long or less, red or orange, with white or carmine flesh, unpleasant to the taste.
Seeds: Dull.
Bibliography: Major references and further lectures
1) Edward Anderson "The Cactus family" Timber Press, Incorporated, 2001
2) Hunt, D., Taylor, N. and Charles, G. (compilers and editors). "The New Cactus Lexicon." dh Books, Milborne Port, UK. 2006.
3) Pin, A.B. and Simon, J. "Guía ilustrada de los Cactus del Paraguay." SEAM/GReB, Asunción. 2004.
4) Oakley, L., Pin, A. & Duarte, W. 2013. Cereus stenogonus. The IUCN Red List of Threatened Species 2013: e.T152697A667268. http://dx.doi.org/10.2305/IUCN.UK.2013-1.RLTS.T152697A667268.en. Downloaded on 26 June 2016.
5) M.M. Grandtner, Julien Chevrette "Dictionary of Trees, Volume 2: South America: Nomenclature, Taxonomy and Ecology" Academic Press, 21 September 2013
6) N. L. Britton, J. N. Rose: "The Cactaceae. Descriptions and Illustrations of Plants of the Cactus Family." Volume II, The Carnegie Institution of Washington, Washington 1920
7) Urs Eggli, Leonard E. Newton "Etymological Dictionary of Succulent Plant Names" Springer Science & Business Media, 29 June 201
8) Foster, R. C. "A catalogue of the ferns and flowering plants of Bolivia." Contr. Gray Herb. 184: 1–223.1958.
9) Killeen, T. J., E. García Estigarribia & S. G. Beck. (eds.) "Guía Árb. Bolivia" 1–958. Herbario Nacional de Bolivia & Missouri Botanical Garden, La Paz. 1993.
10) López, J. A. & J. E. L. Little. "Árboles comunes del Paraguay" 1–425. Cuerpo de Paz, Colección e Intercambio de Información, Washington, D.C. 1987.
11) Nee, M. H. "Magnoliidae, Hamamelidae y Caryophyllidae". 2: 1–209. In M. H. Nee Fl. Reg. Parque Nac. Amboró Bolivia. Editorial FAN, Santa Cruz. 2004.
12) Taylor, N. "Cactaceae of Bolivia: additional departmental records." Cactaceae Syst. Initiat. 22: 10–11. 2007.
13) Johnson, Matthew B. "Dryland Plants of the Monte and Chaco of Northwestern Argentina and Western Paraguay" in Desert Plants Dec-1997 pubdlished by University of Arizona (Tucson, AZ) retrieved on 26 June 2016 from http://hdl.handle.net/10150/554251
Echinopsis spec. and Cereus stenogonus, Mato Grosso do Sul, Brasil.
Photo by: Alexander Arzberger
Cereus stenogonus
Photo by: Alexander Arzberger
Cereus stenogonus
Photo by: Alexander Arzberger
Cereus stenogonus
Photo by: Alexander Arzberger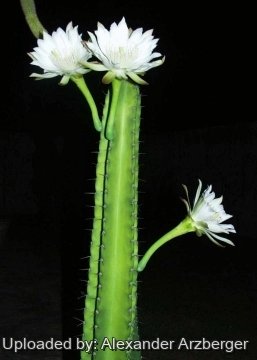 Cereus stenogonus
Photo by: Alexander Arzberger
Cereus stenogonus
Photo by: Alexander Arzberger
Cultivation and Propagation: Cereus stenogonusSN|7052]] is very easy to cultivate, easy to propagate, tolerates light frost, and produces numerous showy white flowers 22 cm long.
Growth rate: It grows quickly (a young plant will easily grow more than a 30 cm per year) and a plant grown in loose fertile soil with ample water availability may get up to 8 metres tall with dozens of branches.
Soils: For pot culture it needs standard cactus soil. Outdoors needs well drained spots, with deep soil, but will still thrive in less than ideal conditions. The species is sensitive to salinity.
Repotting: Since they are big-sized plants, they need plenty of space for their roots. Repotting should be done every other year, or when the plant has outgrown its pot. Use pot with good drainage.
Watering: Water regularly in summer, but do not overwater and allow to dry fully before watering again. Its roots are easily lost in pots that stay damp for any length of time. It should not be watered at all in winter. In the rest period no high atmospheric humidity!! Care must be taken with watering as they tends to become swollen and untidy in growth habit if given too much water and shade.
Fertilization: During the growing season enrich the soil using a fertilizer rich in potassium and phosphorous, but poor in nitrogen, because this chemical element doesn't help the development of succulent plants, making them too soft and full of water.
Hardiness: Reputedly sensitive to frost, but less so if kept on the dry side prior to, and during, cold weather (hardy to -5° C for short periods). However some warmth throughout the year will increase the grower's success (minimum 5° to 8°C during rest season). In presence of high atmospheric humidity make sure that your Cereus stenogonusSN|7052]] are not exposed to freezing temperatures, or they may die. Outdoors this plant is very adaptable, as long as you avoid excessive humidity in the winter months.
Exposition: Light shade when young, full sun later. Outside it likes strong sunshine, but is tolerant and do well with light shade during the hot Summer months, inside it needs bright light, and some direct sun.
Propagation: From cuttings in spring (let them dry till the ends callous well). Then replant them in fresh cactus soil that is ever so slightly moist, and keep them that way till they root), or by Seeds (Seeds should be sown in a well-drained soil mix. Surface sowing is the best; seeds germinate in 14-28 days at 25° C . The seedlings should not be disturbed until they are well rooted, after which they can be planted separately in small pots.