Donate now to support the LLIFLE projects.
Your support is critical to our success.
Discocactus silicicola
Cact. Succ. J. (Los Angeles) 47: 214 (-215), figs. 103. 1975
Family: CACTACEAE
Accepted Scientific Name: Discocactus heptacanthus (Barb.Rodr.) Britton & Rose
Cactaceae (Britton & Rose) 3: 218, fig. 232. 1922 Britton & Rose
Discocactus silicicola Photo by: Alexander Arzberger
Origin and Habitat: Near Porto Murtinho North of Rio Apa , Mato Grosso do Sul, Brazil
Altitude: 130-220 metres above sea level.
Habitat and ecology. Discocactus silicicolaSN|12052]]SN|12052]] grows on gravelly and sandy sediments resulting from the break-up of quartzite, mostly among grasses and low shrubs and under trees.
Synonyms:
See all synonyms of Discocactus heptacanthus
Description: Discocactus silicicolaSN|33218]]SN|12052]] has been treated as belonging to Discocactus heptacanthus which is one of the most widespread and morphologically variable taxon. This species forms a cephalium when it reaches about 10-12 cm in diameter. The names D. silicicola is not accepted by many botanists that treat it as synonym, but it still has a value for a collector because they identify plants with particular characters.
Derivation of specific name: "silicicola" translates as "loving quartz" and means that this species grows exclusively in alluvial quartz sands.
Stem: Mostly single, but in cultivation older plants may produce several offsets, spherical flattened, up to 150 mm wide and 50 mm tall, dull grey-green or dark green, aften red-brown under stress condition; this pigmentation protects the plant from the sun, like tanning in humans.
Ribs: 10, straight or in slight spirals, divided into tubercles up to 35 mm wide and 25 mm high.
Areoles: Oval, up to 8 mm long and 5 mm wide with yellowish to greyish wool.
Radial spines. 3-6, usually curved toward the stem, yellowish-white to greyish-brown, the lower the longest, up to 40 mm long and 2 mm thick, the other two pairs of spines nearly equal directed obliquely to the sides, the upper spines significantly shorter and weaker.
Central spines: Missing.
Flowers: Funnel-shaped, 70 mm long and 35-40 mm wide, white.
Cephalium: About 25 mm wide (in cultivation up to70 mm) and 20 mm high composed of white-grey to light brown wool and up to 30 mm long brownish bristles.
Fruit: Club-shaped, up to 30 mm long and 6 mm wide, white to pinkish with dried remnants of its flower.
Seeds: 1.5 x 1.9 mm in size, testa papillae, glossy black.
Related species: Discocactus silicicolaSN|12038]]SN|12052]] is variable in shape, but closely related and very similar to other species such as Discocactus magnimammusSN|12052]]SN|12038]] and Discocactus mamillosa that grow near the Brazilian-Paraguayan border and Discocactus hartmanniiSN|12052]]SN|33218]] that comes from Paraguay, the specific characteristics which separate these species seems tenuous at best. For example, differences in the colour of the cephalium bristles appear to be the only decree for segregated species. The entire genus Discocactus, however, requires a detailed study that would help resolve the relationship between species.
Subspecies, varieties, forms and cultivars of plants belonging to the Discocactus heptacanthus group
Bibliography: Major references and further lectures
1) John Pilbeam "Cacti for the Connoisseur: A Guide for Growers & Collectors" Timber Press, 01 July 1987
2) Braun P. "A review of the genus Discocactus", Cact. Succ. J. Amer., 50 : 190-192; 239-241, 271-273, 1978
3) Buining A.F.H., "The genus Discocactus" (undated, probably 1979)
4) Königs G., "Die Gattung Discocactus", in Kakt. und and. Sukk., 28 : 182-185, 1977
5) Schütz B., "Discocactus silicicola", in Kaktusy 77, 13 : 101-102, 1977
6) "Discocactus silicicola Buining et Brederoo", in Cact. Succ. J. US, 4 : 214-217, 1975
7) Jan Říha. "Discocactus silicicola Buining et Brederoo" retrieved on 25 June 2016 from <http://www.cact.cz/galerie_test/detail.php?id=196>
Discocactus silicicola, Mato Grosso do Sul, Brasil.
Photo by: Alexander Arzberger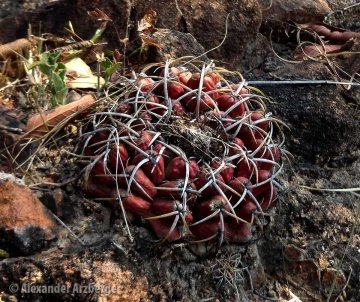 - Mato Grosso do Sul, Brasil. September 2012. The plants are very variable.
Photo by: Alexander Arzberger
Mato Grosso do Sul, Brasil. September 2012.
Photo by: Alexander Arzberger
Mato Grosso do Sul, Brasil. September 2012.
Photo by: Alexander Arzberger
Habitat of Discocactus silicicola, Mato Grosso do Sul, Brasil.
Photo by: Alexander Arzberger
Mato Grosso do Sul, Brasil. September 2012.
Photo by: Alexander Arzberger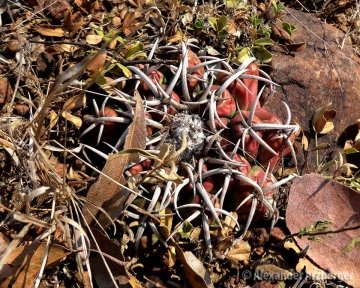 Discocactus silicicola
Photo by: Alexander Arzberger
Discocactus silicicola
Photo by: Alexander Arzberger
Cultivation and Propagation: Discocactus silicicola is not the easiest plant to keep happy, so it isn't a plants for beginners, in fact collectors consider the Discocactus to be rarities which requires skilful cultivation. Under glass, it present some challenges — all related to that nasty three letter word . . . ROT. The problem lies somewhere in the fact that most discos have a very shallow wimpy root system composed of many small fine roots. If these roots ever fail, the ability to regenerate roots is not proficient. This may explain the observation that in habitat, these plants are found growing in very sandy soil and — often in pure quartz sand devoid of much organic matter! It appreciates milder winter temperatures and more generous summer watering than most of the other genera of compact cacti. When grown to maturity, however, it possess an exotic look shared by no other cacti, and it generally attract a lot of attention.
Growing rate: It is slow growing.
Soil: It likes very porous standard cactus mix soil. Prefer a low pH compost, avoid substrata rich in limestone; otherwise growth will stop altogether.
Repotting: They generally resent being repotted and can take a long time to establish.
Fertilization: Feed with a high potassium fertilizer in summer.
Exposition: The plant tolerates bright situations but enjoys filtered sunlight or afternoon shade, inside it needs bright light, and some direct sun. Tends to bronze in strong light, which encourages flowering and heavy spine production.
Waterings: Discocacti are very rot prone when kept on their own roots and though they can't endure long stretches of total dryness, too much water with cool will rot them, as their weak root systems tend to be inefficient at sucking up water from wet soil.
Hardiness: It is rather difficult to grow and frost tender, it can't stand cold, or even fairly cool temperatures and should be kept at above 15° C if grown on its own roots (8°C if grafted).
Traditional uses: The stems are used to make candies.
Pests & diseases: It may be attractive to a variety of pests or diseases:
- Red spiders: Red spiders may be effectively rubbed up by watering the plants from above.
- Mealy bugs: Mealy bugs occasionally develop aerial into the new growth among the wool with disfiguring results, but the worst types develop underground on the roots and are invisible except by their effects.
- Scales: Scales are rarely a problem.
- Rot: Rot it is only a minor problem with cacti if the plants are watered and "aired" correctly. If they are not, fungicides won't help all that much.
Propagation: Seeds or grafting. Seeds germinate in 7-14 days at 21-27° C in spring, remove gradually the glass cover as soon the plants will be well rooted (ca 1-2 weeks) and keep ventilated, no full sun for young plants! .Young seedlings are often grafted on a low stock to keep the plant in a good shape.