Donate now to support the LLIFLE projects.
Your support is critical to our success.
Since 4 Aug 2013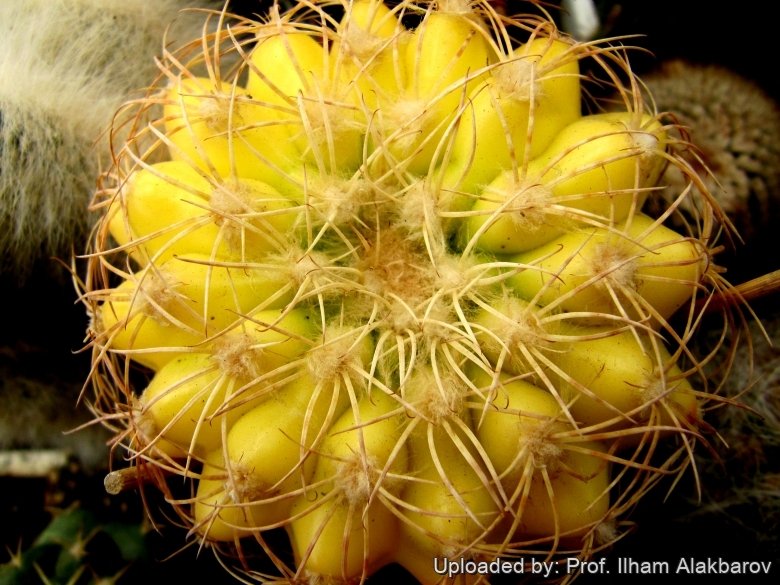 Discocactus heptacanthus f. aurea Photo by: Prof. Ilham Alakbarov
Origin and Habitat: Garden origin (Nursery produced cultivars).
Synonyms:
See all synonyms of Discocactus heptacanthus
Description: Discocactus heptacanthusSN|12017]] is a solitary flattened cactus that form a cephalium at maturity and blooms on warm summer nights. The "aurea" form is a rare chlorophylls-less, golden yellow mutant that can live only grafted onto green columar cacti.
Stem: Globose or slightly depressed, light to golden yellow, 8-28 cm in diameter, 4,5-15 cm tall (without cephalium)
Cephalium: Small, 3-4 cm tall woolly, white to dull pastel with brow or black erected bristles 3-5 cm long.
Ribs: 10-22, up to 2 cm high, broken up into large, rounded tubercles, with more or less deep furrows between, sometime spiralling.
Areoles: Round or oval, at first tomentose, approx 6-10 per rib (in plants with cephalium).
Spines: Whitish, yellowish or brown becoming grey with age, more or less translucent, needle-like or flattened.
Subspecies, varieties, forms and cultivars of plants belonging to the Discocactus heptacanthus group
Notes: Albinism is a genetic aberration where there is a total absence of pigments. An "albino" plant therefore is one with no pigment whatsoever, it will have totally white stems or leaves.
Bibliography: Major references and further lectures
1) Edward Anderson "The Cactus family" Timber Press, Incorporated, 2001
2) James Cullen, Sabina G. Knees, H. Suzanne Cubey "The European Garden Flora Flowering Plants: A Manual for the Identification of Plants Cultivated in Europe, Both Out-of-Doors and Under Glass" Cambridge University Press, 11/Aug/2011
3) David R Hunt; Nigel P Taylor; Graham Charles; International Cactaceae Systematics Group. "The New Cactus Lexicon" dh books, 2006
4) N. L. Britton, J. N. Rose "The Cactaceae. Descriptions and Illustrations of Plants of the Cactus Family." Volume 4, The Carnegie Institution of Washington, Washington 192
4) Urs Eggli, Leonard E. Newton "Etymological Dictionary of Succulent Plant Names" Birkhäuser 2004.
5) Clive Innes "Complete Handbook of Cacti and Succulents" Van Nostrand Reinhold Company, 01/Dec/1981
6) John Pilbeam "Cacti for the Connoisseur: A Guide for Growers & Collectors" Timber Press, 01/Jul/1987
Cultivation and Propagation: Variegated and albinous cacti are regarded as choice and difficult in cultivation, but despite that many of them are relatively easy to grow. But be aware that they cannot tolerate prolonged exposure to direct sun light (especially during the hottest summer days), so grow them in half-shade or under filtered sun. They are sometime seen as grafted plants, but many grow well on their own roots, too.
On the contrary, the albinos can survive only if grafted on a strong green base.
Use mineral well-permeable substratum with little organic matter (peat, humus). Water sparingly from March till October and keep perfectly dry in winter at temperatures from 10 to 15 degrees centigrade. (In general these plants are more tender and cannot endure freezing temperatures ) In the rest period no high atmospheric humidity!!
Propagation: Usually by seed. Plants are often grafted onto column-shaped cacti.