Donate now to support the LLIFLE projects.
Your support is critical to our success.
Astrophytum hybrid AS-CO (A. asterias x A. coahuilense) Photo by: Valentino Vallicelli
The F1 hybrid shows intermediate density of hairy scales, while the number of ribs vary from 5 to 8.
Origin and Habitat: Garden origin (Nursery produced cultivar)
Synonyms:
See all synonyms of Astrophytum hybrid
Description: This plant is an example of crossbreed involving two different Astrophytum species (Astrophytum asterias x Astrophytum coahuilenseSN|1850]]SN|1850]]) the resulting interspecific F1 hybrid shows intermediate characteristic from both the parents and an epidermis covered by silvery scales.
Remarks:Compare with the inverse hybrid Astrophytum hybrid CO-AS (A. coahuilense x A. asterias) which is similar but with (usually) 5 ribs.
Subspecies, varieties, forms and cultivars of plants belonging to the Astrophytum hybrid group
Notes: To crossbreed, or hybridise, two different plants it is necessary to take the pollen from the anther (male organs) of one plant and move it to the stigma, (female organ) of another, making sure that no other pollen apart from the one that is supplied can reach the stigma. In autosterile species (like the plant in example) it is quite easy, the pollen can be collect (for example whit a small painting brush or with a pair of forceps) and then placed directly over the receptive stigma, after that the fecundated flower can be covered with a paper bag.
Astrophytum hybrid
AS-CO (A. asterias x A. coahuilense)
Photo by: Valentino Vallicelli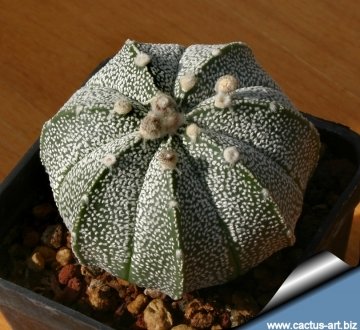 Astrophytum hybrid
AS-CO (A. asterias x A. coahuilense)
Photo by: Cactus Art
A. Asterias, A. coahuilense & hybrids
Photo by: Valentino Vallicelli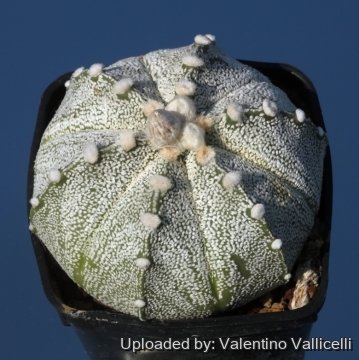 Astrophytum hybrid
AS-CO (A. asterias x A. coahuilense)
Photo by: Valentino Vallicelli
Cultivation and Propagation: The hybrids of Astrophytum are summer-growing cacti and relatively easy plants thought slow to grow. They makes great potted specimens. They are sometime seen as a grafted plants but grow very well on their own roots too.
Soil: They grow well in a rich, well drained soil such us pumice, lava grit, and only a little peat or leaf-mould.
Repotting: If potted, repot them preferably in the spring, if their roots become cramped. Generally, they should be repotted every other year in order to provide fresh soil. However, this doesn't necessarily mean they'll need larger containers. Fill about a quarter of the pot with broken crocks, gravel, etc. to promote good drainage. After repotting, do not water for a week or more. Use pot with good drainage. Eventually, as the plant becomes mature grow it slowly, and adopt a new repotting period, using intervals of every 2 - 3 years. Additionally grow it under drier conditions or with stronger sunlight.
Watering: Water sparingly from March until October so long as the plant pot is allowed to drain and not sit in a tray of water (It rots easily, especially if over wet), and also needs to be avoided wetting the body of this plant while it is in sunlight. A wet cactus in the sun light can cause sun burning which can lead to scares or even fungal infections and death.. Let dry between watering. During hot weather you may need to water the plants more frequently so long as the plant is actively growing. From late September watering should be reduced to force the plant to go in to a state of semi dormancy, by October you should be back in to the winter watering regime. If the soil is allowed to be dry for too long root loss could follow but equally the same result would occur if the plants are both wet and cold. From March onward the plant will begin to grow and watering should be increased gradually until late May when the plant should be in full growth
Fertilization: Feed with a high potassium fertilizer in summer. Feeding may not be necessary at all if the compost is fresh then, feed in summer only if the plant hasn't been repotted recently. Do not feed the plants from September onward as this can cause lush growth which can be fatal during the darker cold months.
Hardiness: When dormant, the plant is slightly cold tolerant (down to nearly -5° C or less), but when left out it is more sensitive to frost. However warmth throughout the year will increase the grower's success (at minimum temperatures from 5 to 15 centigrade degrees during rest season). During the summer it is best to keep the plants outside where the temperature can rise to over 30 C with no harm to the plant. In the rest period no high atmospheric humidity!!
Exposure: They do need a lot of light to develop their typical compact shape, but different clones vary in their tolerance of full sunshine. However some protection in light shade is recommended during the hottest hours in summer. They can tolerate moderate shade, and a plant that has been growing in shade should be slowly hardened off before placing it in full sun as the plant will be severely scorched if moved too suddenly from shade into sun. If kept too dark they may become overly lush and greener and could be prone to rotting due to over watering.
Uses: They are excellent plants for container growing. It always looks good and stays small.
Diseases and pests: Watch for infestations of mealybugs, scale insects and spider mite. Rot is only a minor problem with cacti if the plants are watered and "aired" correctly. If they are not, fungicides won't help all that much.
Propagation: Almost exclusively by seed. Plants are sometimes grafted onto column-shaped cacti. Seed Collecting: Permit fruit to ripen. Fruit must be significantly overripe before harvesting seed; clean and dry seeds.