Donate now to support the LLIFLE projects.
Your support is critical to our success.
Echinopsis chiloensis var. borealis
[ as: Trichocereus chilensis var. borealis F.Ritter 1980.]
Family: CACTACEAE
Accepted Scientific Name: Echinopsis chiloensis (Colla) H.Friedrich & G.D.Rowley
I.O.S. Bull. 3(3): 94 (1974)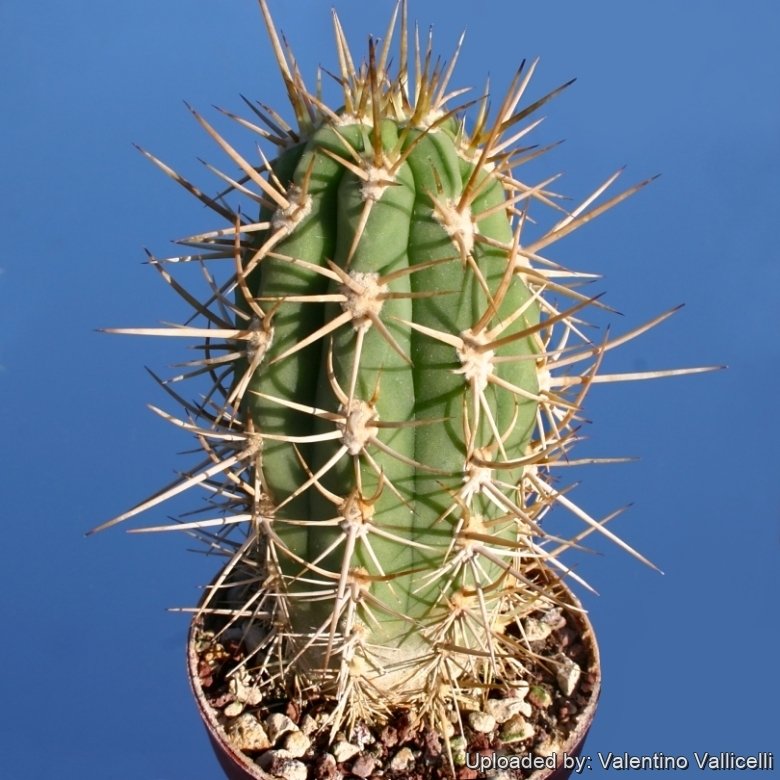 Echinopsis chiloensis var. borealis Photo by: Valentino Vallicelli
It is a fiercely spiny cactus. In habitat it can produce very long spines, up to 25 cm long, but usually shorter in cultivated specimens.
Origin and Habitat: Elqui valley, Huanta, 04 Coquimbo, Chile.
Synonyms:
See all synonyms of Echinopsis chiloensis
Common Names include:
SPANISH (Español):
Cacto, Quisco
Description: Echinopsis chiloensisSN|7742]]SN|7742]] var. eburnea previously known as Trichocereus chiloensisSN|7744]]SN|7744]] var. borealis is a fiercely spiny cactus. In habitat it can produce very long spines, up to 25 cm long, but usually shorter in cultivated specimens. The fruit and seed are similar to those of the other Varieties. Nowadays this plant is not considered a distinct variety but only one of the variable phenotypes of this this clinal species.
Habit: It develops into a shrub or small tree. Rarely single, usually of several branches, sometimes of many, arising from near the base, starting nearly at right angles to the main trunk but soon erect.
Stem: Stout, cylindrical up to 8 m tall, stems 10-12 cm in diameter
Ribs: 10 to 17 low and broad ribs, separated by narrow intervals, divided into large tubercles even when fully mature.
Areoles: Areoles large whitish, 2 cm apart.
Spines: Creamy-white to yellowish with brown tips, at least when young, greyish later.
Central spines: Usually 1 (or sometime up to 4) stout, 5-10 cm (or even 25 cm) long
Radial spines: 8 to 12 1-2 cm long (occasionally up to 5 cm).
Flowers: Flower Nocturnal (opening at the end of the day) 14 cm. long, outer perianth-segments white but tinged with red or brown; inner perianth-segments white, acuminate.
Fruit: Globose green.
Subspecies, varieties, forms and cultivars of plants belonging to the Echinopsis chiloensis group
Bibliography: Major references and further lectures
1) Edward Anderson "The Cactus family" Timber Press, Incorporated, 2001
2) James Cullen, Sabina G. Knees, H. Suzanne Cubey "The European Garden Flora Flowering Plants: A Manual for the Identification of Plants Cultivated in Europe, Both Out-of-Doors and Under Glass" Cambridge University Press, 11/Aug/2011
3) David R Hunt; Nigel P Taylor; Graham Charles; International Cactaceae Systematics Group. "The New Cactus Lexicon" dh books, 2006
4) Friedrich Ritter "Kakteen in Südamerika: Ergebnisse meiner 20jährigen" Volume 2, Argentinien/Bolivien, Volume 2 Selbstverlag, 1980
5) Curt Backeberg "Die Cactaceae: Handbuch der Kakteenkunde," Volume 2 G. Fischer, 1959
6) N. L. Britton and J. N. Rose "The 'Cactaceae', Descriptions and Illustrations of Plants of the 'Cactus' Family" volume 2 Carnegie Institution, 1920
7) Riedemann, P. y G. Aldunate. "Flora Nativa de Valor Ornamental; Identificación y Propagación. Chile, Zona Centro." Edición 2, Chile 2004.
8) Gordon Douglas Rowley "Reunion of the genus Echinopsis". In: IOS Bulletin. Journal of the International Organization for Succulent Plant Study. Volume 3, Nuber 3, page 94 , 1974
9) Haustein, Erik. "Der Kosmos-Kakteenführer." Kosmos / Gesellschaft der Naturfreunde., Stuttgart, 1983
10) Walter, H.E., Faundez, L., Guerrero, P. & Saldivia, P. 2013. Echinopsis chiloensis. In: IUCN 2013. "IUCN Red List of Threatened Species". Version 2013.1. <www.iucnredlist.org>. Downloaded on 31 October 2013.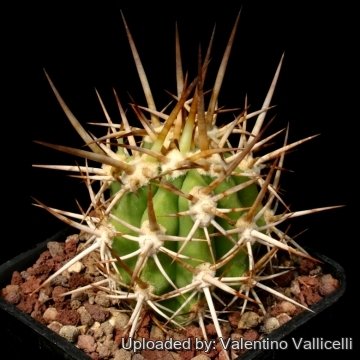 Echinopsis chiloensis var. borealis
Photo by: Valentino Vallicelli
Echinopsis chiloensis var. borealis
Photo by: Cactus Art
Cultivation and Propagation: Trichocereus chiloensisSN|7744]]SN|7744]] is very easy to grow and cold hardy as low as -12°C (or less). Need a fertile, well drained soil mix. Water the plants well and allow them to dry before watering again. This species seems to do better with a little more water than most cacti. In fact, its cultivation requirements are really more like 'normal' plants than most other cacti. During the growing season fertilize them monthly with a balanced fertilizer
Sun Exposure: Outside full sun, inside needs bright light, and some direct sun. During winter month, put them in a cool luminous place and encourage them to enter winter dormancy by withholding water and fertiliser over the winter as they will etiolate, or become thin, due to lower levels of light.
Pest smd diseases: They are susceptible to fungal diseases if overwatered, but are not nearly as sensitive as many other cacti, especially in warm weather. They tend characteristically towards black rotted spots unless watering is moderate and only in hot weather, if kept damp through cold periods, they will invariably suffer.
Growth rate Trichocereus chiloensisSN|7744]]SN|7744]] produces noticeable amounts of growth each year if kept well fed and watered throughout the warmest months, particularly if it has been acclimatised to accept full sun. Once this cactus is established it can easily produce 20 cm of growth every year.
Propagation:: Cutting or from seed. The seeds are quite easy to germinate and grow. Their main requirements consist of high humidity levels, free-draining soil mix, and enough water, light, and nutrition.