Donate now to support the LLIFLE projects.
Your support is critical to our success.
Accepted Scientific Name: Ariocarpus retusus Scheidw.
Bull. Acad. Roy. Sci. Bruxelles 5: 492 (t. 1). 1838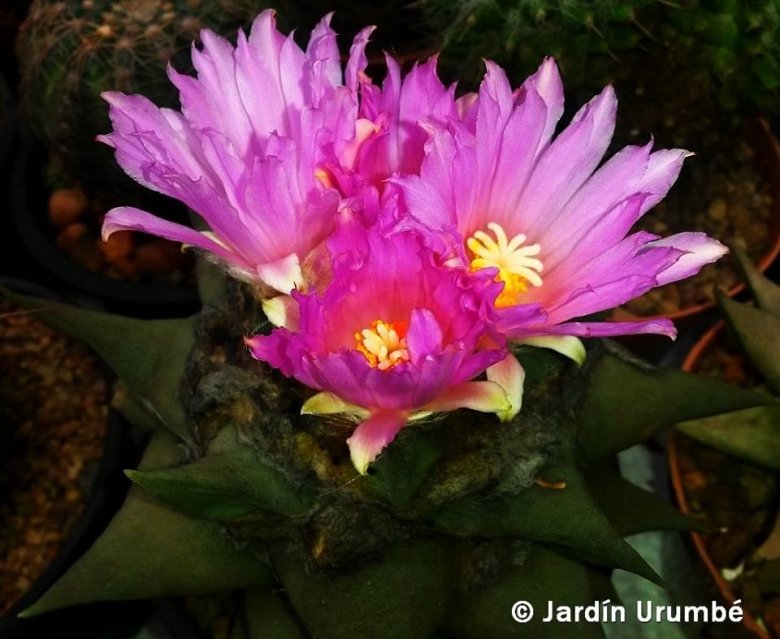 Ariocarpus confusus Photo by: Alexander Arzberger
Origin and Habitat: Aramberri area of Nuevo Leon, Mexico
Synonyms:
See all synonyms of Ariocarpus retusus
Accepted name in llifle Database:
Ariocarpus retusus
Scheidw.
Bull. Acad. Roy. Sci. Bruxelles 5: 492 (t. 1). 1838
Synonymy: 31
Accepted name in llifle Database:
Ariocarpus retusus subs. trigonus
(F.A.C.Weber) E.F.Anderson & W.A.Fitz Maur.
Haseltonia 5: 18. 1998 [1997 publ. 1998]
Synonymy: 7
Cultivars (11):
Common Names include:
ENGLISH:
Living Rock, Star Rock
LITHUANIAN (Lietuvių):
Keistasis ariokarpas
Description: Ariocarpus confusus is a peculiar local form somewhat intermediate between Ariocarpus retusus and Ariocarpus trigonus. This two taxa intergrade in the area adjacent to Aramberri (a natural hybrid?). The peculiarity of Ariocarpus confusus is that it usually develops deep magenta flowers (a color not found in any other populations of A. retusus/trigonus), however white or pink flower or variations of the two or even bicoloured flowers in the same plant are not uncommon.
Habit: Solitary globose plant, rising slightly above ground level, rounded on top
Stem: 10 to 20 cm in diameter, 4 to 10 cm tall.
Tubercles: Upright tan brownish/green to magenta/green divergent, not crowded or basally compressed, acute at the apices, flattened and smooth adaxially, not fissured, incurved strongly, 3-8 cm long, 1-2,5 cm broad, usually more long than wide.
Root: Tap root.
Flowers: Extremely variable from Cream-white to rich magenta, 3 to 5 cm in diameter up to 4 cm long.
Blooming season: They come in late autumn or early winter.
Remarks: Ariocarpus confusus is an extremely variable species.
Subspecies, varieties, forms and cultivars of plants belonging to the Ariocarpus retusus group
Notes: Ariocarpus confusus is a controversial taxon erected by Halda & Horacek in 1998 to indicate the plants of the Ariocarpus retusus/trigonus complex found in several locations around in the Aramberri region. This Ariocarpus are extremely variable in body form, and also in flower colour. Aramberri is located in a valley between two mountain slopes. On either side of the valley one may find population that looks like the typical Ariocarpus retusus while other resembles the typical Ariocarpus trigonus, with a range of intermediates between the two. Morphologically, plants belonging to the confusus species resemble either the retusus ssp or the trigonus ssp. However, they are easily distinguished from either of these retusus sub-species by their interesting variation is in the flower color, which can range from white through to magenta, a color not found in any other populations of A. retusus/trigonus. Bicoloured flowers also occur.
Bibliography: Major references and further lectures
1) Edward F. Anderson "The Cactus Family" Timber Press, 2001
2) Curt Backeberg "Cactus Lexicon" Sterling Publishing Company, Incorporated, 1978
3) Hiroshi Hirao "Colour encyclopaedia of cacti" Japan 1979 (Japanese language and script)
4) Willy Cullmann, Erich Götz (Dozent Dr.), Gerhard Gröner "The encyclopedia of cacti" Portland, OR: Timber Press, 1986
5) David Hunt, Nigel Taylor "The New Cactus Lexicon" DH Books, 2006 ISBN 0953813444, 9780953813445
6) James Cullen, Sabina G. Knees, H. Suzanne Cubey "The European Garden Flora Flowering Plants: A Manual for the Identification of Plants Cultivated in Europe, Both Out-of-Doors and Under Glass" Cambridge University Press, 11/Aug./2011
Ariocarpus confusus
Photo by: Alexander Arzberger
Ariocarpus confusus
Photo by: Prof. Ilham Alakbarov
Ariocarpus confusus
Photo by: Valentino Vallicelli
- SB1426, Marmelajo, Nuevo Leon. This is the classical form of the plant with deep magenta flowers (Note that the magenta pigment also tinges the tubercles)
Photo by: Valentino Vallicelli
Cultivation and Propagation: This species is slow growing if compared with other retusus forms, but of easy culture in a well drained non-organic free draining soil compost, with ample water during the growing season. Use of a weak low-nitrogen fertilizer during the growing season can encourage growth. The main threat to their development is root rot. Ariocarpus should be kept dry whenever there is a threat of cold. The appearance of Ariocarpus can benefit greatly by watering the plants from the bottom. This practice will help to keep the "wool" on the top of the plant from becoming matted or discoloured. Need light shade to full sun. Frost Tolerance: Hardy to -10°
Propagation: Seed, but will generally take about 6-10 years to reach flowering size, occasionally grafted.