Donate now to support the LLIFLE projects.
Your support is critical to our success.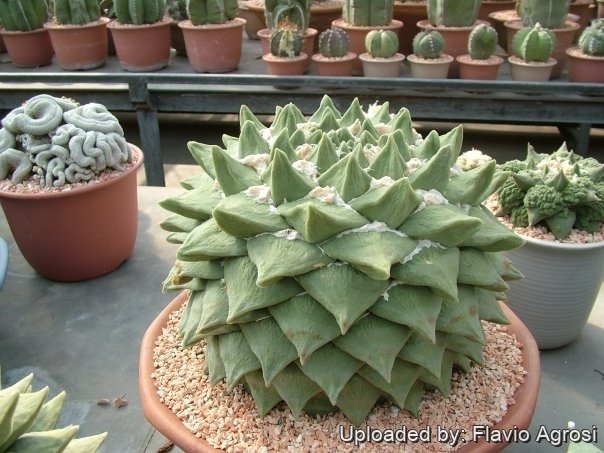 Ariocarpus retusus cv. Frumdosus Photo by: Flavio Agrosi
Origin and Habitat: Garden origin, nursery produced cultivar (Japan?)
Synonyms:
See all synonyms of Ariocarpus retusus
Accepted name in llifle Database:
Ariocarpus retusus
Scheidw.
Bull. Acad. Roy. Sci. Bruxelles 5: 492 (t. 1). 1838
Synonymy: 31
Accepted name in llifle Database:
Ariocarpus retusus subs. trigonus
(F.A.C.Weber) E.F.Anderson & W.A.Fitz Maur.
Haseltonia 5: 18. 1998 [1997 publ. 1998]
Synonymy: 7
Cultivars (11):
Description: Unlike the type species, this cultivar has not convex, bulging tubers, but flat and smooth giving them an aspect of tetrahedron.
Subspecies, varieties, forms and cultivars of plants belonging to the Ariocarpus retusus group
Cultivation and Propagation: Ariocarpus retususSN|2079]]SN|2079]] is slow growing but certainly not as slow as some other types of cacti, it is of easy culture in a well drained, non-organic, free-draining soil compost, with ample water during the growing season.
Growth rate: Slow growing. It needs about 8-12 years to reach the typical, definite outlook.
Soil: Grow it in an open sandy-gritty cactus compost.
Fertilization: Use of a weak low-nitrogen fertilizer during the growing season can encourage growth.
Special need: Provide very good ventilation. Nearly all problems occur as a result of overwatering and poor ventilation, especially when weather conditions are dull and cool or very humid.
Pest and diseases: The main threat to their development is root rot. Ariocarpus should be kept dry whenever there is a threat of cold.
Watering: The appearance of Ariocarpus can benefit greatly by watering the plants from the bottom. This practice will help to keep the "wool" on the top of the plant from becoming matted or discoloured.
Exposure: It need light shade to full sun.
Frost Tolerance: When dormant, plants are relatively cold-tolerant (Hardy to -10° C), but for safe cultivation it is best to avoid temperatures below 0° C.
Propagation: It is probably the easiest species of the genus to raise from seed, but will generally take about 6-10 years to reach flowering size, often grafted. The seeds can be sown in pots of fine, well-drained sandy soil, any time during the spring when temperatures are warm. Cover the seeds with a fine layer of grit and water from below with a fungicide to prevent damping off. For the 1-2 weeks cover the pots with a sheet of glass/clear perspex to keep the humidity levels high. Remove the glass and replace it with light shade-cloth and mist once or twice a day for the next two weeks after which most seeds should have germinated. From then on mistings can be reduced to every second and then every third day as the little plants grow.