Donate now to support the LLIFLE projects.
Your support is critical to our success.
Since 4 Aug 2013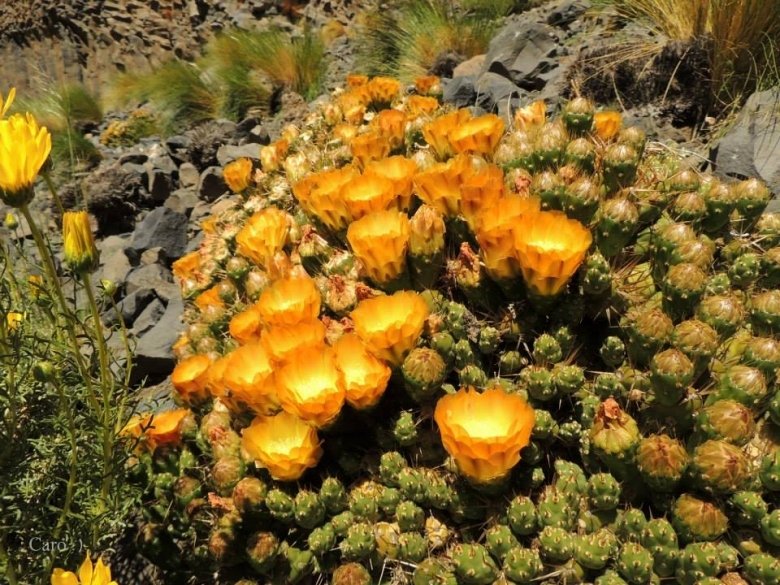 Maihueniopsis darwinii Photo by: Carolina González
Origin and Habitat: Maihueniopsis darwinii is widespread and abundant in Argentina (Province of Buenos Aires, Río Negro and Chubut) and Chile (Only in the locality of Bahía Jara, Chile Chico, Region XI de Aysén)
Altitude range: It can be found at elevations of 0 to 2,000 metres above sea level.
Habitat: The species grows in monte shrubland and in the Patagonian grasslands on rocky soils. It is very well adapted to the cold climate. It grows most of the time in full sun but sometimes also with a little shelter of some bushes. In some areas during the winter the plants are 1-2 m covered with snow. In the spring when the snow starts melting the substrate becomes wet although the (night) temperatures can be quite low at this time. There is no known use or trade of this species.
Synonyms:
See all synonyms of Maihueniopsis darwinii
Accepted name in llifle Database:
Maihueniopsis darwinii
(Hensl.) F.Ritter
Kakteen Südamerika 2: 389. 1980
Synonymy: 15
Common Names include:
ENGLISH:
Darwin's cactus
Description: Maihueniopsis darwinii is a fiercely spined, mat forming cactus up to 10 cm in diameter and height. The stems may be very tight or lose depending on clones. M. darwinii resembles some forms of O. fragilis in the shape and size of the joints or stems. It also has the ability to spread itself when loosely attached joints break away from the main plant and root wherever they land. It is interesting that O. fragilis has one of the most northern ranges in the cactus family, while M. darwinii has one of the most southern, being from Patagonia at the southern end of South America.
Root: Enlarged tuberose, with taproots up to more than 30 cm long on plants that appear to be quite small above ground.
Stem (cladodes): Olive-green ovoidal, not tuberculate up to 3 cm in diameter.
Areoles: Approx 4 mm in diameter, circular beset with short white glochids.
Spines: Four to six stiff spines of various lengths (2.5 to 4 cm long), and very sharp, present in the upper areoles but absent in the basal areoles of the cladode. Spines have a emphasized central rib with flat margins (winged). They mostly point forward but some spread in all directions.
Leaves: The leaves on Maihueniopsis are very small and fall off early.
Flowers: Solitary larger than the articulations, and very decorative, dirty yellow-orange 2.5-6 cm in diameter. Tepals in about six whorls each of five parts gradually passing from the form of small fleshy bracteal scales to membranous petaloid segments spirally arranged. Filaments numerous covering the inner walls of the fleshy tube. Style remarkably stout cylindrical, stigma very big with about 10 obtuse lobes reaching above the fleshy tube and a little beyond the uppermost stamens. Ovarium a small cell the width of the style surrounded by the very thick fleshy walls of the lower part of tube or floral receptacle. Typically in this species the pericarpel is green and fleshy with areoles placed upous slight tubercular elevations in all the surface each bearing a small fleshy bracteal scale in whose axil is a tuft of yellow tomentum and those on the upper extremity are also furnished with about half a dozen stiff acicular spines (the length of the spines increases from below upwards). M. darwinii is remarkable for the irritability of the stamens, when either a piece of stick or the end a finger is inserted in the flower. The segments of the perianth also close on the pistil, but more slowly than the stamens.
Blooming season: Late spring to early summer. Flowering is erratic, though well worth the wait.
Fruit: Fleshy 4 x 2,5 cm similar to the joints for shape and colour. At maturity became yellow-orangish.
Subspecies, varieties, forms and cultivars of plants belonging to the Maihueniopsis darwinii group
Maihueniopsis darwinii

(Hensl.) F.Ritter

: has 4 to 6 spines 2.5 to 4 cm long, and very sharp, present in the upper areoles. Flowers yellow-orange 2.5-6 cm in diameter. Distribution: Argentina and Chile.

Maihueniopsis darwinii var. hickenii

(Britton & Rose) R.Kiesling

: has a greater number of spines that are longer, broader, and showier, but it is much slower growing.

Maihueniopsis platyacantha

(Pfeiff.) D.R.Hunt

: has flatter spines to 5 cm long and 2-cm broad. It is not clear if there is a distinction between this "species" and M. darwinii var. hickenii. Distribution: Mendoza, Neuquen.
Bibliography: Major references and further lectures
1) Edward Anderson "The Cactus family" Timber Press, Incorporated, 2001
2) James Cullen, Sabina G. Knees, H. Suzanne Cubey "The European Garden Flora Flowering Plants: A Manual for the Identification of Plants Cultivated in Europe, Both Out-of-Doors and Under Glass" Cambridge University Press, 11/August/2011
3) David R Hunt; Nigel P Taylor; Graham Charles; International Cactaceae Systematics Group. "The New Cactus Lexicon" dh books, 2006
4) Urs Eggli, Leonard E. Newton: "Etymological Dictionary of Succulent Plant Names" Springer, Berlin/Heidelberg 2010
5) Demaio, P., Kiesling, R., Lowry, M., Méndez, E., Saldivia, P., Faundez, L. & Walter, H.E. 2013. Maihueniopsis darwinii. The IUCN Red List of Threatened Species. Version 2014.3. <www.iucnredlist.org>. Downloaded on 17 March 2015. .
6) Leo J. Chance "Cacti and Succulents for Cold Climates: 274 Outstanding Species for Challenging Conditions" Timber Press, 19 June 2012
7) Charles Darwin "The Voyage of the Beagle" Bookpubber, 24 mar 2014
8) George Johnston "Magazine of Zoology and Botany", Volume 1 W.H. Lizars, 1837
Maihueniopsis darwinii
Photo by: Cactus Art
Maihueniopsis darwinii
Photo by: Carolina González
Maihueniopsis darwinii
Photo by: Carolina González
Maihueniopsis darwinii
Photo by: Carolina González
Maihueniopsis darwinii
Photo by: Cactus Art
Maihueniopsis darwinii
Photo by: Flavio Agrosi
In habitat in the Argentine Precordillera.
Photo by: Carolina González
- Neuquén province, Argentina.
Photo by: Carolina González
Cultivation and Propagation: Maihueniopsis darwinii is susceptible to overwatering, but need enough water during the growing season. This mountain cactus, because of the elongated fat taproot, necessitate deep pots and a well drained mineral potting mix. It prefers a full sun exposure, but should be protected from excessive heat and sun in summer.
Growth rate: It make low, thick mats or mounds over time and are most vigorous in deep, loamy soils with some supplemental water during hot, dry spells.
Frost Tolerance: They tolerate light frost -5 (-10 or less) °C. Need to be kept in a cool place during winter rest this is important for the flowers as well as for their health. Without this cool winter period they normally wont get many buds. Keep dry in winter to avoid rot. Need a sufficient amount of air. These odd, little cacti do not mind being buried under a thick layer of mulch, cloth, or snow for the entire winter, but it is not necessary.
Propagation: Seeds are extremely difficult to germinate. Best reproduced from rooted cuttings. Grafting is sometime used because it is quite root prone on its own roots and to create a back-up for plants in collection.
Warning: Spines are extremely sharp and very dangerous (This is one of the most dangerous of all cactus). Handle it with extreme caution, and keep it away from gangways and areas frequented by children and animals.
Your Photos
---
by Cactus Art
by Valentino Vallicelli
by Valentino Vallicelli
by Carolina González
by Valentino Vallicelli