Donate now to support the LLIFLE projects.
Your support is critical to our success.
Since 4 Aug 2013
Accepted Scientific Name: Maihueniopsis darwinii (Hensl.) F.Ritter
Kakteen Südamerika 2: 389. 1980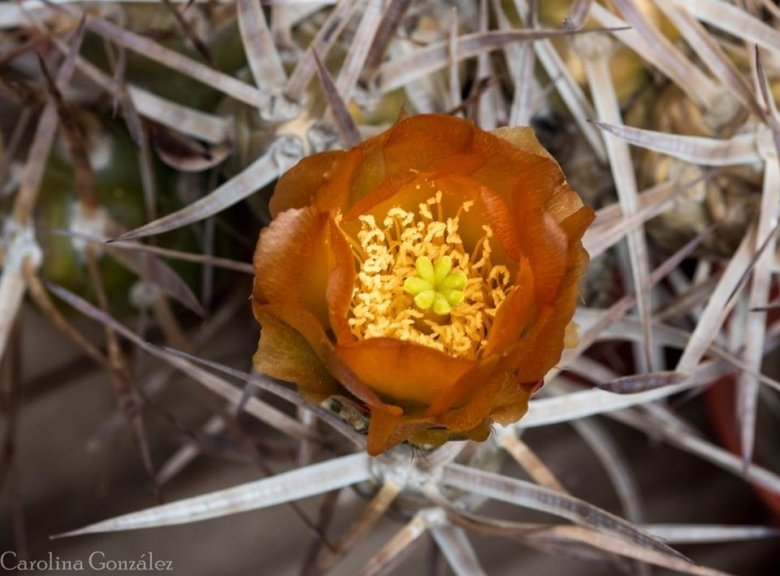 Maihueniopsis darwinii var. hickenii Photo by: Carolina González
Origin and Habitat: Argentina and Chile.
Synonyms:
See all synonyms of Maihueniopsis darwinii
Accepted name in llifle Database:
Maihueniopsis darwinii
(Hensl.) F.Ritter
Kakteen Südamerika 2: 389. 1980
Synonymy: 15
Description: Maihueniopsis darwinii var. hickenii is a very decorative variety distinguished from var. darwinii for the more numerous, broader, flatter, somewhat flexible and showier, spines, but it is much slower growing. The spines are are more numerous on the upper half of the egg-shaped stems. It make low, thick mats or mounds that appear to be quite small above ground. The flowers are yellowish orange about 2.5 cm wide.
Subspecies, varieties, forms and cultivars of plants belonging to the Maihueniopsis darwinii group
Maihueniopsis darwinii

(Hensl.) F.Ritter

: has 4 to 6 spines 2.5 to 4 cm long, and very sharp, present in the upper areoles. Flowers yellow-orange 2.5-6 cm in diameter. Distribution: Argentina and Chile.

Maihueniopsis darwinii var. hickenii

(Britton & Rose) R.Kiesling

: has a greater number of spines that are longer, broader, and showier, but it is much slower growing.

Maihueniopsis platyacantha

(Pfeiff.) D.R.Hunt

: has flatter spines to 5 cm long and 2-cm broad. It is not clear if there is a distinction between this "species" and M. darwinii var. hickenii. Distribution: Mendoza, Neuquen.
Bibliography: Major references and further lectures
1) Edward Anderson "The Cactus family" Timber Press, Incorporated, 2001
2) David R Hunt; Nigel P Taylor; Graham Charles; International Cactaceae Systematics Group. "The New Cactus Lexicon" dh books, 2006.
3) Leo J. Chance "Cacti and Succulents for Cold Climates: 274 Outstanding Species for Challenging Conditions (Google eBook)" Timber Press, 19 June 2012
Cultivation and Propagation: This species is susceptible to overwatering, but need enough water during the growing season. This mountain cactus, because of the elongated fat taproot, necessitate deep pots and a well drained mineral potting mix. It prefers a full sun exposure, but should be protected from excessive heat and sun in summer.
Growth rate: It make low, thick mats or mounds over time and are most vigorous in deep, loamy soils with some supplemental water during hot, dry spells.
Frost Tolerance: They tolerate light frost -5 (-10 or less) °C. Need to be kept in a cool place during winter rest this is important for the flowers as well as for their health. Without this cool winter period they normally wont get many buds. Keep dry in winter to avoid rot. Need a sufficient amount of air. These odd, little cacti do not mind being buried under a thick layer of mulch, cloth, or snow for the entire winter, but it is not necessary.
Propagation: Seeds are extremely difficult to germinate. Best reproduced from rooted cuttings. Grafting is sometime used because it is quite root prone on its own roots and to create a back-up for plants in collection.
Warning: Spines are extremely sharp and very dangerous (This is one of the most dangerous of all cactus). Handle it with extreme caution, and keep it away from gangways and areas frequented by children and animals.