Donate now to support the LLIFLE projects.
Your support is critical to our success.
Since 4 Aug 2013
Accepted Scientific Name: Lophophora williamsii (Lem. ex Salm-Dyck) J.M.Coult.
Contr. U.S. Natl. Herb. 3: 131. 1894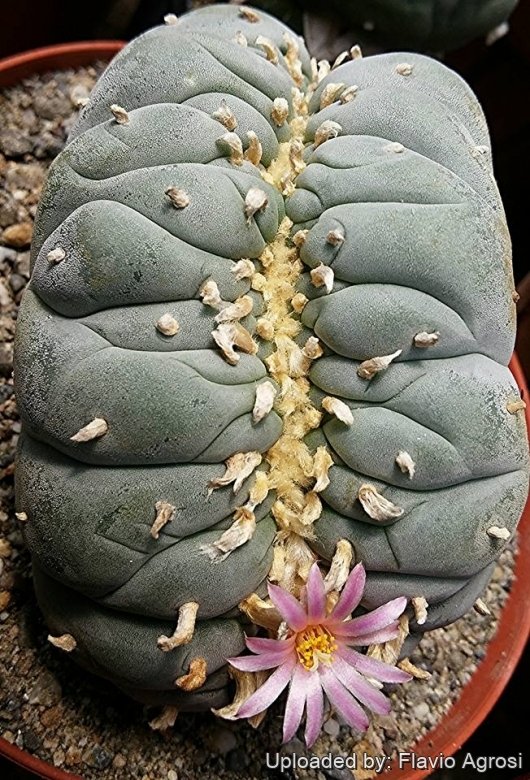 Lophophora williamsii var. fricii f. cristata Photo by: Flavio Agrosi
Origin and Habitat: Garden origin (Nursery produced cultivar). The natural species has a very limited range around the lagoon near Viesca in the state of Coahuila, Northern Mexico.
Synonyms:
See all synonyms of Lophophora williamsii
Description: Lophophora williamsiiSN|1117]]SN|1117]] var. fricii is a geophytic, button-like, spineless cactus with large tap root, and only the apical part of the stem exposed at soil level. Variety fricii differs from var. williamsii by the large pale to dark pink flowers and stems usually lacking well defined ribs.
Crested form: The beautiful and very rare crested form (Lophophora williamsiiSN|1117]]SN|1117]] var. fricii f. cristata) is sought after by specialized collectors and impassioned for its unique tufted appearance. It forms low growing grey-green fan-shaped stems with broad and flat (rarely elevated) tubercles.
Stem: Fan shaped forming in time nicely contorted and convoluted brain-like mounds. Pale grey-green to yellow-green, usually lacking well defined ribs and furrows.
Areoles: With tufts of hairs that usually spread unequally on the prominent podaria.
Flowers: Commonly pale to dark pink ( or rarely pinkish white), reaching over 4 centimeter in diameter.
Note: Lophophora williamsiiSN|1117]]SN|1117]] var. fricii f. cristata is generally increased from cuttings. However, on sowing seed, a minimal proportion of seedlings show the same crested condition. Whichever way propagation is carried out, the same name is to be applied to the crested plants that form the cultivar, moreover there are several clones shoving different degrees of cristation all referable to the same cultivar name. The non-cristate plants raised from seeds collected on crested parents are treated as indistinguishable parts of the species.
Subspecies, varieties, forms and cultivars of plants belonging to the Lophophora williamsii group
Bibliography: Major references and further lectures
1) Terry, M. 2013. "Lophophora fricii." The IUCN Red List of Threatened Species. Version 2014.3. <www.iucnredlist.org>. Downloaded on 09 December 2014.
2) Edward Anderson "The Cactus family" Timber Press, Incorporated, 2001
3) James Cullen, Sabina G. Knees, H. Suzanne Cubey "The European Garden Flora Flowering Plants: A Manual for the Identification of Plants Cultivated in Europe, Both Out-of-Doors and Under Glass" Cambridge University Press, 11/Aug/2011
4) David R Hunt; Nigel P Taylor; Graham Charles; International Cactaceae Systematics Group. "The New Cactus Lexicon" dh books, 2006
5) Edward F. Anderson "Peyote: The Divine Cactus" University of Arizona Press, 1996
Lophophora williamsii var. fricii f. cristata
Photo by: Prof. Ilham Alakbarov
Lophophora williamsii var. fricii f. cristata
Photo by: Flavio Agrosi
Lophophora williamsii var. fricii f. cristata
Photo by: Flavio Agrosi
Send a photo of this plant.
The gallery now contains thousands of pictures, however it is possible to do even more. We are, of course, seeking photos of species not yet shown in the gallery but not only that, we are also looking for better pictures than those already present.
Read More...
Cultivation and Propagation: Lophophora williamsii var. fricii is a slow growing cactus species.
Soil: Because of the tap root they are very rot prone, so use highly gritty compost with much drainage.
Exposure: Requires half shade to part sun.
Watering: Watering should be rather infrequent to keep the plant compact and avoid it becoming excessively elongated and unnatural in appearance. Watering it properly is often difficult, because this plant tends to crack open or rot if over-watered. The fact that the plant retracts into the soil and assumes a grey-green colouring between watering, is perfectly natural, and doesn't cause any damage.
Overwintering: Keep completely dry and cool in winter (An unheated greenhouse would be perfect) or when night temperatures remain below 10° C, it can survive low temperatures (appr. -7°C) for a short period. Assure a good ventilation.
Use and Trade: The species is used locally for treating sore muscles.
It is very likely that the species is collected for the production of ointments at a large scale. The species might seldom be collected for ingestion by mistake, as it does not have hallucinogenic properties such as Lophophora williansii.
Specific tips for growing the crested forms: The crests are frequently grafted onto columnar cacti but are easily grown on their own roots. Any normal shoots should be removed to promote the growth of the crest.
Propagation: Seeds. Seeds should be sown in spring in sterile cacti mix. Cover with a humidity dome or plastic wrap and leave in a warm spot in 50-75% shade. Fluctuating temperatures are best (ie. high day temperature and low night temperature) as they simulate the desert environment. Keep constantly humid as seedlings cannot survive if to dry. Seedlings will emerge in 7-21 days and can be grown in the same environment for a number of months. Mulch with thin layer of small quartz gravel (1-2mm diameter) this helps them stay upright, hinders algae growth and regulates moisture. As they get older the watering can become less frequent. Potting up can be done when 5-10 mm in diameter.