Donate now to support the LLIFLE projects.
Your support is critical to our success.
Since 4 Aug 2013
sponsored link
Accepted Scientific Name: Echinocereus engelmannii (Parry ex Engelm.) Lem.
Cactées 56. 1868
Echinocereus engelmannii var. purpureus Photo by: Valentino Vallicelli
RP75 St. George, Washington County, Utah, USA
Origin and Habitat: The purple-spined hedgehog cactus (Echinocereus engelmannii var. purpureus) was first described as a distinct taxonomic group in 1969 from specimens collected near St. George, Washington, Utah. It occurs sporadically interspersed throughout populations of Echinocereus engelmannii var. chrysocentrus.
Synonyms:
See all synonyms of Echinocereus engelmannii
Common Names include:
ENGLISH:
Purple-spined Hedgehog Cactus, Varied-spine Edgehog, Strawberry Edgehog, Needle-spine Edgehog, Indian Strawsberry Cactus, Dagger-spine Hdgehog, Calico Cactus
Description: Echinocereus engelmannii var. purpureus commonly known as the "purple-spined hedgehog cactus" is simply a dark-colored, short-spined morphological form that occurs sporadically interspersed throughout populations of Echinocereus engelmannii var. chrysocentrus. The two types of plants cross-pollinate readily in nature and represent only the variability within a multiform population rather than two distinct taxonomic groups. However Echinocereus engelmannii var. chrysocentrus shows many morphological variation within its range and Echinocereus engelmannii var. purpureus doesn't exhibit any independent population integrity and cannot be defended as a distinct species, subspecies, or taxonomic variety.
Habit: It is a formidably spined and free clumping columnar cactus, 6-25-branched, ultimately forming somewhat open clumps of stems.
Stems: Suberect, erect or ascending light green, cylindric or somewhat tapering distally, (10-)15-20(-309 cm tall, and about 5-6 cm in diameter, branching freely from the base.
Ribs: 11 to 14 low, obtuse, tubercles indistinct, crests slightly undulate.
Areoles: Large, nearly circular, 6-15 mm apart, with few stout bristles, wool present in first year only.
Central spines: 5-6 Divergent-porrect, very stout, and rigid, straight or curving and somewhat twisted, terete or somewhat flattened, up to 7 cm long, brownish-purple (bright purple when young).
Radial spines: About 10, appressed, stiff, lighter whitish to creamy coloured 8-20 mm long long, spreading.
Flowers: Purple, 5-8 cm long and even broader when fully expanded. Flower tube hairy, scales on ovary 3-5 mm long acuminate. Perianth segments oblong, 3-4 cm long, acunimate.
Blooming season: Spring, flowers are diurnal close at night and reopen in the morning and last for about five days.
Fruit: Spheric, obovoid or ovoid, spiny, red or orangish about 3 cm long, fleshy, pulp whitish becoming infused with pink or red from the skin. The fruit is edible, it is said to taste like strawberry.
Seeds: Black nearly globular, or a little oblique, 1,5 mm in diameter or less, tuberculate.
Subspecies, varieties, forms and cultivars of plants belonging to the Echinocereus engelmannii group
Bibliography: Major references and further lectures:
1) Edward Anderson "The Cactus family" Timber Press, Incorporated, 2001
2) James Cullen, Sabina G. Knees, H. Suzanne Cubey "The European Garden Flora Flowering Plants: A Manual for the Identification of Plants Cultivated in Europe, Both Out-of-Doors and Under Glass" Cambridge University Press, 11/Aug/2011
3) David R Hunt; Nigel P Taylor; Graham Charles; International Cactaceae Systematics Group. "The New Cactus Lexicon" dh books, 2006
4) Urs Eggli, Leonard E. Newton: "Etymological Dictionary of Succulent Plant Names" Springer, Berlin/Heidelberg 2010
5) N. L. Britton, J. N. Rose: "The Cactaceae. Descriptions and Illustrations of Plants of the Cactus Family." Volume II, The Carnegie Institution of Washington, Washington 1920
6) Paul Foreman "Endangered Species: Issues and Analyses" Nova Publishers, 01/gen/2002
7) Endangered Species Program (U.S.), U.S. Fish and Wildlife Service "Endangered species technical bulletin" Dept. of the Interior, U.S. Fish and Wildlife Service, Endangered Species Program., Volums 11-14 page 12 1989
Echinocereus engelmannii var. purpureus
Photo by: Valentino Vallicelli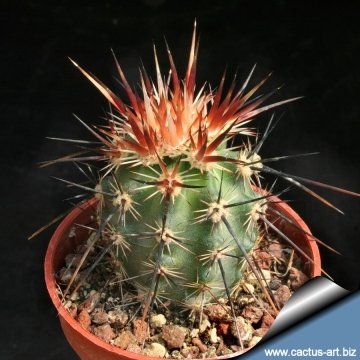 New spines in spring.
Photo by: Cactus Art
Echinocereus engelmannii var. purpureus
Photo by: Valentino Vallicelli
Echinocereus engelmannii var. purpureus
Photo by: Valentino Vallicelli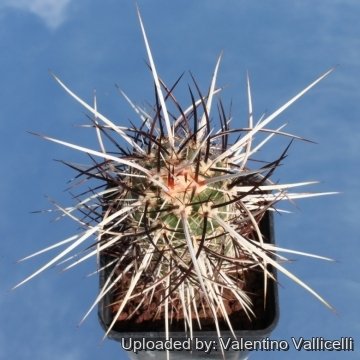 Echinocereus engelmannii var. purpureus
Photo by: Valentino Vallicelli
Send a photo of this plant.
The gallery now contains thousands of pictures, however it is possible to do even more. We are, of course, seeking photos of species not yet shown in the gallery but not only that, we are also looking for better pictures than those already present.
Read More...
Cultivation and Propagation: Echinocereus engelmannii var. purpureus grows rather slowly and it is sensitive to overwatering (rot prone) and needs a very good drainage to avoid rotting, but requires more moisture than true desert cacti to grow and produce flower
Soil: Use a loose well drained cactus mix.
Repotting: It require a deep pot suited to accommodate the swollen root, repotting with fresh potting-mix should be done every other year or when the plant has outgrown its pot. However, repotting doesn't necessarily mean they'll need larger containers.
Sun Exposure: Light shade when young, full sun later. Outside it likes strong sunshine, but is tolerant and do well with light shade during the hot Summer months. Tends to bronze in strong light, which encourages spine production.
Hardiness: It is cold resistant to -10° ( or less depending on clones) for short periods of time. It will show its flowers only if we provide an adequate winter rest period.
Watering: They require moderately watering through the growing season. This can be done weekly or more frequently during the summertime, if the weather is sunny enough, but allow to dry fully before watering again. Kept this way, plants will show a healthy growth. Keep rather dry as soon as the temperature starts dropping in October and keep it dry in winter. The plant survives outside without protection in winter (cold hardy to -5° ) but is then somewhat prone to rot, too.
Fertilization: Give an occasional high potassium liquid feed during the active growing period.
Garden uses: It is a fine plant for a rock garden or container, contrasts well with agaves, yuccas, and low-growing flowering plants.
Pest and diseases: They are generally fairly easy to grow, especially if kept pest-free. They are susceptible to, scale insects and spider mite. Watch carefully for infestations of stem and root mealy bugs, and damage from these may well initiate fungal attack.
Propagation: Seeds, also can be grown from cutting as it branches from the base. Take cuttings spring or summer, let them dry till the ends callous well. Then replant them in fresh cactus soil that is ever so slightly moist, and keep it that way till they root. Surface sowing is the best; seeds germinate in 14-28 days at 20° C, remembering that seedlings dislike strong light and dry conditions.