Donate now to support the LLIFLE projects.
Your support is critical to our success.
= Echinocereus engelmannii var. chrysocentrus (Engelm. & J.M.Bigelow) Rümpler in C.F.Först.

Accepted Scientific Name: Echinocereus engelmannii (Parry ex Engelm.) Lem.
Cactées 56. 1868
Echinocereus chrysocentrus (Echinocereus engelmannii var. chrysocentrus) Photo by: Valentino Vallicelli
Indian springs.
Origin and Habitat: South-western USA (Southern California, Arizona, southern Nevada, Utah) TL: Arizona, Bill Williams River, J. M. Bigelow, 13 Feb. 1854 (MO).
Habitat: Grows on gravel, sand and rocky hills.
Synonyms:
See all synonyms of Echinocereus engelmannii
Common Names include:
ENGLISH:
Calico Cactus, Dagger-spine Hdgehog, Indian Strawsberry Cactus, Needle-spine Edgehog, Strawberry Edgehog, Varied-spine Edgehog, Purple-spined Hedgehog Cactus,
Description: Echinocereus engelmannii var. chrysocentrus is a formidably spined and free clumping columnar cactus, 6-25-branched, ultimately forming somewhat open clumps of stems.
Stems: Suberect, erect or ascending light green, cylindric or somewhat tapering distally, (10-)15-20(-30) cm tall, and about 5-6 cm in diameter, branching freely from the base.
Ribs: 11 to 14 low, obtuse, tubercles indistinct, crests slightly undulate.
Areoles: Large, nearly circular, 6-15 mm apart, with few stout bristles, wool present in first year only.
Central spines: 5-6 Divergent-porrect, very stout, and rigid, straight or curving and somewhat twisted, terete or somewhat flattened, up to 7 cm long (or more) Yellowish to brown, more or less variegated (often purple when young).
Radial spines: About 10, appressed, stiff, lighter whitish to creamy coloured 8-20 mm long long, spreading.
Flowers: Purple, 5-8 cm long and even broader when fully expanded. Flower tube hairy, scales on ovary 3-5 mm long acuminate. Perianth segments oblong, 3-4 cm long, acunimate.
Blooming season: Spring, flowers are diurnal close at night and reopen in the morning and last for about five days.
Fruit: Spheric, obovoid or ovoid, spiny, red or orangish about 3 cm long, fleshy, pulp whitish becoming infused with pink or red from the skin. The fruit is edible, it is said to taste like strawberry.
Seeds: Black nearly globular, or a little oblique, 1,5 mm in diameter or less, tuberculate.
Subspecies, varieties, forms and cultivars of plants belonging to the Echinocereus engelmannii group
Bibliography: Major references and further lectures:
1) Edward Anderson "The Cactus family" Timber Press, Incorporated, 2001
2) James Cullen, Sabina G. Knees, H. Suzanne Cubey "The European Garden Flora Flowering Plants: A Manual for the Identification of Plants Cultivated in Europe, Both Out-of-Doors and Under Glass" Cambridge University Press, 11/Aug/2011
3) David R Hunt; Nigel P Taylor; Graham Charles; International Cactaceae Systematics Group. "The New Cactus Lexicon" dh books, 2006
4) Urs Eggli, Leonard E. Newton: "Etymological Dictionary of Succulent Plant Names" Springer, Berlin/Heidelberg 2010
5) N. L. Britton, J. N. Rose: "The Cactaceae. Descriptions and Illustrations of Plants of the Cactus Family." Volume II, The Carnegie Institution of Washington, Washington 1920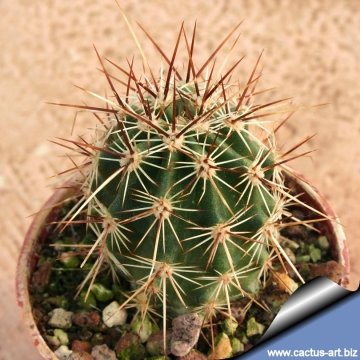 Echinocereus chrysocentrus
(Echinocereus engelmannii var. chrysocentrus)
Photo by: Cactus Art
Send a photo of this plant.
The gallery now contains thousands of pictures, however it is possible to do even more. We are, of course, seeking photos of species not yet shown in the gallery but not only that, we are also looking for better pictures than those already present.
Read More...
Cultivation and Propagation: In cultivation the strawberry hedgehog grows rather slowly and it is sensitive to overwatering (rot prone) needs a very good drainage to avoid rotting, but requires more moisture than true desert cacti to grow and produce flowers, Keep drier and cool in winter. Need full sun. It is cold resistant to -10° ( or less depending on clones) for short periods of time. It is a fine plant for a rock garden or container, contrasts well with agaves, yuccas, and low-growing flowering plants. It will show its flowers only if we provide an adequate winter rest period.
Propagation:: Seeds, also can be grown from cutting as it branches from the base.